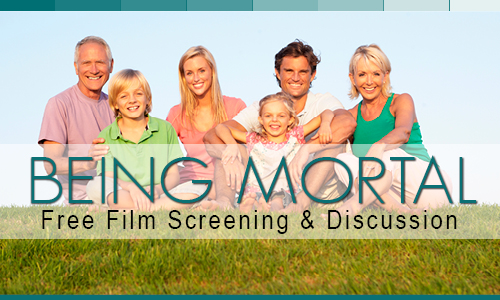 Join us for a free screening and discussion of the Emmy-nominated PBS Frontline film, "Being Mortal." Based on the best-selling book by Atul Gawande, MD, this documentary explores the hopes of patients and families facing terminal illness and their relationships with the physicians who treat them.
The documentary tells the story of a physician, Atul Gawande, who is learning to think about death and dying in the context of being a healer. By sharing stories from the perspective of both physicians and the families he encounters, including his own, the documentary sheds new light on how the current health care system—so often focused on a cure—neglects important conversations that need to take place so a person's true priorities can be known and honored at end of life.
After the screening, you can participate in a guided conversation on how to take concrete steps to identify and communicate wishes about end-of-life goals and preferences. See this moving documentary, join the conversation and explore what matters to you.
This event is being held on April 27, 2017, from 4:00-6:00 p.m. in Grand Forks at Calvary Lutheran Church located at 1405 S. 9th St. in Grand Forks, N.D.
This event is free, but pre-registration is required because seating is limited. Register at http://bit.ly/beingmortalGF or call (701) 356-1525 to reserve your seat. No continuing education units will be provided for this event.