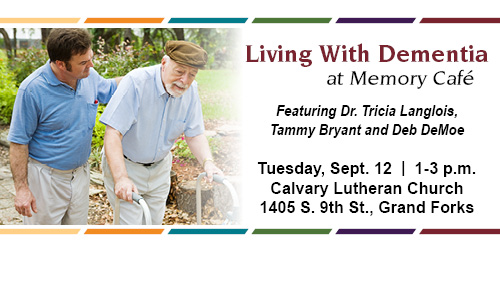 Memory Café is pleased to welcome  Dr. Tricia Langlois with Hospice of the Red River Valley, Tammy Bryant with the Alzheimer's Association and community member Deb DeMoe to speak about living with dementia. This event will provide practical advice, resources and stories to offer hope and guide those living with dementia and their caregivers. Bring your questions about living with dementia at any stage for our experts! Come at 1 p.m. for a pre-event social, and stay after the event for refreshments provided by Memory Café.
This event is co-sponsored by Hospice of the Red River Valley and the Alzheimer's Association Minnesota-North Dakota. It will be held Tuesday, Sept. 12 from 1-3 p.m. at Calvary Lutheran Church located at 1405 S. 9th St. in Grand Forks. No pre-registration is required.
Who should attend?
Family caregivers, professional caregivers (nurses, social workers, chaplains, clergy, physicians) and anyone who works with people suffering from dementia.
No CEs will be provided for this event.
For more information, call Mary Ann Devig at (701) 772-4897.