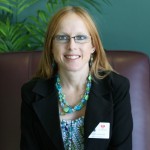 Hospice of the Red River Valley has named Jennifer Johnson as a nurse practitioner. In collaboration with Hospice of the Red River Valley's medical director, she ensures the delivery of patient-centered, high quality medical hospice care to patients and their families.
"The long-anticipated addition of a nurse practitioner to our medical team represents the depth and breadth of patient care that we are always seeking to enhance," said Susan Fuglie, executive director. "Hospice care is fundamentally inter-disciplinary in nature, and the unique perspectives and skills of a nurse practitioner will further enhance this comprehensive approach to hospice care."
Johnson previously worked at Sanford Health Roger Maris Cancer Center and Sanford Health Neonatal Intensive Care Unit. She obtained her Master of Science in Nursing, Family Nurse Practitioner from the University of Mary, Bismarck, N.D. Johnson belongs to the American Academy of Nurse Practitioners, the American College of Nurse Practitioners, The North Dakota Nurse Practitioner Association, the Oncology Nursing Society and the North Dakota EMS Association.