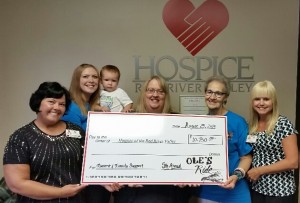 Ole's Ride was held Aug. 23, 2014, in Vergas, Minn. The event raised $10,750 to benefit Hospice of the Red River Valley—the most in its five year history. To date, Ole's Ride has raised $33,650 to help provide hospice care to patients and families in Vergas and the surrounding area.
The event is held in memory of Richard "Ole" Barten, who lost his battle to cancer in February 2011. Hospice of the Red River Valley cared for Ole during his last months, and the family wanted to use the event as a way to give back to an organization that cares for so many families in the area. "We cannot thank everyone enough participating," Kris Barten, Ole's wife and event organizer, said. "Without every person involved, this event would not be possible."
The event started on Friday night with a bike show where riders pre-registered. The ride kicked off from Billy's Corner Bar and Grill in Vergas, and concluded with a silent auction music by the Fat Cats. More than 65 registered motorcycles and 107 registered riders participated in the 140-mile ride through Minnesota lakes country. In addition, countless people took part in the various events throughout the day, either as riders, volunteers, road guards or other participants.