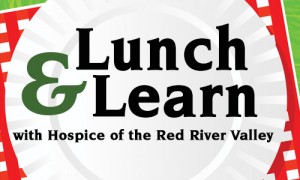 Hospice of the Red River Valley invites health care professionals to its July Lunch and Learn on Tuesday, July 19, 2015, from noon-1 p.m.
Kriston Wenzel, LSW, CT, bereavement specialist, with Hospice of the Red River Valley, will present "Talking with Children and Teens about Death and Dying."
In this session, participants will learn how to identify signs of "normal" grief in children and teens and learn strategies for talking to children and teens about serious illness, death and grief. The session will also cover how to help a child or teen be a friend to someone who is facing a serious illness or a death and grief."
Hospice of the Red River Valley is an approved provider of continuing education for social workers in North Dakota. This program has been approved for 1 contact hour for social workers.
For your convenience, Lunch and Learns will be held in five Hospice of the Red River Valley Office locations:
Fargo – 1701 38th Street SW, Fargo, N.D.
Detroit Lakes* – 1111 Highway 10, Detroit Lakes, Minn.
Grand Forks* – 2860 10th Avenue N., Ste. 400, Grand Forks, N.D.
Lisbon* – 415 Main Street, Lisbon, N.D.
Valley City* – 1240 W. Main Street, Valley City, N.D.
*The Detroit Lakes, Grand Forks, Lisbon and Valley City office locations will be connected via videoconference to the Fargo office where the live presentation will take place.
This event is free and open to all health care professionals, but pre-registration is required because space is limited. Participants may bring their own lunches; coffee and water will be provided.
RSVP to Missy Haut: melissa.haut@hrrv.org or (701) 356-1563 one week prior to the Lunch and Learn, and indicate which location you will be attending.
Lunch and Learns in 2015 will be held every other month starting in January on the third Tuesday of the month from noon to 1 p.m. Specific topics and descriptions will be shared closer to each date.