Choice Financial's "Go Hawaiian for Hospice" lunch fundraiser, held June 25 in Fargo, generated more than $64,000 for Hospice of the Red River Valley (HRRV). Attendees of the luau-style lunch enjoyed a roast pig, baked potato, fresh pineapple, Hawaiian punch and a frozen treat. Maury Wills, former American Major League Baseball player, and members of the Fargo Moorhead RedHawks were special guests at the event that also featured music, prize drawings and a memorial wall where guests were invited to remember their loved ones. Attendance was estimated at 925 people.
"I'd like to thank all the wonderful people who came out to support Hospice of the Red River Valley," Erv Inniger, board member and senior director of community relations at Choice Financial said. "Hospice has a special place in my heart after seeing the care they provide. Choice Financial has locations up and down the Red River Valley, in the same communities served by HRRV, so we're honored to help this organization serve those in need of end-of-life care."
The money raised provides care for patients and their families and supports HRRV's grief support services, as well as other non-reimbursed needs.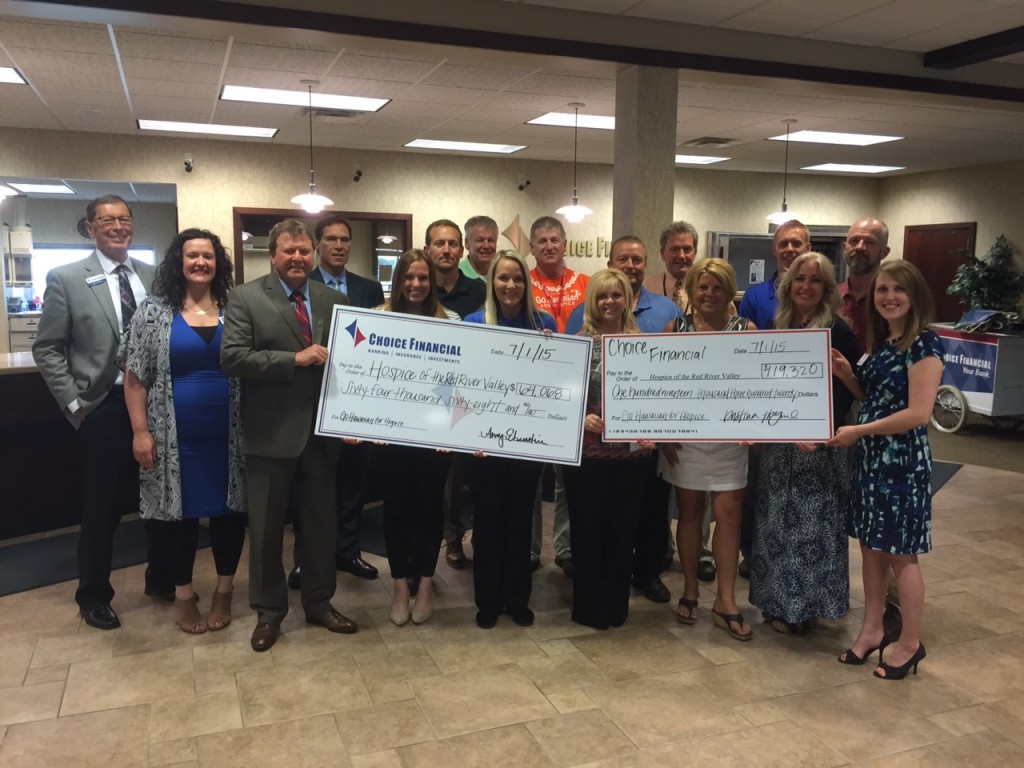 Middle Row L to R:
Kelly Krenzel – Hospice, Brian Giere – 7Up, Roger Samuelson – AmeriPride and Dave Manzey – Nine Dragons/Slapshot Pizza
Back Row L to R:
Erv Inniger – Choice Financial, Brian P. Johnson – Choice Financial, Curt Seter – Hospice, Steve Slabik – Hospice, Craig Lemieux – Hornbacher's and Casey Glandt – GoPromo
About Choice Financial
Choice Financial is a forward-thinking financial services organization that remains locally owned and built around long-term customer relationships, well-rounded products and services, and authentic community banking.
About Hospice of the Red River Valley
Hospice of the Red River Valley is an independent, not-for-profit hospice serving all, or portions of, 29 counties in North Dakota and Minnesota. Hospice care is intensive comfort care that alleviates pain and suffering, enhancing the quality of life for patients with life-limiting illnesses and their loved ones by addressing their medical, emotional, spiritual and grief needs. For more information, call toll free 800-237-4629, email questions@hrrv.org or visit www.hrrv.org.