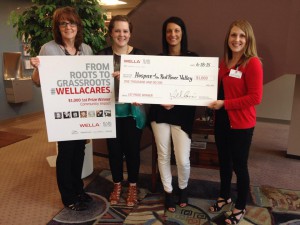 Hospice of the Red River Valley Volunteer Becky Wood was recently awarded first prize in the #WellaCares Challenge, a nation-wide contest designed to recognize and reward salon professionals who are making a real difference in the community. Hospice's Marketing department staff worked with Becky to tell her volunteer story through a video, which Becky submitted to the contest along with an essay about volunteering. As a winner in the Community Impact category, Becky was awarded $1,000, which she donated to Hospice of the Red River Valley.
"Sharing one's valuable time by volunteering at Hospice of the Red River Valley is such a gift to us! When Becky saw an opportunity and took the initiative to seek a financial gift, as well, we were thrilled," said Deb Gemar, Director of Community Relations at Hospice of the Red River Valley. "We are so appreciate of her giving heart for Hospice."
Over the past year, Becky, a hair stylist and owner of a West Fargo salon and spa, has visited the homes of numerous Hospice of the Red River Valley patients to provide refreshing haircuts, and sometimes even a quick style. "Volunteering has always been a passion of mine. This experience has been nothing but positive, and I leave every single visit feeling like a changed person," Becky said.
"Becky's energy and enthusiasm is contagious," said Hospice of the Red River Valley Volunteer Services Manager Deb Kluck. "Becky is a wonderful asset to our volunteer team, and her passion for Hospice of the Red River Valley is endless. Most importantly, the patients she serves love her."