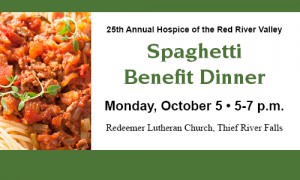 The community is invited to attend the 25th Annual Spaghetti Benefit Dinner on Oct. 5 from 5-7 p.m. at Redeemer Lutheran Church in Thief River Falls, located at 1300 Nora St. E.
A free will offering will be taken, with proceeds benefiting Hospice of the Red River Valley.
The event is sponsored by Redeemer Lutheran Church and Black River Lutheran Church.
"We are grateful that the community has supported this event for many years, and we hope that everyone will join us as we celebrate our 25th year," said organizer Jill Dillon. "Hospice has greatly impacted many families in our area. We're very fortunate to have this important service available to us, and we're proud to support the organization."
See event details here.