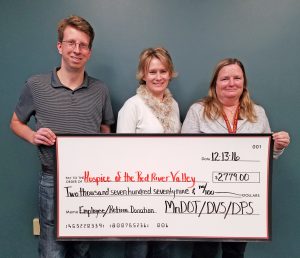 Employees and retirees of the Minnesota Department of Transportation, Minnesota State Patrol and Driver & Vehicle Services in Detroit Lakes held their 22nd annual employee holiday potluck and fundraiser for Hospice of the Red River Valley on Dec. 13, 2016. This year's event raised $2,779 for Hospice.
Every December, these agencies transform their lunchroom into a workshop of handcrafted and home-cooked items. Proceeds from the potluck have raised a total of $29,624 for Hospice of the Red River Valley since the event's inception in 1995.
"It warms my heart to see the people that work to keep our highways safe take time out of their busy schedules to raise money for our organization," said Jane Bartholomay, development officer with Hospice of the Red River Valley. "A huge thank you to each and every person involved for helping us provide the compassionate care that our patients and their families so richly deserve."
Jane Butzer, Trudy Kordosky and Jerimiah Moerke organized this year's event. Current and former employees donated a variety of items for the potluck and drawing, many of them handmade, including quilts, crocheted items, wood products, jewelry, stained glass, sweet treats and other goodies.