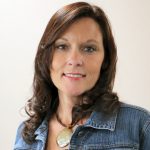 Dr. Tracie Mallberg Sylvester, MD, has joined Hospice of the Red River as a Staff Physician. In this role, she is responsible for the delivery of patient-centered, high-quality medical hospice care to patients and their families in collaboration with our medical director.
"There is a profound opportunity to make meaningful change in the lives of so many people in our area," said Dr. Mallberg. "I am very much looking forward to the challenges and opportunities that Hospice offers."
Most recently, Dr. Mallberg practiced in the emergency department at the VA Hospital in Fargo. She also owned and operated LilyCare, a clinic in West Fargo, for five years. In 2010 she was voted Fargo-Moorhead's Woman of the Year in Medicine. She received her medical degree from the University of North Dakota in Grand Forks and her undergraduate degree from University of Mary in Bismarck, N.D.