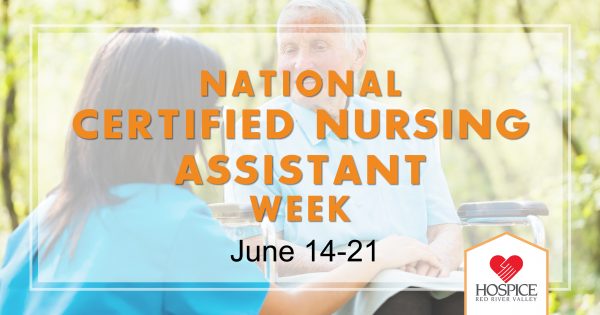 June 14-21 is National Nursing Assistants Week, a time to celebrate the professional contributions of certified nursing assistants (CNAs) in providing high-quality care to patients.
Some of our patients call them angels on Earth, others refer to them as superheroes. We call them certified nursing assistants (CNAs) at Hospice of the Red River Valley. Without a cape or wings, hospice CNAs harness their professional competencies and caring hearts to help our patients feel like themselves—a priceless gift as one continues to live fully while nearing the end of life. Hospice of the Red River Valley CNAs work with patients to provide individualized care based on each person's preferences.
"Hospice CNAs help patients with personal care needs, including feeding, bathing assistance, shaving and nail care. They also provide light housekeeping services for individuals we care for," shared Becky Pfau, director of clinical operations at Hospice of the Red River Valley. "But perhaps the most important aspect of a hospice CNA's role is preserving our patients' dignity, respecting their wishes for personal cares and helping them live wherever they reside, whether that be in a private residence or an apartment, on their family farmstead or in a nursing home."
A CNA is an integral part of a hospice patient's care team, which also includes a registered nurse, chaplain, social worker, nurse practitioner and physician. With approximately 40 CNAs spread across the agency's 29-county service area, Hospice of the Red River Valley CNAs often spend the most time with patients while providing the most delicate of cares.
Providing care for someone who nears the end of life is sacred work, a calling that often aligns with their personal values and speaks to the core of who they are as people—empathetic, compassionate and kind.
"I try to treat people the way I would want to be treated," shared Malissa Fox. As a CNA for the past 14 years, she provides care to Hospice patients in and around Thief River Falls, Ada, Crookston, Grand Forks, Red Lake Falls and many other communities in the region. "It's rewarding because I can make people happy. I experience a lot of joy when I can make someone smile, make their day better and know I'm making a difference. I bring a positive attitude and give my whole attention to my patients. We establish a friendship and trust with one another."
Jennie Gerving became a CNA because she loves helping people. She provides care to Hospice patients in and around Detroit Lakes, Frazee, Park Rapids, Mahnomen, Perham and New York Mills and other towns in the lakes region. "I've worked as a CNA for most of my life, and earlier this year I started working at Hospice of the Red River Valley because I wanted to be able to focus more on my patients, and spend more time with them," Jennie shared. "I don't have to rush through my visits, and with Hospice, I have a whole team I can call and rely on to help our patients however they need."
Diego Portillo Lopez chose to become a CNA because he enjoys working with people and has a soft spot for the elderly. Diego cares for people in and around Fargo-Moorhead. "I feel our role is to be a friend to the patient. I know the care and care plan are really important, but I believe developing a relationship goes a long way. It makes our work much easier when the patient can feel the trust," Diego shared. "The relationships I get to have with the patients I help is rewarding. Each person and family is unique and interesting. All of the "thank yous" and hugs are priceless. I love making people feel better."
Hospice of the Red River Valley CNAs Mike Carbno and Amanda Hanson provide care to Hospice patients in and around Valley City, Lisbon, Oakes, Lidgerwood, Dickey, Jamestown, Litchville and many other communities west of the Red River Valley; they often travel upwards to 1,000 miles per week.
"A long time ago I dedicated my life to love and compassion," shared Mike, who has worked as a CNA for eight years. "Working as a CNA isn't a job for me, it's just an extension of who I am. I'm a caregiver with a hospice heart." Amanda agrees and shared that if this were just a job, they wouldn't last long.
Amanda has worked as a CNA for nine years and says working at Hospice of the Red River Valley is a "CNA dream job." Amanda shared, "The whole care team works so well together, and as a CNA for Hospice, I get to focus my time and attention on my patients and the comfort and care they need." Often when someone is receiving care from Hospice, the whole family is under a lot of stress. "As a CNA, I develop relationships with my patients and their family members, and can relieve some of the stress that the family experiences."
Cyndy Andren, a resident of Valley City, N.D., and Hospice of the Red River Valley patient, can attest to the trustworthy care of her CNAs. She relies on Mike and Amanda. For Cyndy, who lives with COPD, a progressive lung disease, daily life had become challenging as her condition progressed. Mike and Amanda, along with the rest of the Hospice of the Red River Valley care team, make her life better and easier.
"They're so good about knowing what I need, and we share wonderful conversation," Cyndy said. "It doesn't matter if Mike or Amanda has cared for me, after they're done I feel so relaxed and like a weight has been taken off. They take such good care of me. Mike and Amanda are tremendous. I just don't have enough time to tell you what they mean to me," Cyndy shared.
"We become close with our patients and their families, and that makes our job both easier and harder at the same time because we know their health will eventually fail," Mike said. "I get attached to my patients, but this helps me do a good job. It's an honor to be there with them.
When people learn these CNAs work for Hospice of the Red River Valley, often their first response is one of alarm or sadness, assuming the work is depressing. "I wish people knew that hospice care is so much more than dying. It's a very needed and helpful service that focuses on emotional, spiritual and medical support for people," Jennie said. "I have a positive attitude when I work with my patients; we laugh a lot. I listen to them and form relationships."
Collectively, Hospice CNAs believe this work helps people fully live, not just exist, until they die.
"I wish people took advantage of it [hospice care] sooner," Diego said. "There is so much we can do to support the patient and their family. We are here to provide support to your loved one and to you as their family.
During National Nursing Assistant week, and every day, we extend our admiration and thanks to CNAs for the important work they do in our communities.