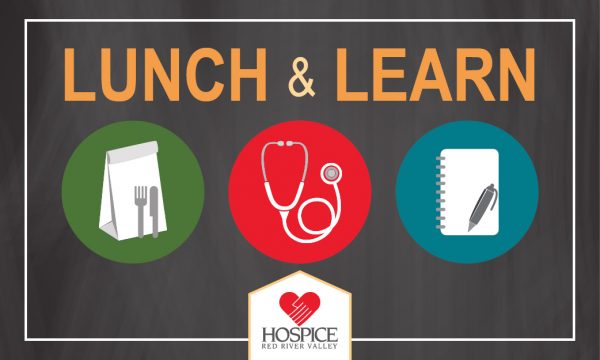 Health care professionals are invited to Hospice of the Red River Valley's upcoming Lunch and Learn as we continue to explore topics related to end-of-life care. Lunch and Learns are held on the second Tuesday of February, March, April, May, August, September, October and November from noon to 1 p.m.
The next session will be held Tuesday, March 10, from noon-1 p.m. Rev. Aaron Suomala Folkerds, LMFT with Minnesota State University-Moorhead, will present "Working with Families at End of Life." This collaborative session will help attendees understand:
Understand how theory can guide your work with families
Explore multicultural considerations around death
Learn about how to talk about death with families and children
Learn about the intersection between death and mental health.
This Lunch and Learn will be held at six Hospice of the Red River Valley locations:
Fargo – 1701 38th St. SW
Detroit Lakes – 1111 Highway 10
Grand Forks – 2860 10th Ave. N., Suite 400
Lisbon – 415 Main St.
Valley City – 1240 W. Main St.
Bismarck – 1400 43rd Ave. NE, Suite 212
The Detroit Lakes, Grand Forks, Lisbon, Valley City and Bismarck offices will connect via videoconference to the Fargo office, where the live presentation will take place.
This event is free and open to all health care professionals. Pre-registration is required because space is limited. RSVP online at bit.ly/hrrvlunchlearn by March 3. Participants may bring their own lunches; coffee and water will be provided. If you have questions, please send an email to lunchlearn@hrrv.org.