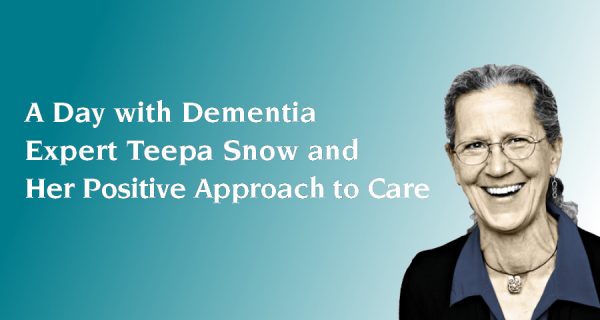 One of the world's leading advocates and educators is bringing her knowledge to the region for anyone living with or caring for individuals with dementia.
"A Day with Teepa Snow" is scheduled for Wednesday, June 24, from 9 a.m.-4:30 p.m. The event will be held online, and registered attendees will receive a Zoom link and password prior to the event.
To register and for more information, visit bit.ly/teepaJune24. 
Teepa Snow is an occupational therapist with 40 years of clinical and academic experience. Her Positive Approach to Care provides practical and effective strategies and techniques for individuals and agencies seeking to enhance care and support for those living with dementia and their care partners. Her resources are geared toward professionals, family members, the public and people living with brain changes.
A Day with Teepa Snow consists of four 90-minute sessions. The cost is $50 for professionals. Continuing education credits are available for social workers, registered nurses, licensed mental health counselors and psychologists. Marriage and family therapists in North Dakota can also earn CEs.
The two afternoon sessions are free to non-professional family caregivers.
The sessions include:
9 a.m. Changing Resistance to Care to Participation in Care
This session will instruct learners in effective strategies for helping people with dementia during personal care and reducing resistance to care.
11 a.m. Sorting Out the Three D's: Delirium, Depression and Dementia
This session will help providers recognize and respond more accurately to reduce "non-helpful" hospitalizations, delays in medical attention for acute illness, non-treatment of treatable conditions, and premature discharge of residents who might be able to stay in the community.
12:30 p.m. Using a Positive Approach to Care
This session will help providers manage their own behaviors for improved outcomes and interactions, and provide learners with strategies and methods of providing help to people with dementia that recognize losses and use retained abilities to promote positive outcomes in interactions.
2:30 p.m. Understanding Yourself as a Caregiver and What You Need
This session will help caregivers recognize and appreciate their role, as well as understand what is needed for them to maintain their role.
Continuing Education Credit is provided by Commonwealth Educational Seminars for the following professions: North Dakota and Minnesota registered nurses, social workers, licensed mental health counselors and psychologists, and North Dakota marriage and family therapists. You must attend full sessions to receive credit.
This event is sponsored by Barnesville Area Helpers, the Minnesota Board on Aging, Hospice of the Red River Valley, Farmstead Living, Lakes Area Memory Awareness Advocates (LAMAA), Medica, Griswold Home Care of Fargo, Dancing Sky Area Agency on Aging, Pelican Valley Senior Living and Senior Coalition – Cass & Clay Counties.
For more information on Teepa Snow, visit www.teepasnow.com. For questions about the event, contact Katharine with Barnesville Area helpers at katharine@barnesvilleareahelpers.org or (218) 354-7090.