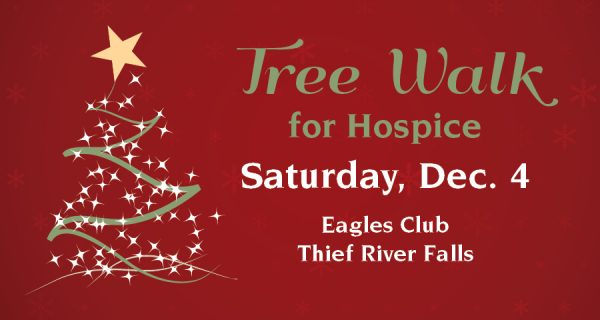 The seventh annual Tree Walk for Hospice will be held Saturday, Dec. 4, from 9 a.m.-2 p.m. at Eagles Club #2368, located at 305 Red Lake Boulevard in Thief River Falls, Minn.
Join us for an event featuring beautifully decorated trees, food and a variety of activities throughout the day! See the schedule of events below.
All events are free-will donation, except for a silent auction and bake sale. Net proceeds benefit Hospice of the Red River Valley.
Ornaments can be purchased at the event to decorate the Hospice Memorial Tree. Organizations also will have decorated trees. Visitors can vote for their favorite tree by placing money in the buckets at each tree. A plaque is awarded to the winning organization.
A silent auction will be held for all of the trees. Winners can have the tree shrink wrapped and get help with delivery, if needed.
If you are an organization interested in decorating a tree, contact Laurie Harger at 218-686-3696 or laurie.harger@gmail.com to reserve a spot. Pre-lit artificial trees will be provided to decorate as part of the $100 registration. Tree set-up and decorating will be Dec. 2-3 from 9 a.m.-6 p.m.
Schedule of Events
9 a.m.-2 p.m. Tree Walk – View decorated trees and vote on your favorite. Trees will be available for purchase through a silent auction. Paper angels can be purchased at the event to decorate the Hospice Memorial Tree.
9 a.m.- 2 p.m. Holiday Bake Sale – Take home some tasty treats. The bake sale runs until the items are gone, so get there early!
10:30 a.m.- 2 p.m. Soup & Breadstick Feed – Free-will donation
11 a.m.-1 p.m. Santa & Mrs. Claus – Bring the kids for a visit! Photos may be taken, and each child will receive a bag of treats provided by the Eagles Aries #2368.
1 p.m. Memorial Ceremony
1:30 p.m. Tree Judging