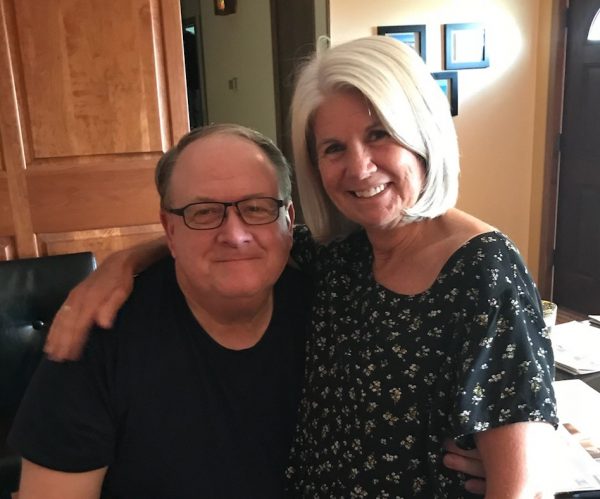 Bill and Gwen Hejl's relationship was kismet. From the moment they met, their lives were suddenly, forever entwined.
Their paths connected when Bill was set up on a blind date at the Wayne County Fair in Goldsboro, N.C. As it turned out, his full attention was on his blind date's friend, Gwen.
It was at that county fair among the whirling amusement rides and carnival games where Bill first met Gwen in September 1978. Bill was completely captivated by Gwen, especially the sparkle in her eyes. "I couldn't take my eyes off of her," Bill recalled fondly.
That night was the first of many the couple would spend getting to know each other, penning love letters and becoming engaged one month later. They were married seven months after they met, embarking on a 40-year marriage that would create a lifetime of memories and adventures, many of which took them all over the world.
"Life with Gwen was heaven," Bill shared. "We had a real love."
Their most treasured time together was settling down to raise their family (two daughters, Laura and Carol, and a son, John). Their 14-acre farmstead near Amenia, N.D., was always buzzing with activity from growing sugar beets to keeping up the large yard and hosting gatherings for family and friends.
The rows of poplars edging their farmstead matured through the years, enclosing their picture-perfect yard and turning it into a rural oasis. It was Gwen's sanctuary that she lovingly tended. They had carved out a haven for themselves in their corner of the world.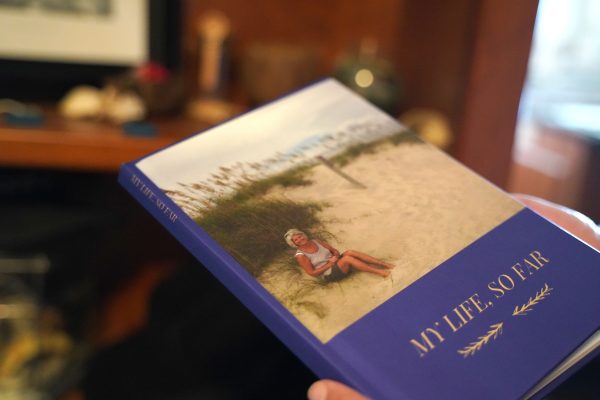 The Unexpected
In August 2018, Gwen's health took as unexpected turn. Doctors at the walk-in clinic thought she had a urinary tract infection. However, further tests, X-rays and a CT scan revealed a growth in the smooth muscle of her uterus. Gwen had surgery to remove the growth. It was cancerous, and Gwen was diagnosed at age 61 with a rare, aggressive form of cancer called uterine leiomyosarcoma.
Four weeks after her surgery, a second CT scan at Mayo Clinic revealed the tumor had already grown back—up to 2.5 centimeters in size. The doctor started her on one of the most powerful forms of chemotherapy known as the 'Red Devil.' "You can only have eight doses of this type in your life, and Gwen had six doses," Bill said. "It was really hard on Gwen."
In all, Gwen tried four types of chemotherapy throughout 11 months, each round taking a little more out of her while the tumor continued to grow. One last chemotherapy option was available, but it only had a 10 percent chance of being effective. After discussions with Gwen's cancer specialist, he suggested Gwen and Bill meet with Hospice of the Red River Valley to learn more about their services.
A Renewed Hope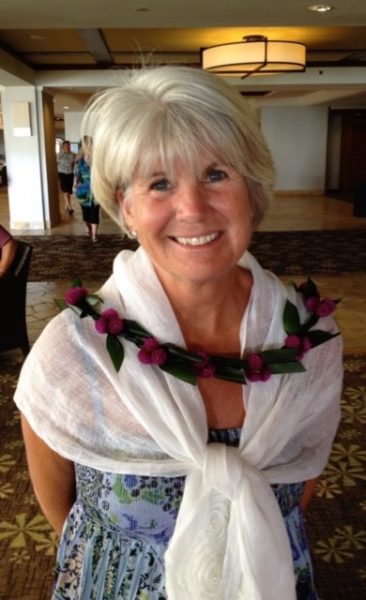 Hospice of the Red River Valley Nurse Practitioner Jennifer (JJ) Johnson met with Gwen, Bill and their children at their farm about how to best support Gwen. Bill struggled with the notion of Gwen completely stopping treatments. "I didn't want Gwen to suffer, but I didn't want to give up either," he said. JJ spoke with the family about Gwen's hopes and goals for the future and helped them understand her options.
"I can't say kinder words about JJ. I cry easily, and I started to shortly after we sat down [to talk]. JJ got down on the floor and held my hand, and said it's going to be OK. Gwen said, it's OK, too. JJ asked the question, 'Who here wants to keep trying?' I realized I was the only one, and it was time to move on. Having that conversation with JJ helped me to understand that it was time to end treatment [for Gwen]."
Gwen started hospice care on July 18, 2019. Her care team consisted of medical professionals who tended to her physical and emotional needs while also providing caregiver support for the family.
Hospice of the Red River Valley Nurse Summer visited once a week to check on Gwen's vitals, medication and symptoms. "She loved seeing Summer," Bill said. "It was so nice just to talk to somebody. We would have access to a professional while taking care of Gwen. And, we didn't have to drive to Fargo to see them. They come to you. That's a huge difference."
Bill and Gwen's children and their spouses provided daily support to Gwen at the farm. Their youngest daughter, Carol, also moved in to help for a month. Bills said even with such great support from their family, they still needed the professional, caring support of Hospice of the Red River Valley.
When the family needed this extra support to manage Gwen's symptoms, Hospice provided nurses for several hours at a time to provide continuous home care—one of the four levels of hospice care.
"The staff was great. I could sleep when they were here and not worry about Gwen. We could relax and be taken care of. I knew I wasn't handing Gwen over to some stranger who didn't care. Everyone who came to the house cared about all of us," Bill recalled.
In between visits, Bill utilized the 24/7 nurse line with any questions about managing Gwen's care. "It was such a blessing to have a phone number to call for help. I made several calls to check if what I was doing was OK, and [Hospice staff] always offered to come out to help. Sometimes it was at 10 p.m. when I called to ask questions. It was so nice to know Hospice staff was there, and we didn't have to leave the house. The staff would always assure me that I was doing a good job of taking care of Gwen," Bill said.
Gwen and Bill grew to enjoy their time with Hospice staff. They both appreciated the care and compassion shown by her Hospice of the Red River Valley Certified Nursing Assistant (CNA) Keyna. Keyna provided Gwen a sense of normalcy and dignity as she helped her shower and get ready for the day. The pair found levity during this time together, as Bill recalled hearing them giggle many times during visits.
"Gwen was so graceful in her acceptance of what was happening and I'm glad I was there to answer any questions she had and help guide her through her journey," Keyna said.
As a working caregiver, Bill relied on the Hospice care team; he was able to trust that his wife was in good hands. In those moments of respite, Bill could tend to the daily tasks of keeping the busy farm running, among other things. "Keyna was so wonderful; she came three times a week. It felt so good knowing Gwen was having fun with somebody, and I was able to get some work done in my office. It was a real blessing. Gwen loved all of the staff."
Enjoying the Comforts of Home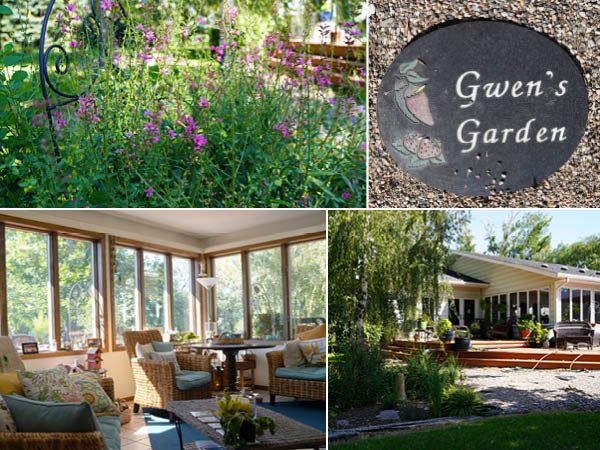 One of Gwen's goals was to remain in the home she loved. Photographs of the ocean adorn their walls, each photo reminiscent of the scenic views from Gwen's travels. Bags and baskets of seashells, some of which she collected on her last trip to Myrtle Beach to see her mom, lay on bookshelves and tables throughout the house. "She loved the ocean and sunny skies," Bill shared.
Sunlight and warmth pour in through the large picturesque windows in Gwen's favorite room of the house, the sunroom. It's bright, cheerful and radiates a type of warmth so fitting of her personality. It was in this room, and in her yard near her flowerbeds, where she wanted to spend her final weeks.
"This whole house is Gwen, and she wanted to be here and enjoy her things," Bill explained.
Bill found comfort in knowing he could honor Gwen's wish to be at home with the help of Hospice staff. "With Hospice, you get to keep control of you and your surroundings to a great extent. If you don't want a lot of people coming by to check on you, they won't. You can be at home, and if you want a quiet day, all you have to do is say so. That was a great blessing for both of us," Bill shared.
While at home with hospice care, she was able to spend cherished moments with her family, including her mom, brother, children and grandchildren. Gwen's thoughtfulness and devotion to her family was evident, even to the end. The day after she started hospice care, she ordered Bill's favorite ice cream cake for his birthday. "That's how much she loved me for 40 years," Bill said. And for Gwen's family, these special moments and time spent together meant everything.
It was their turn to shower her with love and affection, just as she did for them. "She helped with everything and took care of all of us," Bill said. "The time [together] was everything."
Gwen peacefully passed away on Aug. 9, 2019, in the home she loved with Bill and her children holding her hands.
Bill sits in the sunroom Gwen loved and reflects on the 40 years he spent with the love of his life. Each day is a challenge. He's surrounded by constant reminders of Gwen and their travels together. Gwen's memory lives on in the many lives she touched. It also lives on with the most recent addition to the family, a new granddaughter, Grace Elizabeth Gwen.
He and his family are forever grateful for the time they had together. They also appreciate how Hospice of the Red River Valley supported them during Gwen's final weeks. "Hospice gave us peace of mind. The work they did was such a gift to our family," Bill shared. "Everyone from Hospice of the Red River Valley was wonderful. I had high expectations, and they exceeded them. That's hard to do."
And, even in her final days, Gwen never lost the sparkle in her eyes that Bill always adored.