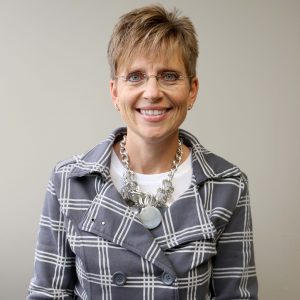 by Cathy Miller, LSW
I was 30 years old and faced with the sudden reality that my parents may not live forever. My dad was diagnosed with mesothelioma at 55. After an 11-day hospital stay, he said, "I am never going back there again." He opted to spend his time hunting and fishing rather than in treatment. My parents were faced with making all the decisions that no one ever wants to be forced to make—wrapping up all their loose ends from a lifetime.
My dad decided if he was going to have cancer, it was going to be on his terms. He did all he wanted, when he wanted and how he wanted until he could do it no longer. He did it with humor and always with a smile on his face. His illness was my introduction to hospice care, and I immediately knew it was something I wanted to be involved with to help others.
This led me to become a hospice social worker. In this role, I try to prepare our patients and families for the end-of-life journey, and yet it is difficult to prepare because everyone's experiences are different. Some people want to know everything and plan and organize as much as they can. While others are easily overwhelmed and want to take each day and moment as it comes. Most of us are somewhere in the middle.
Planning Ahead
Fast forward 10 years. My parents sold their cattle and traveled throughout the United States. They were given the gift of time. It was time they did not think they would have, but all their plans were made.
Everything was done. Wills were written, updated and tweaked. Titles were transferred and equipment was sold. Several trips were made to have "coffee" at the funeral home and make modifications to pallbearers who had already beat my dad to the Pearly Gates. They had time to review how to manage household issues, such as the furnace, generator and sump pump. Their cemetery plots were picked out, and headstones designed and placed.
They had the gift of time and took advantage of it.
My dad died 11 years after his initial diagnosis. Yet, it took another entire year for my mom to have his estate dissolved and no further paperwork to complete. Plans were in place and the bills were paid, but it still took a year to finalize things.
Making Sense of the Situation
The opposite side of the coin is the death of my father-in-law. He and my mother-in-law talked about different plans and wishes in conversation after having been to a funeral or visiting with someone who was sick. They had some health issues but nothing that would have led them to believe that they would need to have all their affairs in order.
However, my father-in-law was diagnosed with lung cancer and died at home under the care of Hospice of the Red River Valley within 10 days. My mother-in-law's entire world was flipped upside down.
Where do you begin? She was still trying to understand why the doctors did not know he was sick and how this could happen. It was too much to think about making any kind of plans and then facing the reality of his impending death. It was overwhelming, and it was not something that she wanted to do.
As a caregiver, you're exhausted from the emotional toll of caregiving and grieving the life you lived with someone while also preparing to say goodbye to them. But you are also supposed to be prepared to make plans during the same time. It is more than overwhelming.
Here are 10 things to remember during this time:
It is OK to be tired, overwhelmed, sad and angry. It's completely normal. Give yourself permission to feel this way.
Rest when you can. You have been in overdrive, functioning on adrenaline and likely need to catch up.
Allow others to help you—whether it's family, friends or others in the community. It's likely others want to help in some way. Let them.
Create a calling tree list so you don't have to individually notify every single person. Designate others to help.
Visit your doctor if you are having a hard time sleeping, overly sad, feeling depressed or anxious. Medication is not a sign of weakness. It is a sign that you are in control of your health and want it to be improved.
Make lists. Put paper and a pen by your bed. It seems we do most of our thinking when we are supposed to be sleeping. Cross off what you have done as it will give you a sense of accomplishment.
Use your funeral home staff as a resource. They have great information and are happy to help and answer questions.
As you approach important milestones, such as birthdays, holidays or anniversaries, have a plan on who you will be with and what you will do. Create new rituals or add to them to remember your loved one.
Anticipate a lot of paperwork.
Anticipate that finalizing your loved one's affairs will likely take a long time even if you have all your plans in place.
Everyone's journey through grief is different, much like our journey through life, and that's OK. Rely on those close to you to help through the bad days. Take time on the good days to reflect on the accomplishments and hurdles you have navigated. When you look back, you will see how far you have come and the progress you have made.
Cathy Miller, LSW, is a licensed social worker with Hospice of the Red River Valley.
About Hospice of the Red River Valley
In 1981, Hospice of the Red River Valley was founded on the belief that everyone deserves access to high-quality end-of-life care. We fulfill our nonprofit mission by providing medical, emotional, personal and spiritual care, as well as grief support to our patients, their families and caregivers during a tender time in life. Our staff helps those we serve experience more meaningful moments through exceptional hospice care, 24 hours a day, 365 days a year, wherever a patient calls home. The organization serves more than 40,000 square miles in North Dakota and Minnesota, including in and around Bismarck, Detroit Lakes, Devils Lake, Fargo, Fergus Falls, Grand Forks, Lisbon, Thief River Falls, Valley City and many more communities. Hospice of the Red River Valley offers round-the-clock availability via phone, prompt response times and same-day admissions, including evenings, weekends and holidays. Contact us anytime at 800-237-4629 or hrrv.org.