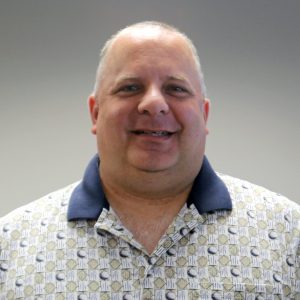 by David Montecuollo, chaplain
C.S. Lewis once said, "Some of the best living can happen in the worst of health." For many, the definition of "best living" takes shape through adventure, ability, accumulating things or the like. As a hospice chaplain, I have seen patients and family members who exemplify the words of C.S. Lewis by understanding living their best life is not defined by what they have or don't have, including possessions, position or physical condition. Our best living is not defined by our abilities, achievements or lack of the same, nor is it defined by the expectations and opinions of others.
For me, the best living is defined and sustained through faith. Everyone has some type of faith, whether or not you come from a faith tradition or faith community, and everyone integrates their faith into life to some degree. A wise person once shared with me that each person makes decisions based on what he or she believes.
In my role as hospice chaplain, I've learned many lessons about how faith and life are intertwined and how faith is essential to living life at its best. In the process, I have found the following five lessons helpful in my own journey and appreciate the opportunity to share them with you:
A peaceful soul is indispensable to truly living. When our soul is filled with peace, there is little room for much else, including fear, anxiety, shame or guilt. It enables us to stay calm and allows us to live our own life as our own, securely and confidently. Having a peaceful soul does not mean we'll live a life free from conflict or struggles or be immune to pain and loss. But it does mean we'll have a sense of security that will help us be better equipped to deal with the challenges life inevitably hands to us. This sense of peace frees us from fear, allowing us enjoy life and truly live life at its best.
Each day and situation is a new opportunity, so make the most of it.

I've learned that each visit is a unique opportunity to get to know the patient and/or their family in my role as a hospice chaplain. As such, I've learned I need to make the most of every visit because I never know how many additional opportunities I'll have to create that connection. This same approach can be applied to everyday life. We don't know how long we will be here or how many chances we'll have to be with those we love or to share our thoughts and feelings with them. Take advantage of every opportunity you have to be with those you care about whether in the momentous or mundane moments. Take advantage of every opportunity to express your thoughts and feelings to those closest to you, including saying "I love you," "I'm proud of you" or "I'm sorry." Faith helps us identify opportunities as they arise, have the courage to make the most of them, and ultimately, live in such a way that when the end of life comes, there are fewer regrets.
If this event or situation is the worst that happens, life is still pretty good. It doesn't take a lot of effort to realize that everyone has struggles, and many are facing more difficult times than most of us can imagine. Keeping this perspective has helped me be more grateful for what I do have, knowing full well that my circumstances could change anytime. Faith gives us perspective and allows us to live freely and contently with what we have.
It's never too late if you are still living. As long as we have life and breath, it's not too late to make amends, start fresh or make other positive choices for ourselves. Even if your life situation is the result of poor choices, it's not too late to start over. You may not be able to heal things on your own, but you can reach out for help. This is the seed of hope, and holding on to faith can help us reach out for assistance and keep hope alive.
My faith needs to be anchored to something or someone greater than myself. In my role as hospice chaplain, each person and family I have met has a fascinating story and unique experiences that have shaped who they are. As I have listened to those stories, I have come to realize that no matter how many years we have been given or what kind of experiences we have gone through, our education and experiences are still limited. At times, life's challenges can be overwhelming. This is why it's important for our faith needs to be anchored to something or someone greater than ourselves. When it is, faith enables us to continue living our best, even when the storms of life come and when we don't understand why things happen the way they do.
In all my years as a pastor and hospice chaplain, every person I have encountered wanted to live in the best way possible. Though there are many different ideas on how to achieve this goal, for me personally, the "best living" happens when faith is the foundation of life. When it is, a person is able to live freely, contently, hopefully and securely, and in the true definition of C.S. Lewis' words, "the best living, even in the worst of health."
David Montecuollo is a chaplain with Hospice of the Red River Valley.
About Hospice of the Red River Valley
In 1981, Hospice of the Red River Valley was founded on the belief that everyone deserves access to high-quality end-of-life care. We fulfill our nonprofit mission by providing medical, emotional, personal and spiritual care, as well as grief support to our patients, their families and caregivers during a tender time in life. Our staff helps those we serve experience more meaningful moments through exceptional hospice care, 24 hours a day, 365 days a year, wherever a patient calls home. The organization serves more than 40,000 square miles in North Dakota and Minnesota, including in and around Bismarck, Detroit Lakes, Devils Lake, Fargo, Fergus Falls, Grand Forks, Lisbon, Thief River Falls, Valley City and many more communities. Hospice of the Red River Valley offers round-the-clock availability via phone, prompt response times and same-day admissions, including evenings, weekends and holidays. Contact us anytime at 800-237-4629 or hrrv.org.