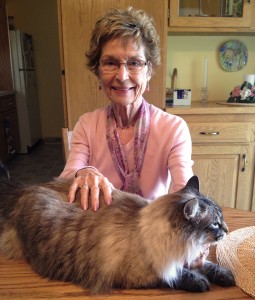 More than 4,000 miles away and 50 years ago, while growing up in Leicester, England, Hazel Meidlinger couldn't have imagined the significant role Hospice would play in her life. She was familiar with the concept of hospice care because of its English roots, a movement started by Dame Cicely Saunders in 1948. "I heartily believed in hospice long before it was started in America because I recognized the importance of that type of care at the end of life," Hazel explained. "I'm very much in-tune with it." But as she busied herself with establishing a family, Hazel didn't think much about hospice until many years later when a volunteer opportunity arose.
A Family Formed
While still in England, Hazel met the love of her life, Harold, while he was stationed there for the U.S. Air Force. Soon after they met, the couple married and welcomed the first of four children into their family. In 1955, Harold completed his service in the Air Force, and the Meidlinger family transplanted to America, making Council Bluffs, Iowa, their first home abroad. In the early 70s, the family, which had increased by three more girls, moved to Fargo, N.D., for Harold's work, and Hazel continued to be a stay-at-home "mum"—raising their children.
Right Place, Right Time
It wasn't until after their girls were grown that Hazel sought to continue volunteering as she did in Iowa. "Back in Iowa, I was somewhat involved in animal rescue, and I enjoyed that experience, and I wanted to do something here after the girls were gone from the house," Hazel said. Her good works began at Dakota Hospital where she helped run the gift shop, and she said the experience was "just delightful."
While working at the hospital, Hazel met two individuals who were instrumental in getting her involved with Heirlooms Thrift & Gift, an upscale resale store benefitting Hospice of the Red River Valley (HRRV). "I thought the whole concept of Heirlooms was just really neat," Hazel explained. "Hospice was just getting the store started, and after listening to a presentation about the story of Hospice of the Red River Valley and their idea for Heirlooms, I just knew I had to help."
Since the store's inception in 2003, an upbeat, merry Hazel has greeted Heirlooms patrons at the front counter on Saturday afternoons, and even in her 80s, she wouldn't have it any other way. "I look forward to my volunteering there, and I've never even thought about stopping," she said. "I'm going to continue volunteering at Heirlooms as long as they'll have me."
Staffed by more than 70 volunteers, Heirlooms isn't just a place of business to Hazel, but rather it's a place with a wonderful atmosphere where she considers everyone as friends. She frequently sees familiar faces from the community. "I love the people there—both volunteers and shoppers, and I don't consider what I do work because it's such a pleasure," Hazel described. "The other volunteers and the management staff are just wonderful."
Something More
In early 2014, Hazel's experience with Hospice of the Red River Valley deepened when her husband, Harold, began receiving care. For many years prior, Hazel looked after her husband who suffered from dementia, and when it was time for Hospice, Hazel welcomed the help. "I didn't feel like the world was on my shoulders anymore; I didn't feel alone," she explained. "Even though my husband wasn't on hospice care for very long, the Hospice staff was a great comfort and help to me and my family." Hazel described his primary Hospice registered nurse as "kindness herself" and added the staff was always "very concerned with her husband's care."
Shortly after Harold began hospice care, he passed away, but Hazel remains grateful for the cares he received. "Now that I've seen the way Hospice helped our family, it's all the more reason for me to continue supporting the organization," she said. "I saw firsthand the kind of care people are receiving, and it's so important because we're all going to be there one day. I totally believe in Hospice."
As the days go by and Hazel's journey continues, she looks forward to the weekends when she works at Heirlooms. Smiling, Hazel added, "I feel great when I'm there and knowing that my work helps support such a wonderful organization that has given so much to others."
About Hospice of the Red River Valley
In 1981, Hospice of the Red River Valley was founded on the belief that everyone deserves access to high-quality end-of-life care. We fulfill our nonprofit mission by providing medical, emotional, personal and spiritual care, as well as grief support to our patients, their families and caregivers during a tender time in life. Our staff helps those we serve experience more meaningful moments through exceptional hospice care, 24 hours a day, 365 days a year, wherever a patient calls home. The organization serves more than 40,000 square miles in North Dakota and Minnesota, including in and around Bismarck, Detroit Lakes, Devils Lake, Fargo, Fergus Falls, Grand Forks, Lisbon, Thief River Falls, Valley City and many more communities. Hospice of the Red River Valley offers round-the-clock availability via phone, prompt response times and same-day admissions, including evenings, weekends and holidays. Contact us anytime at 800-237-4629 or hrrv.org.