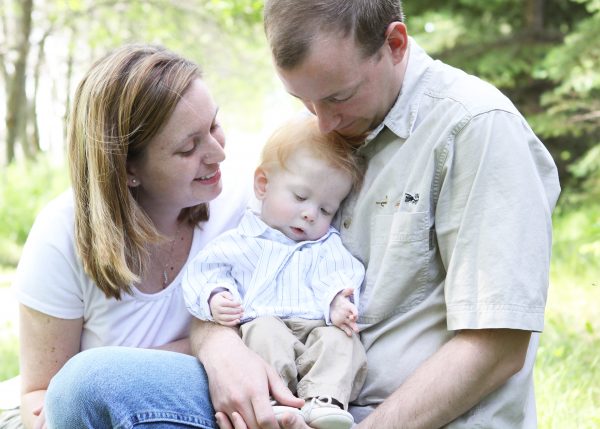 Gauge Niemeier had soft, wispy red hair—a trait his father Trent beams about because every generation of the Niemeiers has just one boy with red hair. His beautiful blue eyes were just like his mom, Brandi's. Gauge's spirit shined, exemplifying hope, light and unwavering resilience. He was the apple of his parents' eyes.
Gauge was Trent and Brandi's first child. While regular prenatal checkups discovered some health issues early in the pregnancy, it wasn't until after Gauge was born that doctors discovered he had a rare heart disorder called pulmonary vein stenosis (PVS). PVS is a condition in which cells rapidly produce and cause blockages in the veins that carry blood from the lungs to the heart.
This discovery took the Niemeier family on a journey into the unknown with many challenges and difficult decisions, and countless trips to medical specialists.
Through it all, Brandi and Trent advocated for Gauge. In doing so, they identified one of only two cardiologists in the world at the time who specialized in PVS. Brandi spoke with Dr. Kathy Jenkins, a cardiologist at Boston Children's Hospital and professor at Harvard Medical School in Massachusetts, about Gauge's diagnosis, the likelihood of his survival and what could be done to help him.
"We were willing to do whatever we needed to do to make sure that Gauge had as many opportunities as possible to live a fulfilling life," Brandi explained.
A Change in Perspective
Trent and Brandi made the hard decision for Gauge to undergo open heart surgery and two angioplasties at Boston's Children's Hospital when he was three months old. As difficult as it was to move forward with operations, the couple said it was the right decision at the time because the procedures improved Gauge's quality of life significantly for nearly six months.
"After the surgery, Gauge acted like a typical baby, rolling over and laughing. He had more energy. He never would have had that without the surgery," Brandi explained. "I loved his smile and his laugh. Even in the most trying times, he had a great attitude. He really taught us about attitude."
A follow-up appointment a few months after surgery confirmed that 6-month-old Gauge had the recurring type of PVS. The vein stenosis was back, and surgery was never going to be a permanent solution. Recurring PVS would inevitably lead to rigid veins and congestive heart failure.
The confirmation was devastating. The family had already spent more than five months in hospitals in Fargo, Minneapolis and Boston.
"We were faced with the reality that there would be no cure for Gauge," Brandi said. "We realized at that time we had to make sure that his short time with us was the very best that it could be. So, we shifted our focus from longevity to life quality."
With that change in perspective, Brandi and Trent brought 6-month-old Gauge back to their rural home in Walcott, N.D., with the help of Hospice of the Red River Valley. Staff at the Boston Children's Hospital and Hospice of the Red River Valley created a plan for Gauge for when he returned home.
"There's nothing like being in your home at a time like that," Brandi said. "Finally, we were home, and the health care providers came to us." 
Special Moments at Home
The Niemeiers' quaint home was positioned on 18 acres of wide-open North Dakota prairie. It was a quiet sanctuary where they could disconnect from the hustle and bustle of city life. They enjoyed country living with their two dogs—and cherished the chance to bring Gauge home where they could simply experience him as their child and create cherished memories.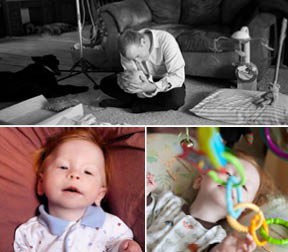 They cuddled Gauge, lied on the floor and read books to him, and played with him. Gauge's favorite toy was a Happy Apple, a bright red vintage apple toy that made a jingling sound when he made it wobble.  
Being at home provided a sense of normalcy and the ability to have better control over Gauge's care. Brandi and Trent didn't want Gauge getting poked with any more needles, and with Hospice they were able to do that.
"We could stop navigating hospital systems," Brandi said. "We were able to come home and know that Gauge would be getting all of the support he needed, and we could spend time with him and enjoy our time as a family."
One of Brandi and Trent's primary concerns for Gauge was his comfort. Brandi said with Gauge's given prognosis, it was top of mind for her and Trent to ensure Gauge's feeding schedule and pain management measures were always taken care of on time.
Hospice staff regularly delivered Gauge's medication and formula directly to their home. Brandi and Trent didn't have to worry about making the hour-long round trip to Fargo for supplies. They found this especially helpful because car rides were challenging for Gauge. He had a narrow trachea, which made it difficult for him to breathe properly while buckled into a car seat.
Every extra moment with Gauge was precious and sacred. With Gauge's age and complex cares and only one family member in the area, the couple relied on Hospice staff to be an integral part of his routine care.
In addition to caring for Gauge, Trent was still working full-time at a tractor manufacturing company in Fargo while Brandi studied to complete her doctoral degree in human development. Brandi said hospice care was less imposing and more supportive and welcoming than she imagined it would be.
"We needed family, and Hospice was that family. When I think about Hospice, I think about how they became our family. Their role was to support us, and it was truly meaningful," Brandi expressed. "It was like all of the responsibilities were taken care of, and it gave us a 'normal' life. We could soak up Gauge's life and celebrate it instead of trying to take care of all the responsibilities on our own."
Trent wholeheartedly agrees with his wife. "Hospice was there whenever we needed anything," Trent explained. "When Gauge's needs changed, Hospice was on it. All of us transitioned at the same time to support Gauge. It was a partnership, and Hospice made it easy and a good experience."
Welcoming Hospice as Family
The Niemeiers' dedicated Hospice team became much like family to the young couple, including Registered Nurse June Anderson (now retired), Social Worker Cathy Miller, Chaplain Tom Holtey and Physician Dr. John Thomas (now retired). June made several visits a week to tend to Gauge's physical needs and provide support and reassurance for the new parents, while Dr. Thomas was always just a phone call away to discuss changes in Gauge's condition.
"I fondly remember stopping by to see Gauge, and we would sit on the floor and simply enjoy the charming child, smiling and cooing," Dr. Thomas said. "It was my privilege to be a member of the team who provided care to this special child. Because of Trent and Brandi's love and devotion, I could easily assure them that Gauge received the best possible care. Of all of my hospice patients and families, Brandi was one of my heroes."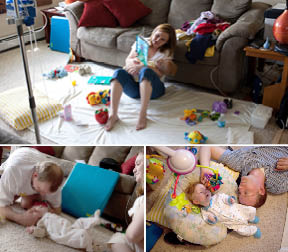 Gauge received his medicine every three hours, and he was also never left alone. As he neared the end of his life, Hospice staff was able to watch over Gauge so Trent and Brandi could get some rest overnight. "That support provided much-needed rest for Trent and me because we could actually go to bed. It was really a blessing," Brandi shared.
Cathy helped the couple prepare for the end of Gauge's life, including after his death. She provided essential pre-death grief support to them while they were coming to terms with everything that was happening and arranged for the couple to attend a retreat for grieving parents after Gauge died.
"Hospice allowed us to grieve in the process, which I think was much more healing than being distracted and having to grieve afterward. We knew what was happening, and we could have that time to come to grips with what was going on," Trent explained. "When you can spend time like that with someone who is dying it makes it easier than a sudden death. We didn't have regrets like wishing we would have spent more time with him. We had the time and that made it easier for our family. We had been grieving the entire time, and Hospice allowed us to do that."
Another important aspect to the family was documenting Gauge's precious life. Cathy took special note of this and arranged for a professional photographer to visit the Niemeiers' home and take family portraits while Gauge was still well enough to participate. Hospice also arranged for the family to participate in a photo documentary exhibit by Minnesota State University Moorhead (MSUM) photography students called Witness to Life. A MSUM student spent time with the family and captured day-to-day life with Gauge in beautiful photographs.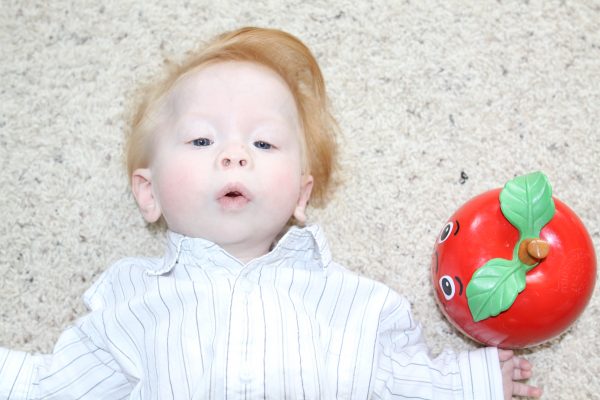 One special memory that also stands out to Brandi is when Cathy held Gauge during her visits so Brandi could walk the half-mile to their mailbox and back. "It was always just the right amount of fresh air to recharge, and I really appreciated that," Brandi shared.
"Brandi and Trent had such a deep connection with Gauge; they were truly one with him. They were always so encouraging to him, and they made every day an amazing, bright, fun-filled day for him," Cathy said. "They trusted us and embraced our help. It was so humbling to help care for Gauge."
Gauge passed away peacefully on Sept. 8, 2010, just 10 days before his first birthday.
Finding Purpose, Value
"We fully attribute this to his constant care and attention, and our ability to focus completely and positively on him," Brandi said. "Hospice of the Red River Valley made this possible. The outcomes would have been very different had we not had Hospice."
Gauge's life had purpose—purpose in inspiring countless people to act in kindness and generosity to those in need and purpose in adding immeasurable value to the Niemeier family. When Gauge was receiving care at Boston Children's Hospital, Brandi and Trent were first introduced to the idea of foster care, which is how they later came to foster and adopt their two boys, Clark (8) and Elliott (7).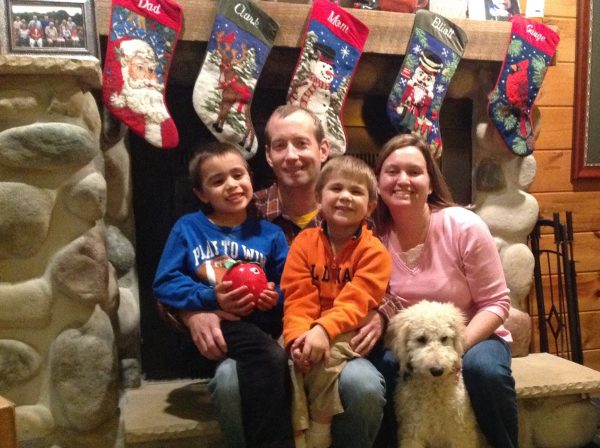 "Gauge had a very full life, and we got so many quality moments with him," Brandi said. "From the start of having Hospice and throughout, and even following Gauge's death, we had foundational support through Hospice. We were able to be a family and that would not have been possible without the support from Hospice of the Red River Valley."
A framed picture of Gauge that holds an audio recording of his sweet giggle sits on the family's fireplace mantle, right next to the little toy apple he loved. It is a daily reminder of Gauge's sweet disposition and purpose-filled life.
"Gauge taught us about the value of life. He wasn't with us for very long, but he sure impacted many people's lives," Trent shared.
About Hospice of the Red River Valley
In 1981, Hospice of the Red River Valley was founded on the belief that everyone deserves access to high-quality end-of-life care. We fulfill our nonprofit mission by providing medical, emotional, personal and spiritual care, as well as grief support to our patients, their families and caregivers during a tender time in life. Our staff helps those we serve experience more meaningful moments through exceptional hospice care, 24 hours a day, 365 days a year, wherever a patient calls home. The organization serves more than 40,000 square miles in North Dakota and Minnesota, including in and around Bismarck, Detroit Lakes, Devils Lake, Fargo, Fergus Falls, Grand Forks, Lisbon, Thief River Falls, Valley City and many more communities. Hospice of the Red River Valley offers round-the-clock availability via phone, prompt response times and same-day admissions, including evenings, weekends and holidays. Contact us anytime at 800-237-4629 or hrrv.org.