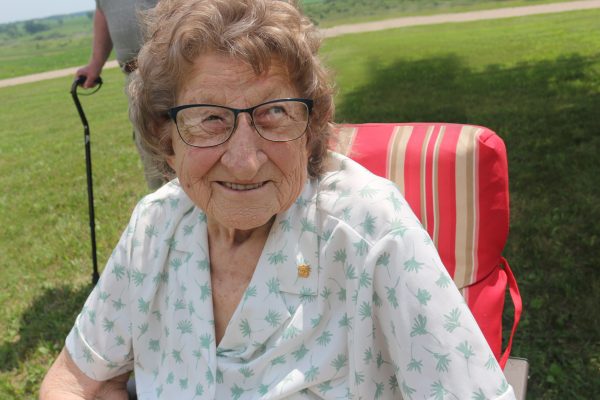 Editor's note: This article is used with permission by the Lakes Country Connection.
Agnes Gross is one of those classic people of the greatest generation. A solid citizen, loving wife, who raised her kids, paid her taxes and went to church each week. But now she finds herself on Hospice. Agnes is battling Ball Fungus in her lungs, which builds up scar tissue, possibly due to grain dust exposure.
Hospice Chaplain Nathan Richman has spent many hours with Agnes over the past year and a half, and one day he asked Agnes if there was anything left to do or anything left on her bucket list? She replied, "No, I have had a good life for 92 years," but later she added that she had a son, Robert who served in Vietnam and died later back home in a motorcycle accident.
Chaplain Richman then asked Agnes if she ever received a Gold Star Flag. Agnes informed him that she had not, but that she would hang it proudly in her window today if she had it. This put passion in the Chaplain's heart. After all, she had given the ultimate sacrifice of her son. The Chaplain continued by asking others if they would be interested in being part of making this happen for Agnes and all he heard was "Yes, Yes, Yes!"
After much work and planning on Wednesday, July 11, 2018, staff and volunteers from Hospice of the Red River Valley, members of the Lake Park American Legion Ladies Auxiliary (of which Agnes is a member), Staff of Clay County Veteran Services and Lake Park American Legion members all came together to present Agnes with not only a Gold Star Flag, but a Pin also.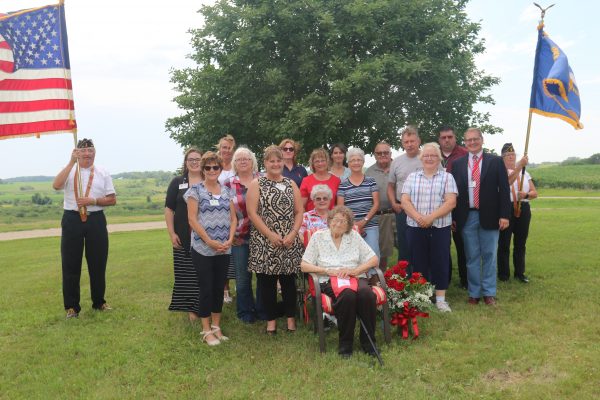 The presentation was made on the Gross family farm, west of Lake Park. Chaplain Richman spoke of Agnes's plight and a letter to Agnes from Minnesota Senator Tina Smith was read.
Curt Dannon of the Veteran Services of Clay County then presented the Gold Star Flag and Pin to Agnes. Guests then each presented a red rose to Agnes along with personal well wishes. Chaplain Richman closed the presentation ceremony with a prayer.
Although it was many years coming, the meaning was as fresh as the morning dew.
For those who do not know the history of the Service Flag, the Service Flag is an official banner authorized by the Department of Defense for display by families who have members serving in the Armed Forces during any period of war or hostility the United States may be engaged in for the duration of hostilities.
The flag is officially defined as a white field with a red border and includes a blue start for every immediate family member serving in the armed forces of the United States. If that loved one died, the blue star was replaced by a gold star.
Agnes raised five children and two grandchildren. She worked at the Lake Park Elevator for 32 years as a bookkeeper until its closing at which time she retired.
About Hospice of the Red River Valley
In 1981, Hospice of the Red River Valley was founded on the belief that everyone deserves access to high-quality end-of-life care. We fulfill our nonprofit mission by providing medical, emotional, personal and spiritual care, as well as grief support to our patients, their families and caregivers during a tender time in life. Our staff helps those we serve experience more meaningful moments through exceptional hospice care, 24 hours a day, 365 days a year, wherever a patient calls home. The organization serves more than 40,000 square miles in North Dakota and Minnesota, including in and around Bismarck, Detroit Lakes, Devils Lake, Fargo, Fergus Falls, Grand Forks, Lisbon, Thief River Falls, Valley City and many more communities. Hospice of the Red River Valley offers round-the-clock availability via phone, prompt response times and same-day admissions, including evenings, weekends and holidays. Contact us anytime at 800-237-4629 or hrrv.org.