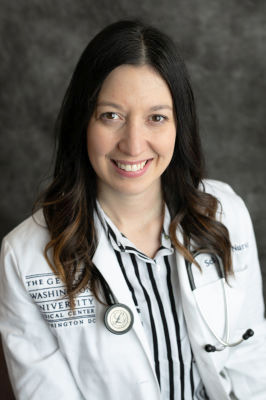 Small communities in a largely rural state, like North Dakota, have an increasing aging population with access to fewer health care resources. Tara Brander, DNP, FNP-C, family nurse practitioner with Ashley Medical Center, is on a mission to change that.
Tara is one of three nurse practitioners at Ashley Medical Center, which includes a 20-bed critical access hospital with an emergency room, two clinics and 40-bed skilled nursing facility. The medical center provides comprehensive care for dozens of surrounding communities, keeping individuals as close to home as possible.
She recognizes the value of partnering with other health care providers, like Hospice of the Red River Valley, to bring additional specialized care to the quaint community she calls home. Tara works with Hospice staff in several capacities, including hospice, palliative and primary care, from the clinic to the hospital to the nursing home.
Learn more about Tara and how Hospice the Red River Valley is supporting those she serves.
What is your background?
I'm a family nurse practitioner at Ashley Medical Center. I've been here for six years working in the emergency room, clinic, nursing home and hospital. I love the work and the variety. Before coming to the Medical Center, I worked in Bismarck as a nurse and I also did travel nursing.
I'm passionate about health policy. I serve as the co-legislative liaison and president of the North Dakota Nurse Practitioners Association. I also started a nonprofit called Everlasting Hope focused on creating awareness around infertility and supporting individuals who are struggling with infertility. I love helping people and being involved in multiple things.
Ashley is my hometown. I never thought I would end up back here, but it's been wonderful. My parents and grandparents are here, also.
What has it been like working with staff from Hospice of the Red River Valley, and how has the partnership gone?
Our partnership has been wonderful. They are super easy to work with and quick to answer questions. The collaboration from CNAs and nurses to community outreach is exceptional. The Hospice team is always checking in and have even helped us with billing questions.
When I've seen Hospice staff interact with our patients, it's not just about the patient, it's also about the patient's family. They offer superior timeliness from filling out a referral form to when they are contacting that patient.
Hospice staff do not force anything. Rather, they answer all the questions from the patient and family. I really see the need to have them here, especially in a rural area.
How has Hospice of the Red River Valley added value to rural communities, like Ashley?
As providers, we always want to give our patients options for care. In rural areas, most of our people want to die at home. We don't have home health care or really many outlying services.
It's important to partner to offer this care to our patients. It helps eliminate travel and keep the person here at home, close to their family and friends. Our community members don't want to leave their rural North Dakota homes. We want to honor their wishes and keep them here if we can, and that is where Hospice of the Red River Valley helps.
What benefits have you and the families you serve experienced from working with Hospice of the Red River Valley?
Bringing Hospice of the Red River Valley in has given family members hope—no matter the stage of the diagnosis. The relationship with Hospice and the patient is not the typical medical relationship. It becomes more like a friend or a close-knit family member. Hospice care helps take the stress off the caregivers and takes away so much of the guilt.
It's also helping providers, like myself, keep people out of the hospital for readmission. We've had several patients who have been in and out of the hospital, and when we get Hospice of the Red River Valley involved, the readmissions significantly go down.
I think providers need to keep in mind that it's not always about money, but rather, it's about what's best ethically for our patients at this stage in their life. It's about offering them choices and the best care for their whole self. We need to keep the patient and their family together and finalize this stage in their life the best we can and respect that. Hospice can make that happen much better than we as providers can.
Providers are not necessarily trained to truly see end of life and know how to talk to our patients about it. It's a tough subject, especially when you have known most of these people their entire lives. Hospice comes in and helps us with that. It makes it easier for us as the medical provider who has a personal relationship with the patient and their family.
If you could tell someone one thing about Hospice of the Red River Valley, what would that be?
These are exceptional caretakers who are there to help serve you with a multitude of factors with the diagnosis you have been given. The collaborative teamwork with your local health care provider and your family is one of things that I cherish the most about working with Hospice of the Red River Valley.
For more information, visit our website, contact us or call (800) 237-4629.
About Hospice of the Red River Valley
In 1981, Hospice of the Red River Valley was founded on the belief that everyone deserves access to high-quality end-of-life care. We fulfill our nonprofit mission by providing medical, emotional, personal and spiritual care, as well as grief support to our patients, their families and caregivers during a tender time in life. Our staff helps those we serve experience more meaningful moments through exceptional hospice care, 24 hours a day, 365 days a year, wherever a patient calls home. The organization serves more than 40,000 square miles in North Dakota and Minnesota, including in and around Bismarck, Detroit Lakes, Devils Lake, Fargo, Fergus Falls, Grand Forks, Lisbon, Thief River Falls, Valley City and many more communities. Hospice of the Red River Valley offers round-the-clock availability via phone, prompt response times and same-day admissions, including evenings, weekends and holidays. Contact us anytime at 800-237-4629 or hrrv.org.