Gerald (Gary) and Donna Ebeling built a lifetime of memories in 53 years of marriage. Opposites attract, they say. For Gary and Donna this adage rings true.
He enjoyed traveling and she is more of a homebody. Gary had a more serious disposition, while Donna is light-hearted. But they shared a fondness and respect for one another that formed a quintessential relationship.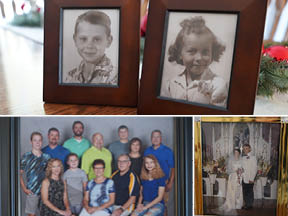 Donna grew up near Vergas, Minn., and Gary grew up in Perham, Minn. They started dating at 16 years old. "Gary and I are high school sweethearts. I always say he rescued me," Donna shared fondly. "I lived way out in the country. My parents were farmers and didn't have time to drive me into town for activities. When Gary started driving, he would come get me."
Young love soon transformed into newlywed bliss.
The couple made their home in Perham, Minn., raising two sons (Mark and Jon) and a daughter (Lisa). Both had careers, but they always dedicated time for each other. The pair nurtured their relationship and connection through in-depth conversations held over Friday night dates, long car rides around the countryside, relaxing trips to Minnesota's North Shore and winter getaways to Florida's sandy beaches.
This strong bond helped them navigate life's ups and downs with grace and love.
Unexpected Diagnosis
In 2013, they faced one of their lowest valleys when Gary was diagnosed with glioblastoma, the most aggressive form of brain cancer. Gary doctored at Mayo Clinic in Rochester, Minn., and had surgery to remove the tumor, followed by six weeks of radiation and chemotherapy treatments. He made a remarkable recovery from the disease, and his life went back to normal for the most part. "We had five and a half years of blessings. Many people don't survive this type of cancer. Our faith really got us through it," Donna said.
In 2018, the cancer returned, and Gary underwent a second surgery with two more tries of different chemotherapy treatments. His body didn't respond to the medication as it had in the past. Gary's doctor talked with him and Donna about his prognosis and goals. Even though Gary was still pursing treatments, the doctor recommended they meet with Hospice to learn more about his health care options beyond chemo.
Gary experienced some hesitation in calling Hospice because he felt that it was giving up. "The doctor said we should just have the first visit. That was the assignment she gave Gary," Donna said. "I told Gary it's not about dying but about living to the fullest. I assured him it was not about giving up but using the resources to his benefit. So, we met with Hospice of the Red River Valley. It was very important we did that, so we could become familiar with them."
Two more months of treatments were not effective. It was taking a toll on Gary. He met with his doctor again and she suggested he change his focus to quality of life, which meant no more extended trips to Rochester and no additional treatment. Instead, he could use his time and energy to accomplish the things he still wanted to do, including spending meaningful time with his family.
Gary and Donna welcomed Hospice of the Red River Valley into their home in July 2019.
Help Along the Way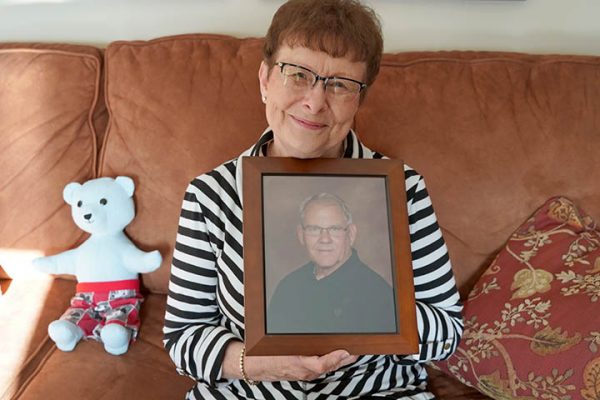 Gary had expressed to his family that he hoped he would be able to die at home. Of the many benefits of hospice care, they most appreciated the ability to honor this wish.
For Donna, calling Hospice meant she could honor their life together in this final act of love by caring for him at home. "He was comfortable, and of course, it was much more comfortable for us as family. Being able to fulfill his wish made me so happy," she said. "When hospice came in, it was such a relief. I couldn't do it anymore. Hospice was able to take care of him, and they had the equipment we needed to keep him here at home where he wanted to be."
Hospice covers the cost of all medications to control pain and other symptoms related to the terminal illness, and medical equipment and supplies for individuals under care.
Gary's reservations about hospice care were diminished significantly after he met his Hospice of the Red River Valley registered nurse, Casey Donarski. "When Casey walked in, it was like a ray of sunshine," Donna explained. "The first time she met him she knelt beside him and explained how she was going to make him feel better. Casey was able to calm his anxiety."
Some people can experience restlessness during their end-of-life journey. Casey worked diligently with other hospice care team members, including the hospice physician, social worker and chaplain, to manage Gary's restlessness and the other symptoms that arose.
"I was impressed how quick things happened. Hospice staff would talk to the doctor about trying this or that and wait 45 minutes after they tried it. If that adjustment didn't help, they were back on the phone talking about trying something else. They didn't leave until things were fixed. They were always on top of things," Donna said. "It' was so great to have hospice here to help to lift that load. You feel lost and confused during this time. Hospice staff are like angels and lift you up along with the patient. They help to build your confidence."
The Hospice team provides much needed support not only for patients, but also for their caregivers. They work closely with family members and loved ones to educate and empower them as caregivers while also connecting them to additional resources to support the patient. They also offer guidance and support to help families deal with the range of emotions that surround end of life.
"The entire family was so wonderful to work with, and the love they have for Gary was apparent. They were able to honor Gary's wish to stay at home by providing great care," Casey said. "Donna especially did an incredible job caring for Gary. She was completely selfless in a very difficult time and always put Gary's needs above her own. You easily could see the love connection between Donna and Gary."
In addition to Hospice staff, the Ebelings' three children supported Donna in her caregiving role by helping with Gary's medication and providing much-needed respite visits so she could get rest.
A Life Well-lived
Gary was a servant leader in both his family life and the Perham community. He was at the center of his family, always the provider, advice-giver and caregiver. Donna said he took care of their family very well and was a wonderful example to their children.
Gary built a long, successful career at the local Tuffy's Pet Food plant. He started working by sweeping floors at the plant in high school and made his way up in the company through the mill room, dispatching trucks and ended his career as the plant manager. "I think what made Gary so successful is his love of people. He gave 100 percent to anything he did," Donna said. In all, he worked at the plant for 55 years.
He also devoted himself to service through St. Paul's Lutheran Church and School and the Perham Fire Department, serving more than 40 years as a volunteer fire fighter.
After a lifetime of caring for others, it was Gary's turn to be cared for in his final journey.
A Peaceful Ending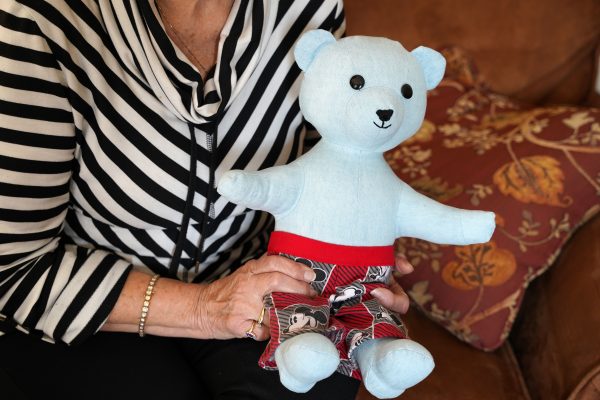 Gary was under the care of Hospice of the Red River Valley for six weeks. He took his final breath with Mark, his oldest son, by his side. "Gary gave him a smile like he had always done, and it was like he was saying, you guys did it," Donna shared. "I know he was pleased. Without Hospice, we couldn't have done it. He was at peace."
This experience has served a valuable life lesson for Donna, who has become a Hospice advocate. She is using their experience with Hospice of the Red River Valley to help educate others about the concept of care. "When you go through it, you realize how important it is. They are there to make life better until that final moment," Donna explained. In looking back, Donna is grateful for the homework Gary's doctor gave him—to call Hospice to learn more about his health care options beyond chemo.
"Don't be afraid to call Hospice earlier rather than waiting to find out what kind of services they have to offer. You don't have to sign up the first time you talk to them. I can't say enough good things about Hospice."
About Hospice of the Red River Valley
In 1981, Hospice of the Red River Valley was founded on the belief that everyone deserves access to high-quality end-of-life care. We fulfill our nonprofit mission by providing medical, emotional, personal and spiritual care, as well as grief support to our patients, their families and caregivers during a tender time in life. Our staff helps those we serve experience more meaningful moments through exceptional hospice care, 24 hours a day, 365 days a year, wherever a patient calls home. The organization serves more than 40,000 square miles in North Dakota and Minnesota, including in and around Bismarck, Detroit Lakes, Devils Lake, Fargo, Fergus Falls, Grand Forks, Lisbon, Thief River Falls, Valley City and many more communities. Hospice of the Red River Valley offers round-the-clock availability via phone, prompt response times and same-day admissions, including evenings, weekends and holidays. Contact us anytime at 800-237-4629 or hrrv.org.