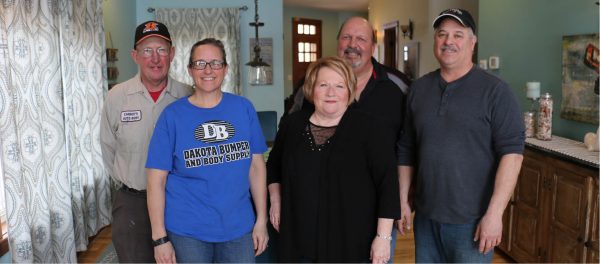 Nestled among evergreens and winding roads in eastern Mahnomen County, Naytahwaush, Minn., is a quaint town whose residents hold Hospice of the Red River Valley especially close to heart. For the past 13 years, community members have combined their love of Minnesota winters with supporting their friends and neighbors by participating in the Hospice Ride, an annual snowmobile ride that raises funds for Hospice of the Red River Valley's compassionate end-of-life care in the region.
The annual ride is organized by the Naytahwaush Nightriders Snowmobile Club, a group founded in 1971 after a friendly challenge of whether a snowmobile or horse could travel quicker. The club initially offered community members a way to connect and enjoy the outdoors during the long winter season, and it eventually grew to include a fundraising component for grooming equipment and other items necessary for trail upkeep.
As founding members began to age and phase out of the snowmobiling aspect of the club, younger members, such as Tom McArthur and Steven Paul, sought to bring excitement back into the group by hosting a yearly out-of-town snowmobile ride, which ultimately became the Ride for Hospice. Snowmobilers participate in a daylong ride to a nearby destination city, stay overnight and ride back home the next morning.
"We did these rides, and in the meantime we started to lose some members to death," Tom McArthur, Ride for Hospice organizer, explained. "We weren't an active club in the summer, so there was no one to send flowers during that time, and you didn't want to miss someone who had passed." As a group, the club discussed how they could pay tribute to those who had passed in one gesture rather than individual memorials.
The group decided to make an annual contribution to Hospice of the Red River Valley as a tribute to friends and family who had passed away during the year. Club Member Judy Paul said supporting Hospice of the Red River Valley was a natural fit because of the organization's vast reach and positive impact on local families. "I think sooner or later we're all touched by Hospice, even if it's just knowing someone that Hospice has helped," she said.
"As a club, we were making a donation once a year for several years, and then we thought, 'Why don't we implement the same kind of idea but also try to raise more money for Hospice,'" Tom said. "We took the money the club would normally donate to Hospice and used that as an incentive for riders to collect pledges."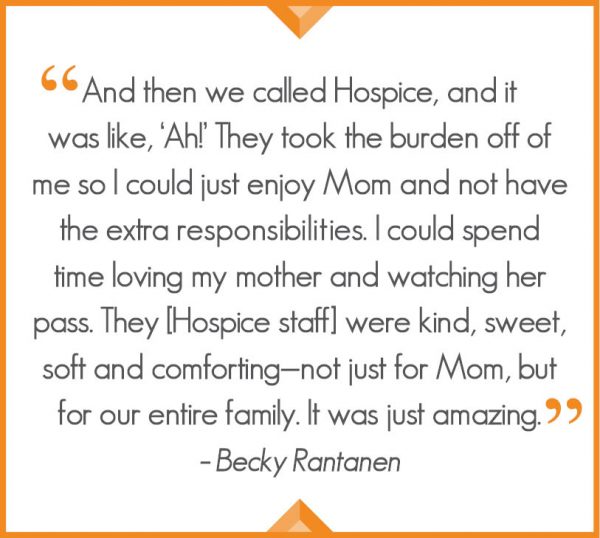 Fellow Naytahwaush Nightriders Becky and Dan Rantanen first experienced hospice care when Hospice staff cared for Becky's dad and again when they needed help with her mom's care. Becky said having the extra support and assistance from Hospice staff made a difficult circumstance better for her family.
"When my mom started getting sick, it just got to be so overwhelming," Becky said. "And then we called Hospice, and it was like, 'Ah!' They took the burden off of me so I could just enjoy Mom and not have the extra responsibilities. I could spend time loving my mother and watching her pass. They [Hospice staff] were kind, sweet, soft and comforting—not just for Mom, but for our entire family. It was just amazing."
The compassionate care Becky's parents received from Hospice of the Red River Valley ignited a passion in the Rantanens to advocate for end-of-life care and planning, and also to find ways to give back to the organization.
"Both Dan and I have completed living wills. Although it was tough to do, I think our exposure to Hospice made the process easier," Becky explained. Their acceptance of hospice care has also made a lasting impression on the next generation of their family. Last year the couple's grandchildren saved money throughout the year and donated it to Hospice as a Christmas gift.
In addition to participating in the Ride for Hospice, the Rantanens organize two fundraisers in the Naytahwaush area that benefit Hospice of the Red River Valley: a rib cook-off called RibBest and a wing competition called Wing Ding.
"What would one do without Hospice," Becky asked. "I mean truly, it's what everybody falls back on. It's our saving grace."