Love is a curious thing. Timeless. Enduring. Hopeful. When you're young and in love, you don't often think about what will happen to your precious love as you age and weather life's seasons. But for those who have been separated from the one they love, by death, time or distance, it's natural for some individuals to wish to rekindle a lost love as they near the end of their lives.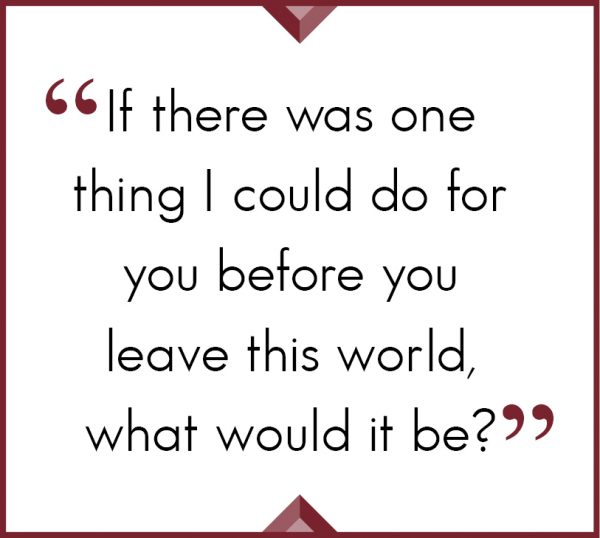 For Margaret,* a Hospice of the Red River Valley patient, she hoped for just that—to be reunited with her boyfriend. Because they each faced health challenges, they had been separated for an extended period of time. Margaret often spoke of John* and even expressed her regret in not marrying him.
One day, Margaret's Hospice of the Red River Valley certified nursing assistant, Von, asked Margaret, "If there was one thing I could do for you before you leave this world, what would it be?" Margaret didn't hesitate as she replied with a single word, "John."
Margaret, now in her late 90s, had no living immediate family members; John was her last remaining love. Von worked with Hospice of the Red River Valley Social Worker Cathy, and together they figured out where he lived, which was in another facility just across town. They arranged for John to visit Margaret a few days later.
Proudly displayed in Margaret's room were pictures from years past of family and friends, including John. "They looked like a classy couple, always dressed so nicely." Von shared, recalling photos she had admired of Margaret and John together. "I couldn't wait to go to work that day and see them together again."
So before John arrived, Von visited Margaret and said, "Let's get you ready as if you were going on a date." Margaret chuckled with excitement a bit as Von styled her hair, applied makeup and helped change her into clean clothes in preparation for John's arrival.
When John arrived, he and Margaret spent time together holding hands and talking. They requested to extend their time together that same day and continued their conversation while enjoying lunch. "Margaret couldn't take her eyes off of him," Von said.
Before their time together was done, the facility pastor had a short visit with Margaret and John and performed an unofficial wedding. "It was one of the most beautiful things I have seen," Von remarked. "Margaret was more active than she had been in recent days, and the facility staff was so amazing and supportive, too. It really was a romantic time for them." This beautiful reunion fulfilled Margaret's last wish.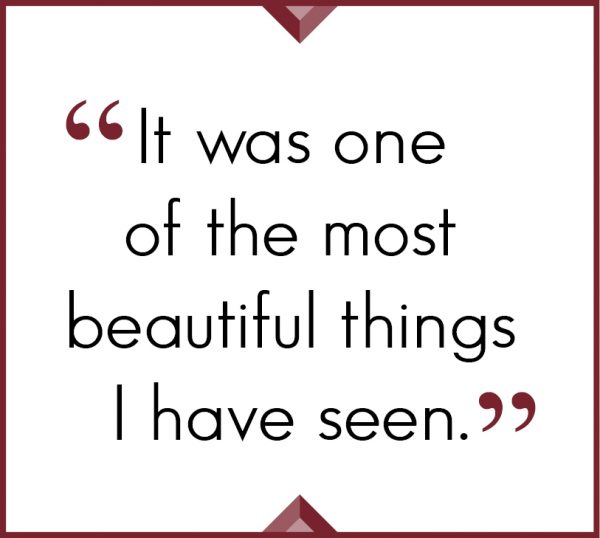 When an individual enters hospice care and nears the end of life, people often mistakenly believe that all hope is lost or they are "giving up." Hospice doesn't mean there's no hope, rather your hope shifts into making each moment count. Our patients find hope in comfort, peace and creating more moments with the ones they love. And for Margaret, her hope meant being reunited with her lost love.
Hospice of the Red River Valley's experts are specially trained to provide the best care for those facing life-limiting illnesses. An important piece of our works includes communication and how we speak with our patients and asking the right questions to truly understand what matters most to them.
Von shared she learned to ask questions in a different way because of Hospice of the Red River Valley's annual Journeying Home Conference. "The information I learned truly has made a difference in how I interact with my patients," Von said. "It's much different than in the past. Not that the other way was wrong, but sometimes, with knowledge and asking questions in a new way, we can get others to share and open up to us, and it might even be their last wish."
Imagine if Von had never asked Margaret that faithful question, "If there was one thing that I could do for you, before you leave this world, what would it be?" What if, instead, she had asked, "Is there anything else I could do for you?" or "Do you want me to do anything else before I go today?"
The compassion and kindness extended to Margaret to reunite her with John isn't listed in a job description. Rather, it was inspired by love, the love our staff has for the work they do on behalf of Hospice and the love Margaret and John shared.
After Margaret's reunion with John that day, Von later saw Margaret with her head in her hands saying, "How did this happen today?" Von simply smiled and said, "I will tell you about it next week."
Within two short months of their reunion, Margaret passed away peacefully. She lived her remaining days happy, in love, symbolically connected to her sweet John. In spite of nearing the end of her life, she had found her hope—and a love unbound by age or death.
*Names have been changed to respect the privacy of our patients and their loved ones.