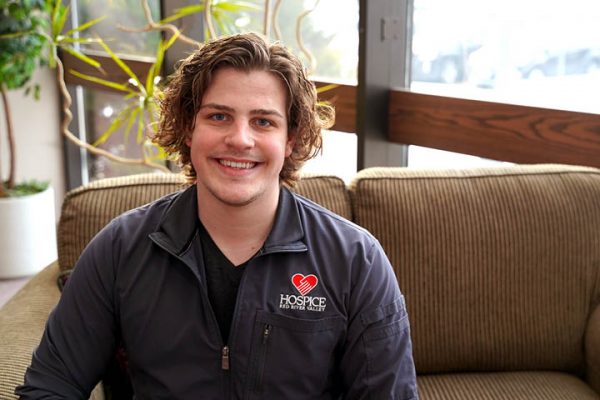 Oliver Roth has loved working with people for as long as he can remember. His passion for helping individuals has led to a career nursing and taking care of people in their most tender and intimate journey in life: end of life. His technical skills combined with his compassion and empathy help guide Oliver's purpose as an after-hours nurse at Hospice of the Red River Valley. He often works with patients who are in a crisis to resolve some their most distressing symptoms.
"It's amazing to see how much you can help a patient go from distress to comfort," Oliver shared. "It's a wonderful feeling when your interventions help make a patient comfortable, and the family's tension fades away."
Learn more about Oliver and his role as an after-hours coordinator at Hospice of the Red River Valley.
Tell us about your background.
I have been a licensed practical nurse (LPN) for quite a few years and have always been around hospice care. When I was in high school, I worked in the nursing home in my hometown and witnessed the care. After nursing school, I worked in the hospital setting and I continued caring for patients at the end of their lives in the hospital. I realized what I wanted to do after witnessing my grandpa's passing under hospice care in my hometown. Shortly after he passed, I applied at Hospice of the Red River Valley.
Hospice of the Red River Valley does a phenomenal job with their community outreach and making sure people really understand hospice care. Sometimes people don't get any education about what hospice care is and what it can do, and they typically get on service on the last day or with only a few days of life left. So, coming here and seeing people on service for so long is just remarkable, and it's great to be a part of that.
I graduated in May 2021 with my bachelor's in nursing. I will be attending graduate school starting in the fall 2021 for my master's in nursing and executive leadership and master's in business administration. I'm really interested in administrative leadership.
Please explain the role of a licensed practical nurse, and specifically, in hospice care.
An LPN is a different degree in nursing versus a registered nurse. An LPN has a different scope of practice than the registered nurse. In hospice care, LPNs are utilized in a lot of different roles. When I started with Hospice of the Red River Valley, I was an after-hours LPN and took phone calls, saw patients and triaged patients during the overnight hours. I'm now the after-hours coordinator and help train staff to ensure the best after-hours care.
What does a "typical" overnight shift look like for you?
You often hear that the after-hours team is the ER of hospice care. Generally, when a patient calls after-hours they are in distress and need help. We go see them and do what we can in the middle of the night so we can avoid hospital visits at three in the morning. There is a lot of critical thinking and symptom management to keep people in their home setting and have a peaceful and symptom-free death. Each region at Hospice of the Red River Valley has nurses who are on-call for after hours.
What is an example of an after-hours call?
In the after-hours role, we do a lot of crisis management when we go see a patient. If a family member calls at two in the morning, it's because the patient is having a problem, such as pain, shortness of breath, secretions, etc. I enjoy being able to help and fix the problem and help the family with changes. Families are typically so appreciative, so the work is very rewarding.
After we get a call that the patient is in distress, we'll ask questions about what medications have been given and give guidance. We usually give it about an hour before we call back to see if the patient is more comfortable and medication changes worked. If not, we go see the patient at their bedside and make additional medication changes until they are comfortable. We don't leave the patient until they are comfortable.
It's amazing to see how much you can help a patient go from distress to comfort. It's a wonderful feeling when your interventions help make a patient comfortable and the family tension fades away.
What qualities do you think make a good hospice LPN?
The biggest thing I look for in people is how they interact with patients. It comes down to compassion. They need to think in terms of how they can make this journey better for the patient—that's what I think makes the best hospice nurse. Some may think hospice is slow-paced, but it really requires critical thinking and looking at the patient as a whole, not just one part of them. Critical thinking is highly important to give the individual what they need to be comfortable before passing.
What do you want people to know about hospice care?
I cannot stress enough the importance of education. When I see an end-of-life patient at the hospital, I really push for education on end-of-life management. It's not only shocking, but also really upsetting when end-of-life is poorly managed. It usually comes back to a lack of education and understanding. Nobody likes to talk about death because it feels taboo. I was the same way after I graduated. I remember talking to a patient with stage 4 cancer that metastasized to the person's bones. There was a lack of education on what the other options were besides chemo.
After coming to Hospice of the Red River Valley, I have a better understanding of death and dying. I am able to have conversations in the hospitals when I have patients in the acute care setting about the death and dying process.
A common scenario I see is people don't know that they don't have to do everything, such as have surgery and take antibiotics and then transfer to a nursing home for physical therapy and occupational therapy, etc. The current health care environment is really good at telling people, 'This is what we are doing, and this is how we are doing it,' because providers are trained to treat and help people get better. But sometimes, we need to take a step back and have conversations about all of a person's options and their wishes.
What are some tips you can give for people when approaching that difficult conversation?
I think it is important to talk about death and dying with your parents and grandparents and have advance directives filled out. I think what is most important is to have those talks and get rid of the "taboo" and treat it as a normal conversation. It's important to know their wishes. I have young parents and a grandparent still here, and I want to have those conversations with them.
In the hospital setting, I introduce myself as a certified hospice and palliative nurse and ask, 'May I talk to you about what I do and the services we can provide?' If you see a spark of interest, you then get to explain that they don't have to continue with all of the aggressive treatments and give them all the options available. You have a conversation about quality of life.
In what ways do you see yourself being able to make a difference at hospice?
Both in my leadership position and from a clinical perspective, we can make such a difference in our patient's lives. When you are with the patient and their family members, you can see and feel the difference you make. Reassuring the family, who has no clinical background, that they are doing the right thing and we can teach them how to take care of their loved one at home—it's truly remarkable.
How does working at Hospice of the Red River Valley align with your own personal values?
It's such a great organization, and I love everything Hospice of the Red River Valley stands for and our mission. I love that we are nonprofit organization. We never turn anyone away, no matter their ability to pay, and that is wonderful.
Please explain your most impactful patient and/or family experience through your work at Hospice of the Red River Valley.
I cared for a patient in the hospital for about a week straight and developed a great connection with her husband and family. Not long after, both the wife and husband became patients with Hospice of the Red River Valley.
One evening I received a phone call to go see this couple in their apartment, and when she saw me and recognized me, there was that immediate connection. We hugged and she almost cried. She was so happy that I was able to care for her and her husband. He died under our care, and the wife died just three weeks later. It wasn't sad or upsetting, it was really beautiful. I was so glad to care for those patients and be able to be there at the time of her death. I think about them often.
It makes me feel so great to make a difference and help people. When I first became a hospice nurse, even I thought it was sad to be around so much death and dying. It's emotional and really pulls on you as a person. But I was able to change my way of thinking when I realized how much I can help people at the end of life and can make an impact on how they die. I now realize hospice is where I belong.
How has work changed your own personal end-of-life ideas or plans?
I want to be able to have these conversations with all of my loved ones. Medicine is always advancing, and there are all of these treatments and medications that can keep people living for so long. As I age, I'll be able to think about my experiences as a hospice nurse and know that I want quality of life, not necessarily quantity.
Complete this sentence: Hospice is _____.
Beautiful.
To learn more about the hospice team and how we can help, contact us at (800) 237-4629 or questions@hrrv.org.
About Hospice of the Red River Valley
In 1981, Hospice of the Red River Valley was founded on the belief that everyone deserves access to high-quality end-of-life care. We fulfill our nonprofit mission by providing medical, emotional, personal and spiritual care, as well as grief support to our patients, their families and caregivers during a tender time in life. Our staff helps those we serve experience more meaningful moments through exceptional hospice care, 24 hours a day, 365 days a year, wherever a patient calls home. The organization serves more than 40,000 square miles in North Dakota and Minnesota, including in and around Bismarck, Detroit Lakes, Devils Lake, Fargo, Fergus Falls, Grand Forks, Lisbon, Thief River Falls, Valley City and many more communities. Hospice of the Red River Valley offers round-the-clock availability via phone, prompt response times and same-day admissions, including evenings, weekends and holidays. Contact us anytime at 800-237-4629 or hrrv.org.