During any visit with Mike, a Hospice of the Red River Valley patient, and his wife, Eileen, you quickly realize you're gaining an unintentional education in grace and gratitude. The couple is warm, welcoming and unassuming. Mike faces serious health challenges, but rather than becoming bitter, they are acutely aware of the blessings and kindness surrounding them.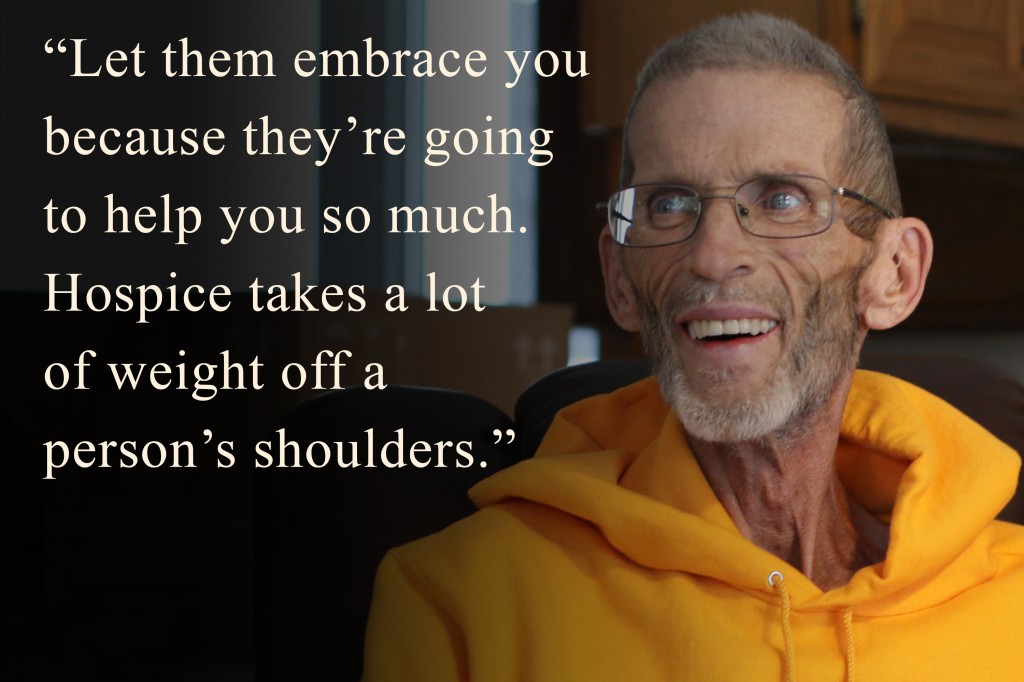 In mid-September, Mike began receiving care from Hospice of the Red River Valley after he decided to stop chemotherapy treatments. "Discontinuing treatment was hard, but also good, because it was wearing him down. You're in one day for blood work, the next for treatment, the next for a shot. Going to the hospital four days a week, at times, was just too taxing for him," Eileen explained. "My doctor suggested we talk to Hospice, so we talked to a hospice nurse that same day," Mike said. "The transition into hospice care was seamless," he added.
Initially, the word "hospice" was intimidating to the pair. But after witnessing first-hand the care and extra support hospice provides, they know hospice was the right choice for their family. "At first you hear hospice, and it is a little scary, but it's not a service to be fearful of. You've got to run to it with open arms and let them embrace you because they're going to help you so much. Hospice takes a lot of weight off a person's shoulders," Mike said.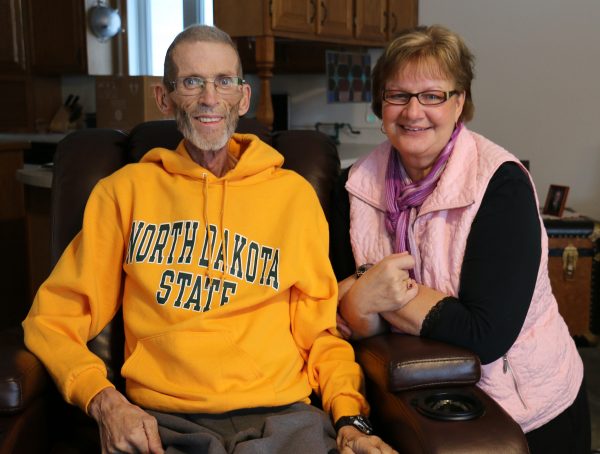 Prior to starting hospice care, Mike and Eileen weren't fully aware of the extent of services and equipment available through Hospice. "You think you know, but you really don't until you experience it. I can't say enough about hospice. We have our team, and they always call and ask if we need anything. They do not leave you wanting for anything," Eileen shared. "What surprised me the most is that they respect our wishes. If we need something, we call and help is there. I tell you what, they are wonderful!"
Small requests to Hospice, like a different chair for the shower, have made Mike's daily care routine easier for Eileen to manage. "It helps me take care of him. I know Hospice would be happy to come out and help me. But it's something I want to still be able to do for him," she said. "If I need something, I just ask, and I've been impressed by how quickly they've responded," Mike said.
With the transition to hospice care, more guests, including Hospice staff, family and friends, have visited Mike and Eileen than usual. The extra attention and numerous good deeds have proved to be a blessing for the couple who live in rural Gardner, N.D., 35 miles north of Fargo. "People want to do something to help," Eileen said. "And, it's a ways out here; it's nice having extra help, especially with winter coming."
A new addition of a wheelchair ramp, running from the house to the garage, is a combination of the time and talents of many people, including Mike's dad, Nils, his brother, Jon, and a Hospice volunteer, Matt, among others. The idea for a ramp came from Nils who was hoping to ease the trips in and out of the house for Mike and Eileen. "My brother and my dad came up with a pretty nice structure and drew the plans for it," Mike said. "They [Jon and Nils] had it planned out perfectly; they knew exactly how much lumber to buy," Eileen said.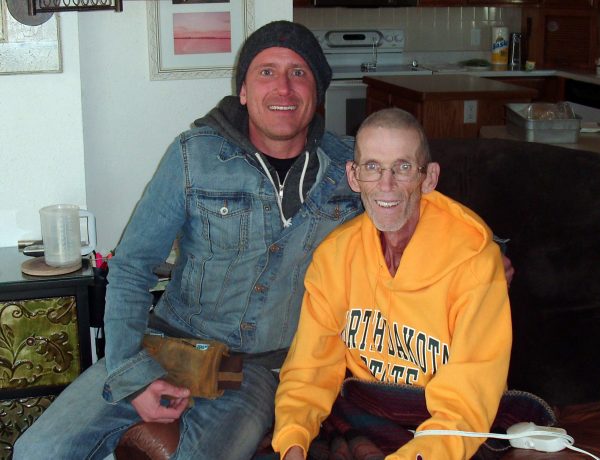 The project came to life in just one day with the helping hands of Matt, who traveled from Fargo to assist with the build. Even though they had never met Matt before, Eileen said, "He just fit right in, and he interacted so well with our family. Everyone loved him, and he worked hard." "What a wonderful person he is," Mike added with a smile.
"There was really no pause. They were all open-arms and super nice right away. It was a great day," Matt said. Originally, Matt was only planning to stay for a couple of hours, but once he got involved in the project and felt the warm, small-town community spirit around him, he knew he had to stay until the ramp was complete. "I just knew there was no way I'd be able to leave until I saw him ride that ramp," Matt shared. "How often do you get to walk into a whole community and you're welcomed with open arms and you all have the same goal of making someone's life a little easier and better?" The family appreciated Matt's help so much that they even invited him to stay for a classic Midwestern lunch—tater tot hot dish.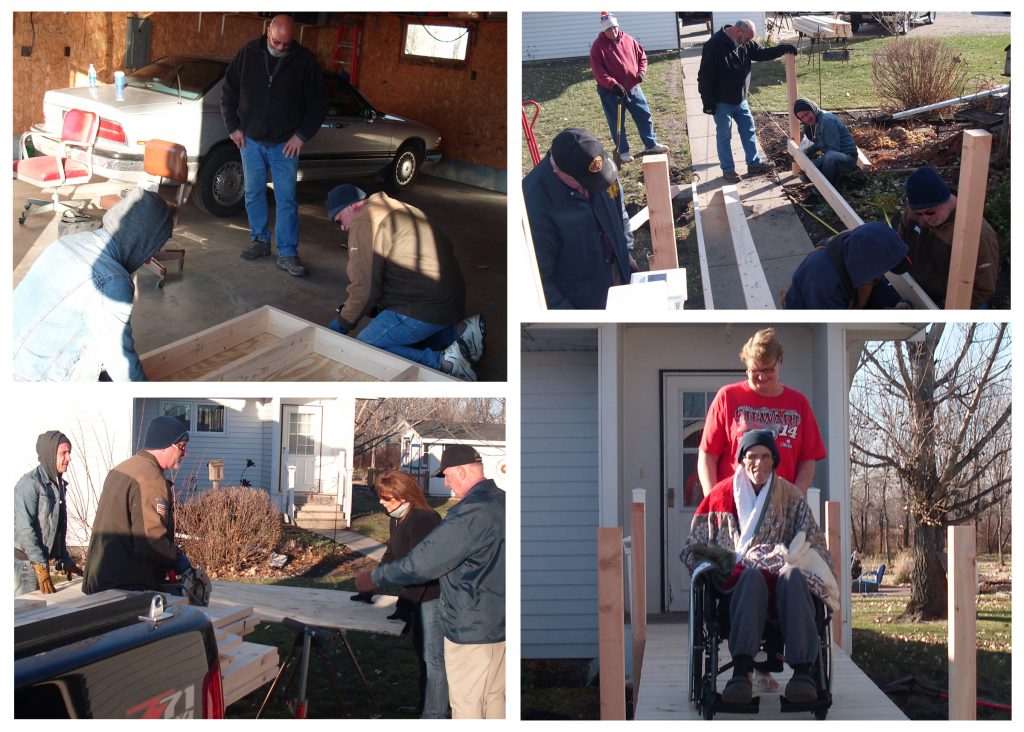 Now the distance to and from the car is steady and stable not only for Mike's wheelchair, but also for his peace of mind. "I don't have to worry about her [Eileen] falling or hurting herself now," Mike explained. "How do you thank people for that? You feel like you have to do more or do something for them. You just have to accept what they did and move on. It is just unbelievable how nice people are." Eileen's feelings mirror those of her husband's. "The ramp is just as smooth as can be—no bumps whatsoever. It means a lot to us."
With each passing day as winter settles in, Mike and Eileen are grateful for the extra support and assistance of everyone, including Hospice. And, as Eileen says, no matter the weather, "the people are always 'warm' year round," and both Mike and Eileen are thankful for that.
Mike passed away on November 29, 2014. His remaining time at home was peaceful and comfortable.
About Hospice of the Red River Valley
In 1981, Hospice of the Red River Valley was founded on the belief that everyone deserves access to high-quality end-of-life care. We fulfill our nonprofit mission by providing medical, emotional, personal and spiritual care, as well as grief support to our patients, their families and caregivers during a tender time in life. Our staff helps those we serve experience more meaningful moments through exceptional hospice care, 24 hours a day, 365 days a year, wherever a patient calls home. The organization serves more than 40,000 square miles in North Dakota and Minnesota, including in and around Bismarck, Detroit Lakes, Devils Lake, Fargo, Fergus Falls, Grand Forks, Lisbon, Thief River Falls, Valley City and many more communities. Hospice of the Red River Valley offers round-the-clock availability via phone, prompt response times and same-day admissions, including evenings, weekends and holidays. Contact us anytime at 800-237-4629 or hrrv.org.