"We traveled all over together, her and I," Gerald 'Toot' shared about his late wife, Dee. "All you had to say to her is, 'Dee, how would you like to … ?,' and she would say 'yes' right away. You wouldn't even have to finish what you were going to ask. She was willing to go any place, any time, anywhere. She was just so sweet."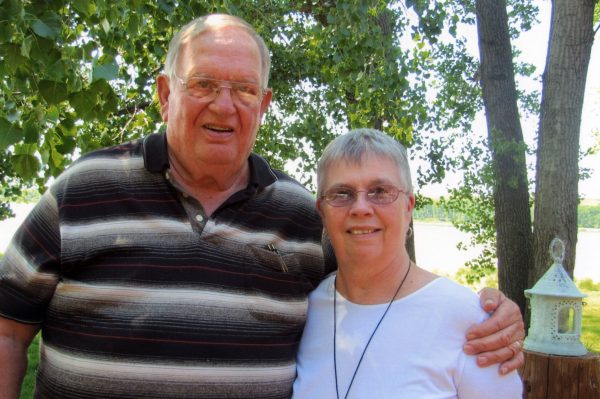 Making cherished memories together—and with loved ones—was always a priority for the happily married couple of more than 25 years. So when Dee was diagnosed with brain and lung cancer in summer of 2012, which had spread throughout her body, Dee knew immediately she wanted to focus on making the most of the precious time she had left with her beloved husband, family and friends.
The couple discussed options for treatment with Dee's doctor, including surgery, chemotherapy and radiation. "Dee said no to chemo treatments and surgery," Toot said. "And that was the smartest thing we ever did. She had a good quality of life right up until her end." A steadfast faith guided Dee throughout her life, and especially as she neared the end of her life. "She said, 'Whatever the Lord has dealt for me, I'll accept,'" Toot recalled. Dee received five radiation treatments to help shrink the brain tumor, and she and Toot decided—together—that Dee would begin hospice care so she could remain at home with her husband.
For four months, Toot cared for his wife with the assistance of Hospice of the Red River Valley staff, including a certified nursing assistant, registered nurse, social worker and chaplain. "Once we signed on with Hospice, it was a Godsend," Toot said. "Hospice was there when you wanted them. They helped me so much; I could never say enough about how much they helped me. They showed me what I was supposed to do and how I was supposed to do it. It meant a lot to me because it meant I could have Dee at home with me."
Meticulous note taking and precise attention to detail helped Toot manage Dee's daily care routine and provided Hospice staff with insight into daily happenings with Dee. Hospice staff kept the pair well informed, too. "If I had any questions, they answered them, and they even gave me answers to some questions before I asked them. One day I was thinking, there must be some signs of the impending death, and before I got a chance to ask, the nurse came to visit with a little booklet; it was just what I wanted," Toot explained. "They took care of the medicine and things that we needed right away. One time I called them at 2:30 a.m., and I got someone to come out. Where else do you get that kind of help?"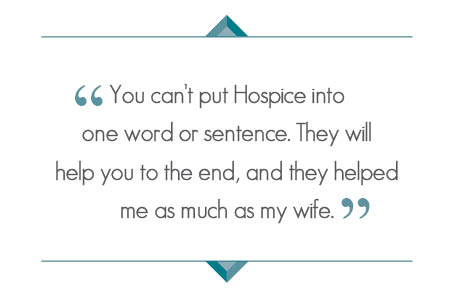 Being at home, rather than in a hospital, enabled Dee to accomplish many things on her bucket list and create many more moments with her loved ones, including frequent tea parties with her girlfriends, lunch dates, shopping and attending her son's wedding as the matron of honor. "Dee knew she was going to die, but that didn't stop her from living. Life gave her lemons, and she made lemonade all the way," Toot described.
The couple even made a trip to the state's capitol city to visit Dee's sister and friends and take a final dip in the Missouri River. "Hospice checked in with us every day when we were in Bismarck just to make sure everything was OK. I thought, wow! I think we had better care at home than what we would've had somewhere else, and Hospice made it so that we could stay at home," Toot said. "They [Hospice staff] treated us with such dignity. They're saints!"
Another interaction with Hospice staff that stands out in Toot's mind is a pointed but gentle conversation Dee's Hospice of the Red River Valley social worker, Cathy, had with him. "They [Hospice staff] also straighten you out if you screw up," he explained. "Dee wanted to have a lot of get-togethers with friends, and this was at the time when she was starting to get weaker and weaker. I told Dee that I thought we better stop the visits."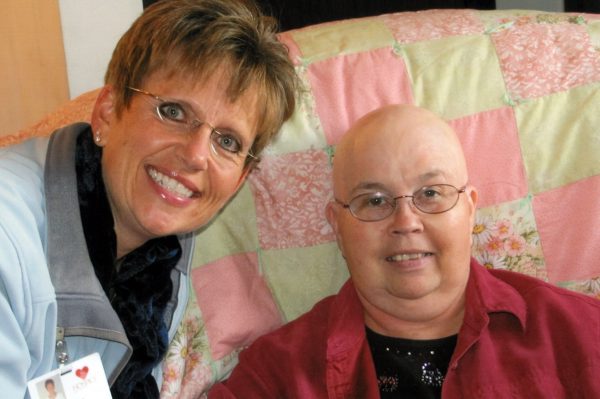 Dee wanted to continue having her regular gatherings with her friends, and she shared that with Cathy. "Cathy came to our house after that conversation and asked me about it. Cathy said it wasn't my decision—that it was Dee's decision. And she should continue having them. Cathy did such a terrific job."
"As family members we want what's best for our loved ones and we try to protect them, conserve their energy and do things for them," Cathy shared. "The reality is that our patients want to 'live' what time they have left, and they know their limitations better than we do. The greatest gift we can give them is to help them live."
Dee passed away peacefully at home on Nov. 7, 2012, surrounded by those who loved her most. And since then, Toot has found a new kind of support through Hospice: one-on-one visits with Bereavement Manager, Wendy, and ongoing grief support groups. "There have been some times when I felt down when I came in for grief support, but boy, when I've left, I have felt like a new person! Your facilitators are so great," Toot said.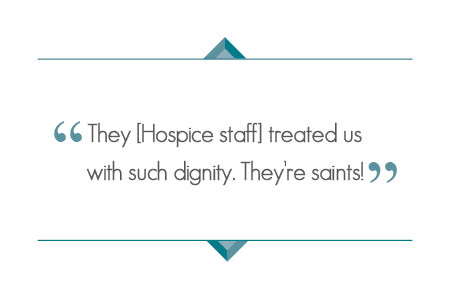 "The death of a spouse is known to be one of life's most stressful events bringing about feelings of loss and loneliness," Wendy shared. "Toot is a joy to have in support group sessions. He often offers a word of encouragement to new attendees with the constant message of there is no time frame for grief, and everyone grieves in a different way. He has worked hard on his grief journey and openly expresses how losing Dee has changed his life, while also embracing his treasured memories of her."
"Dee always said, 'I am so lucky to have these angels on Earth taking care of me,'" Toot shared. "She was talking about the Hospice staff. She loved the people at Hospice dearly. You can't put Hospice into one word or sentence. They will help you to the end, and they helped me as much as my wife."
Watch Toot discuss Hospice of the Red River Valley's care of his wife, Dee.
[youtube http://www.youtube.com/watch?v=YVlcu8v_O9I]
About Hospice of the Red River Valley
In 1981, Hospice of the Red River Valley was founded on the belief that everyone deserves access to high-quality end-of-life care. We fulfill our nonprofit mission by providing medical, emotional, personal and spiritual care, as well as grief support to our patients, their families and caregivers during a tender time in life. Our staff helps those we serve experience more meaningful moments through exceptional hospice care, 24 hours a day, 365 days a year, wherever a patient calls home. The organization serves more than 40,000 square miles in North Dakota and Minnesota, including in and around Bismarck, Detroit Lakes, Devils Lake, Fargo, Fergus Falls, Grand Forks, Lisbon, Thief River Falls, Valley City and many more communities. Hospice of the Red River Valley offers round-the-clock availability via phone, prompt response times and same-day admissions, including evenings, weekends and holidays. Contact us anytime at 800-237-4629 or hrrv.org.