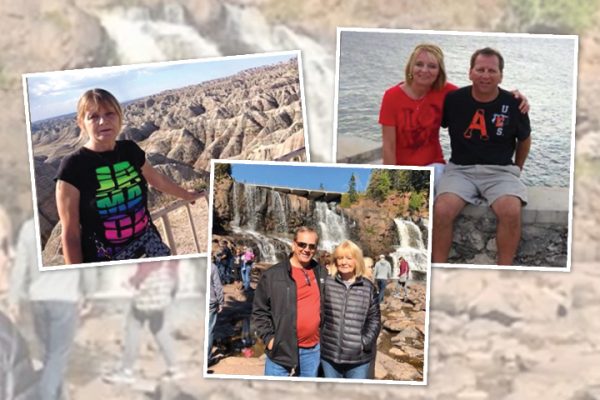 Marilyn (Holmes) Hennager was born in New Westminster, the oldest city in western Canada located just outside of Vancouver, British Columbia. She was the third of four children who shared a humble upbringing that brought the family to Manitoba and eventually Saskatchewan, where they grew up. Marilyn was always proud of her Canadian heritage.
She made a career in the service industry, working as a server at many different restaurants, cafes and lounges throughout her life. Her vibrant, kind and fun personality made her an instant friend to whoever was sitting on the other side of the table or rail. In the service of others, Marilyn became a trusted confidant, a story keeper to many. She thoroughly enjoyed this aspect of her work and loved making friends and taking care of others. These traits, mixed in with her incredible sense of humor and frankness, were what made Marilyn beloved by anyone who met her.
Marilyn caught the eye of American patron Eric Hennager while working one evening. "I was fishing in Canada, and Marilyn was working in a restaurant. I was in the restaurant bar that night and that's where we met," Eric recalled.
They shared an immediate connection. Like the start of many relationships, the pair went on a few dates, and the rest was history. "After about a year and a half, we got married," Eric said. "We were married for 14 years." Their years together were spent simply enjoying each other's company. They loved traveling, attending concerts and spending time at the lake.
The couple settled in Langdon, N.D., a quaint country town nestled among the beauty of the North Dakota prairie landscape, 17 miles south of the Canadian border. In a town of only about 1,800 people, Langdon is a quintessential small town where your neighbors are your friends, and quite often also family. Locals can be found downtown catching a first-run film at the historic Roxy Theatre or enjoying activities at the city's community park, which includes a pool, school track, baseball diamonds and more.
Marilyn worked in town as a bartender at Tom's Lounge and server at At the Hop Restaurant & Lounge. She became a friend to many who frequented the local establishments. She was always there with a friendly smile and laugh to share. Marilyn especially loved to dress up in a theme and was known to pull an occasional prank on her customers and friends. This small-town camaraderie is evident anywhere you go in Langdon, and when someone needs help, you can count on the community showing up for you.
Marilyn and Eric witnessed this generosity firsthand after Marilyn was diagnosed with lung cancer in February 2019. Marilyn approached her illness the same way she handled her life—with grit, strength and courage. "Marilyn was a strong person. She didn't take any grief from anybody," Eric remembered. "But she also had a soft side."
Marilyn endured chemotherapy and radiation to treat the lung cancer that had metastasized to her brain. The radiation significantly affected her quality of life. There were times she lost her hearing, and it was a while until it came back. She had difficulty walking as the disease progressed.
"I think the radiation got to her more than the chemo," Eric said. "She did alright at first with the treatments, but I would say after the first year she started to go downhill. She did pretty well with her cancer right up until the last three months. She was on treatment up until the last month."
Finding Local Help
Eric was doing his best to care for Marilyn in their home. Rural Langdon is fortunate to have a local hospital and clinic, but Eric soon learned he didn't have access to a hospice organization. "I was trying to take care of her myself because I didn't want to put her in the hospital. I was able to do that until about the last three weeks, and that's when I needed some help," he said.
Though Marilyn's doctor never mentioned hospice care, Eric sought help anyway because Marilyn's quality of life was suffering.
"I think because she was still taking treatments, they never mentioned it. I called one day and told them she wasn't coming back because she wasn't doing well. So, we never had that talk. She just wasn't getting any better and kept getting worse and so run down. I could tell she wasn't going to get any better," Eric recalled.
Eric made many phone calls to find additional help and hospice care for his wife.
"I called a hospice in Cavalier, but they were no longer in business. I made more phone calls and was told another hospice didn't cover this area because they were too small and didn't have the manpower. I didn't know what I was going to do. I just kept asking people," Eric explained. "That's when a good friend in town, Tonia—who's a registered nurse—and a couple of other friends said if you need any help to call them. People came to offer help twice a day. Then a friend told me to call Hospice of the Red River Valley."
Eric didn't know at the time that Hospice of the Red River Valley was on the cusp of expanding its service area to include more of northeast North Dakota, including Langdon. The organization always encourages people to call, even if they reside outside of the service area.
He was relieved when Mya, registered nurse at Hospice of the Red River Valley's Grand Forks, N.D., office, agreed to visit the couple in their Langdon home.
"I went thinking I was just going to help Eric get the local resources he needed to care for Marilyn, but when I got there, I couldn't leave them without offering more help. They had no end-of-life health care options," Mya recalled. "Marilyn was very sick. They didn't have the medications they needed, a hospital bed or supplies."
Mya admitted Marilyn to Hospice of the Red River Valley's care the same night.
She immediately helped to get Marilyn comfortable. Mya worked with Langdon Community Drug who delivered medications within an hour. She also arranged for a hospital bed to be delivered the following day. Langdon is 114 miles from Grand Forks, and as the organization was still in the process of fully expanding its service area to include Langdon, Mya had to figure out a manageable plan of care for the family.
Family caregivers always play an essential role as part of the hospice team. Together with Eric, Mya and the couple's friends who had offered their help, Marilyn was able to stay in her home for her final weeks of life.
"It was a big relief when Mya came, especially after making calls and finding out there was nobody to help. It was a big relief knowing if I called her, she would help," Eric said. "Mya helped with all of it—from getting medications to all of the supplies we needed. She called all the time to make sure we had what we needed. She made visits and sent others when she could. She was always there to help."
Marilyn passed away, in peace and comfort, in her home on Sept. 12, 2020. She was 60.
"It was peaceful for her and for me. At the end, I don't know if being at home made a difference to Marilyn, but it sure did for me having her at home," Eric said.
He is pleased that Hospice of the Red River Valley officially expanded its service area to include Langdon in mid-September 2020, which included welcoming the couple's friend, Tonia, as a hospice nurse, as well as another staff member as a local certified nursing assistant. Eric is especially appreciative of Mya.
"Mya took the time to show up and also sent staff to give Marilyn and me the relief and help we needed," Eric shared. "People are trying to do it themselves, and you can't. You need help. Hospice of the Red River Valley helps so much. Make the call and you will be happy you did to have help and some relief."
In looking back at Marilyn's time receiving care, Eric said he didn't know the organization could do so much, from providing medications and equipment to grief support.
"There are so many things you don't know that are needed, and you don't know what to expect. They'll [Hospice] help you, right down to keeping your loved one comfortable with medications and making supplies and equipment available. It's wonderful."
About Hospice of the Red River Valley
In 1981, Hospice of the Red River Valley was founded on the belief that everyone deserves access to high-quality end-of-life care. We fulfill our nonprofit mission by providing medical, emotional, personal and spiritual care, as well as grief support to our patients, their families and caregivers during a tender time in life. Our staff helps those we serve experience more meaningful moments through exceptional hospice care, 24 hours a day, 365 days a year, wherever a patient calls home. The organization serves more than 40,000 square miles in North Dakota and Minnesota, including in and around Bismarck, Detroit Lakes, Devils Lake, Fargo, Fergus Falls, Grand Forks, Lisbon, Thief River Falls, Valley City and many more communities. Hospice of the Red River Valley offers round-the-clock availability via phone, prompt response times and same-day admissions, including evenings, weekends and holidays. Contact us anytime at 800-237-4629 or hrrv.org.