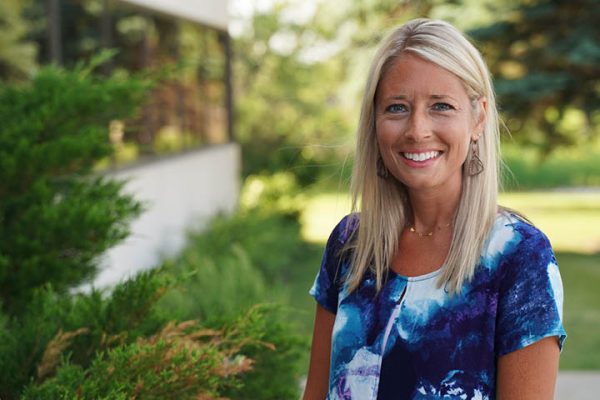 A hospice nurse practitioner is a critical role in caring for terminally ill patients and their families. With graduate and/or doctoral-level education, as well as clinical training in family medicine, they are qualified to diagnose and treat complex health conditions.
Nurse practitioners bring additional knowledge and expert symptom management that align with a person's individual goals and priorities. In addition, they work closely with our medical director and nursing team.
Lindsey Lutzwick was born and raised in Bismarck. She is passionate about caring for the community where she grew up, especially the older generation, who she believes can teach us all valuable life lessons. We spoke with her about her role and experience providing care to our patients and their families.
Tell us about yourself and your background.
I went to St. Mary's High School in Bismarck, and when I graduated, I attended the University of North Dakota (UND) to pursue my nursing degree.
I worked as a nurse in a transitional care unit at St. Alexius Medical Center, and that is where I really grew a passion for working with the geriatric population and decided to go back to school. My degree is an adult geriatric nurse practitioner. When I graduated from UND, I worked at Mid Dakota Clinic for seven years as a nurse practitioner in their internal medicine department. I took care of the geriatric population within the nursing homes in the Bismarck/Mandan area. From there, I came to Hospice of the Red River Valley.
What is it about hospice care that interests you?
Working in the primary care field, I referred a lot of families to hospice. I don't feel hospice care is utilized as much as it could be; it's such a great benefit people are entitled to and can be so helpful for both the patient and their family. It can make a significant difference in the person's life to start hospice care earlier in the process, before the active dying phase. It's amazing when you get to be a part of that experience and create meaningful relationships with the person and their family. We get to help the person live their life to the fullest during the remaining time—and be there for the family who is taking such good care of them.
It's rewarding gift, a complete privilege, to be involved in such an intimate time of life. I feel I can provide that compassion needed to both the family and the patient during the final stage of life.
Describe the role of a nurse practitioner and how you will be able to support our patients and their families.
As a nurse practitioner, we can diagnose, prescribe and treat accordingly. We are essentially the eyes and ears for the physician during our face-to-face visits. We can determine what the patient's needs are and help with symptom management to make sure they are comfortable, not in pain or anxious. We, as part of the hospice team, ensure we are fulfilling their spiritual, physical and emotional needs. It's about providing that continuity of care.
What is your advice to someone considering hospice care?
We are here to provide the quality of care from the beginning to the end and that does not mean discontinuing the patient's medications and lab work. We listen to the patient and their family and provide the patient-centered, quality care they deserve.
What are your thoughts on the multidisciplinary approach to hospice patient care?
It's an amazing concept. We need to treat the whole person, including physically, emotionally and spiritually. Health care needs to be well-rounded to maintain quality of life for the patient. This approach also helps the family. After all, the patient is someone's loved one.
We aren't working in a clinic environment where you have lots of time to spend with the patient. We are going to their homes, and we can spend the time that's needed to be fully attentive and listen to their needs. I think if you are a good listener and can be attentive and compassionate, the patient and family will come to trust you and be open. That leads us to being able to help the person even more.
Since you've started with Hospice of the Red River Valley, is there anything you have found surprising?
It's such a meaningful, well-rounded organization that I'm proud to be a part of. The symptom management care given by the providers is amazing. They do such a great job. I'm glad to be a part of this team.
What do you wish people knew about hospice care?
Hospice care is not just for people who are actively dying. We can come in much sooner than that and provide the holistic care with our chaplains, social workers, nursing staff, certified nursing assistants and providers. It's not only patient centered, it's also help for the family through teaching, support, resources and grief counseling, if needed.
In what way do you see yourself making a difference at Hospice of the Red River Valley?
I'm a very compassionate person, and I look forward to sharing that with our patients and their family members, allowing them to build trust and confidence in me and the care I give them.
What is the biggest life lesson you've learned from the geriatric population?
Live life to the fullest. Do the best you can every day and take good care of yourself.
Share about your family.
I am married to my husband, Eric, and we have three girls.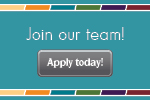 About Hospice of the Red River Valley
In 1981, Hospice of the Red River Valley was founded on the belief that everyone deserves access to high-quality end-of-life care. We fulfill our nonprofit mission by providing medical, emotional, personal and spiritual care, as well as grief support to our patients, their families and caregivers during a tender time in life. Our staff helps those we serve experience more meaningful moments through exceptional hospice care, 24 hours a day, 365 days a year, wherever a patient calls home. The organization serves more than 40,000 square miles in North Dakota and Minnesota, including in and around Bismarck, Detroit Lakes, Devils Lake, Fargo, Fergus Falls, Grand Forks, Lisbon, Thief River Falls, Valley City and many more communities. Hospice of the Red River Valley offers round-the-clock availability via phone, prompt response times and same-day admissions, including evenings, weekends and holidays. Contact us anytime at 800-237-4629 or hrrv.org.