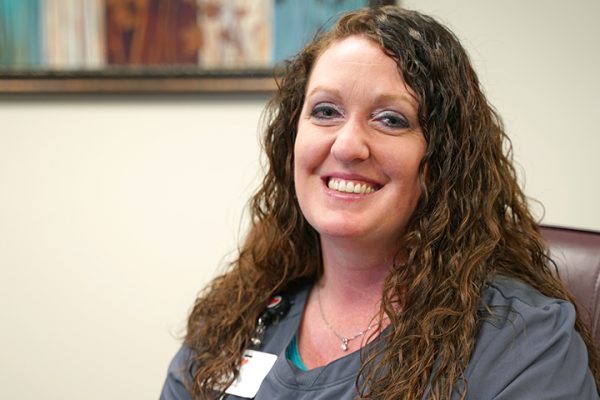 Angie Milner has cared for hundreds of patients in her four-plus years as a certified nursing assistant (CNA) with Hospice of the Red River Valley. In early February, a chance encounter with a patient revealed an unexpected connection. The experience reaffirmed for Angie why she loves her job.
As a "float" CNA, Angie travels wherever she is needed in Hospice of the Red River Valley's 33,000-square-mile service area and visits up to eight patients per day. The occasional long drives provide a chance to clear her mind and prepare for her next visit.
She enjoys the variety in visiting patients in facilities and private residences. She always looks forward to who she meets next.
On a cool, sunny Friday in February, Angie cared for several patients in Detroit Lakes, Minn. It was a rare trip, as she doesn't often travel that far east during her regular visits closer to Fargo-Moorhead.
Her final patient visit that day was 90-year-old Clayton Jensen, who lived at the memory care unit at Ecumen Detroit Lakes. Angie was told Clayton was a "social butterfly," and she looked forward to the chance to visit and care for him.
Angie loves to pamper her patients. She treats them the way she would want to be treated. Hospice CNAs help patients with personal care needs, including feeding, bathing assistance, shaving and nail care.
"This is my life, and it's what I'm supposed to be doing," Angie said.
Making the Connection
Fortunately, it was a good day for Clayton. Dementia had robbed him of much of his memory, including the ability to recognize close family members. Nearly 1/5 of Hospice of the Red River Valley's hospice patients have a diagnosis of advanced dementia.
Clayton was in a cheerful mood and talkative. Angie learned he spent his career as a family medicine physician. He also was involved nearly on in developing programs at the fledgling School of Medicine at the University of North Dakota.
One detail captured Angie's attention: Clayton's first stretch as a physician was in Valley City, N.D. It overlapped with the time Angie's parents also lived there.
"He asked what my parents' names were and how old they were," Angie said. "When I told him, you could kind of tell it was ringing a bell."
Angie asked if there was a chance Clayton would have been the doctor who delivered her as a baby. He said it was a possibility. As a respected small-town doctor, Clayton delivered more than 2,000 babies in his career.
The two continued their visit, chatting about sports and the weather. Clayton asked if Angie would visit him again because he found her interesting. She said she would do her best to return.
Angie finished her clinical charting for the day and returned to her car. It was there she remembered that she carried a copy of her birth certificate in her wallet. She pulled it out, unfolded it and studied it for a moment. The name on the signature line was difficult to read, but unmistakable: Clayton R. Jensen, M.D.
With excitement, Angie went back inside Ecumen to confirm the connection and show Clayton. In that moment, tears streamed down both of their faces.
In awe, Clayton held the certificate for several minutes—in the hands that guided baby Angie into this world.
"This is me," Clayton said. "I appreciate this so much."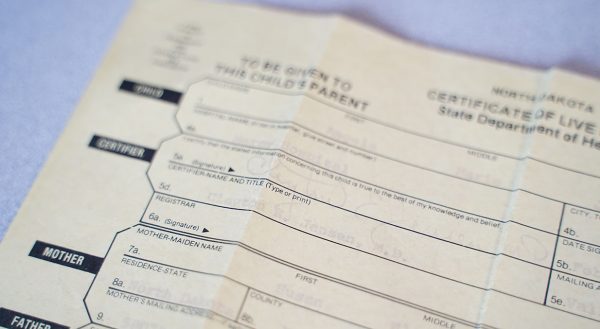 Angie and the doctor who delivered her were reunited nearly 40 years to the day after her birth.
Now, it was Angie who could return the favor, caring for Clayton as he approached the end of his life.
"It's so hard to believe that our paths crossed so many years later and with reversed roles," Angie said. "He took care of me, and now I got the chance to take care of him. My heart was so full."
Past Meets Present
Clayton and Angie didn't get another chance to visit. Clayton passed away eight days later. The experience left an impression on Angie's heart.
Angie, along with several other members of Clayton's Hospice care team, attended Clayton's memorial service. His sons, Paul and Mark, wanted to meet Angie and express their thanks.
Paul shared that Clayton believed strongly in hospice care. "He thought too many [people] spent too much on curative treatment at the end of life when they should be focused on living their best lives with their families," he said.
Clayton's conviction for the hospice concept of care was so strong that he served on the Hospice of the Red River Valley board of directors from 2001-2010. It's one of the many examples of service Clayton provided throughout his life. His family says that he was a generous man, sharing his time, money and knowledge without expecting anything in return.
It's only fitting that an organization he supported so much could, in turn, help guide him through his end-of-life journey. Angie is grateful she could be one of the several Hospice team members to care for Clayton, who dedicated his life to serving others.
"I was so blessed to have met him even if only for a short period of time," Angie said.