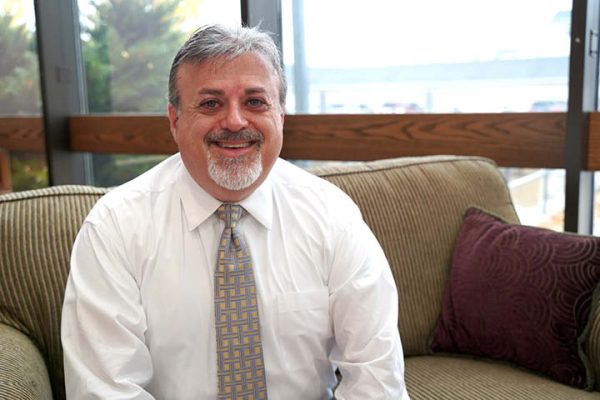 Hospice of the Red River Valley provides communities with education about different healthcare plans and options as a way of empowering people to make their own health decisions. As a community relations specialist, Larry Zahradka builds trusting relationships with families and facilities to ensure that everyone has the resources and care that they need when facing important end-of-life decisions.
Our community relations team communicates with families, caregivers, nursing homes, hospitals, and other health care facilities to foster positive and productive relationships with Hospice of the Red River Valley. The team's goal is to help patients transition into hospice care seamlessly and to develop strong working relationships with community members and organizations.
What's your background?
I was born in Grand Forks, N.D., but grew up in West Fargo, N.D. I received my bachelor's degree in athletic training from North Dakota State University and worked as an athletic trainer for several years in North Dakota, Minnesota, Wisconsin and Illinois. I transitioned into pain management device sales, working with hospitals, staff and patients to educate them about specific devices and how to maintain, wear and use them to manage pain.  
What drew you to work in hospice care?
I've always had the sense my purpose is to help people. There's no greater feeling than knowing you touched someone's life and have helped them in some way. Working at Hospice of the Red River Valley is more fulfilling and nourishing for me; I can see the impact Hospice is making in a patient's life.
I love Hospice of the Red River Valley's mission, the dignity of life. I enjoy being able to educate people and dispel misconceptions and expectations people have about what hospice is or isn't. The more people know about our mission and goals, the more comfortable they are asking for the care and help when they need it, sooner rather than later. That's the most important thing: sooner than later.
How would you explain your position?
My role as a community relations specialist is to educate. When I'm in a facility, I act as a liaison between the staff there, the administration and our Hospice team and patients. I check in, make sure everything is going well and ask if there's anything additional we can do to help and bring feedback back to the Hospice team.
When I'm speaking with a patient, family or at a community event, I'm an educator. I explain what hospice is and what benefits are available to people through the service. I answer questions – How do you pay for hospice care? How do I qualify for services?
What have been the most surprising aspects you've learned about Hospice?
I didn't know how much service area Hospice of the Red River Valley covered. I thought it was more of a regional service. I was also surprised by how many patients we care for. It's nice to see how many lives our work is impacting and how many people we help through this stage of life.
Do you have a personal Hospice story you can share?
I recently spoke with a close friend of mine from high school whose father is under the care of Hospice of the Red River Valley. The father has dementia and couldn't care for himself, nor could my friend or his mother. Once they began Hospice care, it became clear just how much good our services were doing for the whole family. My friend spoke specifically about a certified nursing assistant (CNA) that cares for his father. The CNA's care not only bettered his father's state of being and life, but it also helped him and his mother. The compassion and empathy the CNA showed their loved one brought them comfort. I hear people's stories every day but hearing one from someone I'm close to was rewarding and fulfilling. It brought the mission that much closer to my heart.
What do you want people to know about hospice?
Hospice care helps people live longer with a better quality of life through compassionate, attentive care and pain management. Hospice is a service that comes to you—wherever you call home —and cares for the whole person, including physically, emotionally and spiritually. Hospice cares for not only the patient, but also the caregivers and the entire family. I try to teach people that using hospice care isn't giving up, it's moving forward in your journey with comfort, dignity and respect.
How can we destigmatize hospice care?
It's OK to ask for help. If you see a loved one declining and their quality of life diminishing, why not give Hospice a call and see how we can help? I wish more people would call to get an assessment or a referral. Just learning about what options are available helps put the power back in your hands to make an informed decision.
What brings you joy?
Having a purpose gets me up in the morning—knowing I can make a difference. I was at a clinic one day and a nurse overheard the conversation I was having about hospice care, and she immediately thought of a patient of hers that could benefit from our care, and we were able to have a longer, more in-depth talk with the staff there. Educating clinical staff is important because they're the individuals who know the struggles their patients face.
Education is so powerful. Helping people understand their health care options and offering resources can literally change someone's life for the better. That's what brings me the most joy.
Are you looking for a job that will enable you to make a real difference? Begin a career with Hospice of the Red River Valley to serve patients and families wherever they call home. Become part of an interdisciplinary team that has been trusted by physicians, health care professionals, patients and families since 1981.
About Hospice of the Red River Valley
In 1981, Hospice of the Red River Valley was founded on the belief that everyone deserves access to high-quality end-of-life care. We fulfill our nonprofit mission by providing medical, emotional, personal and spiritual care, as well as grief support to our patients, their families and caregivers during a tender time in life. Our staff helps those we serve experience more meaningful moments through exceptional hospice care, 24 hours a day, 365 days a year, wherever a patient calls home. The organization serves more than 40,000 square miles in North Dakota and Minnesota, including in and around Bismarck, Detroit Lakes, Devils Lake, Fargo, Fergus Falls, Grand Forks, Lisbon, Thief River Falls, Valley City and many more communities. Hospice of the Red River Valley offers round-the-clock availability via phone, prompt response times and same-day admissions, including evenings, weekends and holidays. Contact us anytime at 800-237-4629 or hrrv.org.