The 45 or so community members of Dickey, N.D., aren't just neighbors, they are an extended family. "Everyone cares for everyone," Chrissy Kartes, Dickey resident, explained.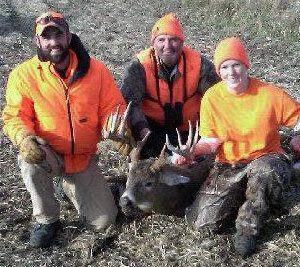 So when one of their own struggles, the whole community shows up to help, in whatever way they can. Dennis Kuska, a well-known and loved resident, experienced this firsthand when he was diagnosed with terminal cancer more than a decade ago. "Many people felt like Dennis was an uncle or father to them, and you could always count on him for a good joke or two to lighten the mood," close friend Alicia Pekarski, explained.
Friends and family, including Chrissy and her husband Steven, and Alicia and her husband Dale, rallied behind Dennis while he faced the illness. And when he entered the final stages of his disease, Hospice of the Red River Valley was invited alongside his family to provide care and support through his end-of-life journey.
The compassionate care of the Hospice team made an impression on Dennis, as well as friends and community members alike. "Hospice made it possible for Dennis to be comfortable and at ease during his last days. He knew he was in good hands," Alicia said. "The hospice nurses, doctors and other staff truly care about their patients. They are wonderful and offered so much comfort during an extremely difficult time."
Chrissy echoes Alicia's comments about the care Dennis received. "They [Hospice staff] made sure he was comfortable and took care of his family. Hospice became family to all of them," Chrissy recalled. "Dennis told his nephew about the wonderful people that took care of him through Hospice of the Red River Valley, and he expressed that after he passed, any money that came in or any event that was held in his memory should benefit Hospice because of the great care he received."
With this in mind, the groundwork was laid for a fundraiser for Hospice of the Red River Valley, which would eventually be named Sweet N' Stickey in Dickey.
A Loving Tribute
Both families were friends with Dennis for years. After Dennis passed away, Steven came up with an idea to celebrate the memory of their dear friend while also raising funds for Hospice of the Red River Valley.
Led by Chrissy and Steven, Sweet N' Stickey in Dickey, a rib cook-off fundraiser, affectionately named after their hometown, came to life in 2009 to honor Dennis. The communitywide event includes a competitive rib cook-off, a full meal with all the fixings and live music with proceeds benefitting Hospice of the Red River Valley's compassionate care.
The Pekarskis, owners of Dickey Bar, immediately joined the cause by hosting the annual event at their bar and helping with a number of important tasks, including prepping and staging for all the grills and smokers.
"The show of support from our community, as well as surrounding towns, for the event is overwhelming. People come from miles, even hundreds of miles, to participate," Alicia shared. "The generosity shown by people over the years is inspiring and an amazing tribute to a wonderful man."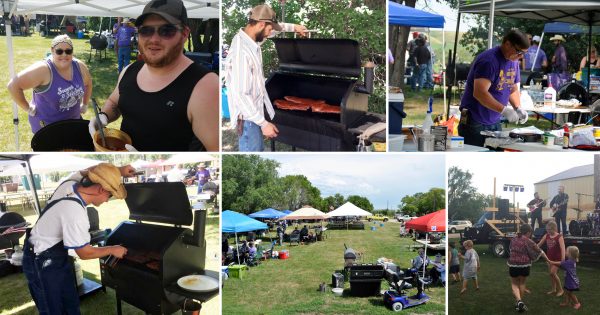 Every year half of the town is sectioned off for the July event that has grown not only in size, but also in significance as several other community members, some cared for by Hospice, have passed away.
"The families of those who have passed continually tell us [event organizers] how caring Hospice staff was and how helpful they were during such a difficult time in their lives," Chrissy said. "So we've continued to hold the event with the goal of having people honor and remember their loved ones and support a great cause—Hospice—while enjoying some delicious food."
A Sweet Day
With an average of 400 people in attendance each year, Chrissy credits the full community of Dickey, including her own parents, for pitching in to make the event possible. Residents bring a variety of side dishes to share and help with the event where needed. "We couldn't hold this event without the generous support of the community; it's one of the reasons we have been able to continue to hold the event every year," she described. "We all want to give back to Hospice, and this is one way to do it."
A medley of delicious aromas roll through town in the early morning hours as local cooks, and others who have sometimes traveled from as far as Minneapolis and South Dakota, put their best recipes to test—all hoping to win the coveted Sweet N' Stickey in Dickey trophy and generate donations for Hospice of the Red River Valley. Throughout the day, each entrant smokes, cooks and cures their ribs, around 700 pounds per year, until later in the afternoon when they cut, season and sauce the meats for judging.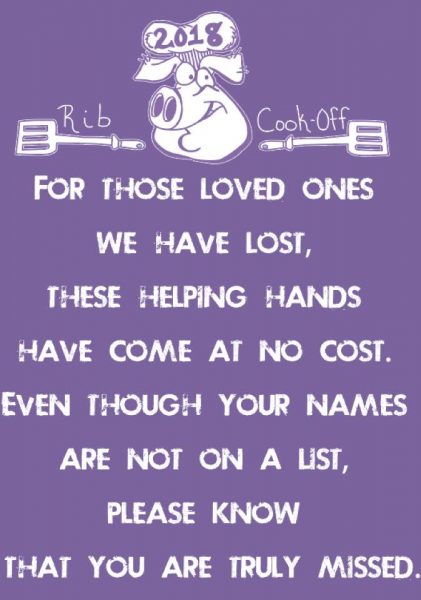 Chrissy said the secret to great ribs is tenderness. "They can't be falling off of the bone or be too chewy. They have to be one-bite and pull away." However, she doesn't rely on her own opinion to judge. She assembles a team of nine volunteer judges who rate each entrant's ribs in three categories: taste, tenderness and appearance, with the last category being only ¼ of the actual score and eliminating any chance of a tie.
"It's taken very seriously. We follow the Kansas City BBQ circuit judging rules by using double-blind judging. No one knows whose ribs they are eating," Chrissy said. Judges are positioned a block away from the cook site to taste and score each recipe. 
Hospice of the Red River Valley Development Officer Curt Seter has been invited to participate as one of the guest judges during the event for the past several years. "The experience has been great. The hospitality and friendliness of the organizers and participants make the day even that much more enjoyable," Curt shared. "The event is efficiently run, and the ribs are delicious. It's always great to see the turn out and the community rally behind such a worthy organization that helps so many."
Ribs are served to the public for a free-will donation after judging takes place. T-shirts donning a special poem honoring those who have passed are also worn and available for purchase at the event. "We recognize our close friends and families with the shirts, and we always hold them close in our hearts," Chrissy said. For this year's 10th anniversary of the event, Chrissy is putting together a quilt with all the previous years' T-shirts that will be auctioned off with proceeds also benefitting Hospice of the Red River Valley.
"I get so overwhelmed sometimes, in a good way, it gives me tears. It's such a great way to have fun and say thank you to Hospice. We've had so many people who have needed the organization's help," Chrissy said. "One thing we are proud of is we have continually raised and met our goals every year." Combined, the event has raised close to $30,000 for the organization.
"It's a fabulous day of fun-filled activities. Laughter can be heard all around town," Alicia added. "Dennis would have loved the event."
A Life Lesson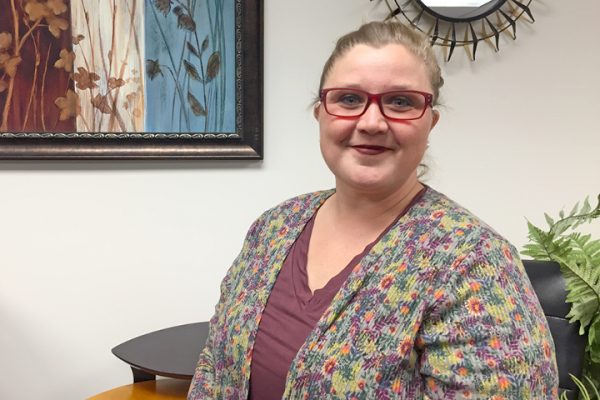 For Chrissy, being involved in Sweet N' Stickey in Dickey has also expanded her knowledge of hospice care. "I thought Hospice came in only when you had cancer and you were on your death bed. Now I know that it is for young patients, old patients and patients from all different walks of life," Chrissy explained. "Hospice comes in and helps care for you. They become part of your family and are with you through the hardest part of your life."
She also shared this advice with families who may be hesitant to call Hospice: "Don't be afraid to let them into your family during one the hardest times your family will experience. They will make you feel open, loved and welcomed."
The legacy of their longtime friend, Dennis, continues to live on in the community. "Hospice of the Red River Valley is truly a great way for families and patients to engage in a caring and compassionate end-of-life process. Every person I have met who works with them has been absolutely wonderful," Chrissy said. "It takes special people to be able to become part of patients' families, and Hospice staff does it every day."
Editor's note: The Dickey Bar is under new ownership, George and Dava Roder (Dale's sister and brother-in-law). 6-24-20
2021 Event Information
Sweet N' Stickey in Dickey will be held on July 10, 2021, in Dickey, N.D. For more information about this year's event or to register, contact Chrissy Kartes at 701-778-7346 or join the Sweet N' Stickey in Dickey Rib Cook Off Facebook group.
About Hospice of the Red River Valley
In 1981, Hospice of the Red River Valley was founded on the belief that everyone deserves access to high-quality end-of-life care. We fulfill our nonprofit mission by providing medical, emotional, personal and spiritual care, as well as grief support to our patients, their families and caregivers during a tender time in life. Our staff helps those we serve experience more meaningful moments through exceptional hospice care, 24 hours a day, 365 days a year, wherever a patient calls home. The organization serves more than 40,000 square miles in North Dakota and Minnesota, including in and around Bismarck, Detroit Lakes, Devils Lake, Fargo, Fergus Falls, Grand Forks, Lisbon, Thief River Falls, Valley City and many more communities. Hospice of the Red River Valley offers round-the-clock availability via phone, prompt response times and same-day admissions, including evenings, weekends and holidays. Contact us anytime at 800-237-4629 or hrrv.org.