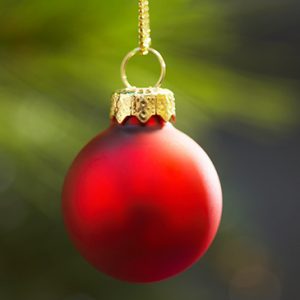 Traditionally, the holidays are a time of joy, laughter, sparkle, glitter and celebrations shared with family and friends. But for individuals who are grieving the loss of a loved one, the holidays can be difficult, bringing about feelings of anxiety, sadness and emptiness. As the holidays approach, it may be helpful to think about how to take care of yourself during this difficult time, or to be aware of the effect the holidays may have on your grieving family or friends.
Over the years, Hospice of the Red River Valley has offered various articles and tips for coping with grief during the holiday season. The below articles offer helpful reminders:
Grief During the Holiday Season: How Do You Cope?
By Connie DeKrey
Ordinarily, we think of the holidays as a busy, joyous time. But when one is grieving the death of someone beloved, there is nothing "ordinary" about it. Holidays are typically filled with memories and reflection, so it is not surprising that the longing we may feel for that absent loved one intensifies against the backdrop of festive bustle. There may be reminders that cause an ache in one's spirit, such as a card addressed to the deceased, a gift that would have suited him perfectly or her favorite Christmas song playing on the radio. Read more.
Grief During the Holiday Season: Embracing Memories
By Connie DeKrey
"Christmas 2004: This was an even-numbered year, which meant it was our turn to celebrate the holiday with my husband's side of the family in Bismarck; odd-numbered years had traditionally been spent with my side of the family. But current circumstances dictated differently. My Mom was temporarily staying in Fargo to receive radiation treatments recommended by her oncologist, but not available in her hometown. She would not be up to a road trip, and I couldn't bear the thought of her spending the holiday alone in an unfamiliar community." Read more.
Celebrating the Holidays when a Loved One has Alzheimer's
By ND/MN Alzheimer's Association
The Holiday Season is a time when families join together to make memories and reminisce.  When a loved one has Alzheimer's disease, a little extra planning can help make holiday celebrations enjoyable for everyone. Read more.
Keep in mind, a child who is grieving the death of a loved one will also experience different feelings during the holidays. They may look forward to the holidays but not know what to expect or they may want to avoid the holidays all together. It is important to involve them while preparing and planning for the holidays to allow them an opportunity to express their thoughts and feelings. Being open and honest with each other can help make the holidays less stressful for everyone.
It is important to remember that the anticipation of any holiday can be much worse than the actual event. Allow feelings of joy and try not to feel guilty if you find yourself enjoying the holidays. Having a good time does not mean you have forgotten your loved one. You cannot change the past, but you can take care of the present to help you heal in the future.
If you, or someone you know, is struggling with grief, Hospice of the Red River Valley offers a variety of grief support options, which are open to the community. Please visit our website for more information regarding our grief resource library, support groups, classes, and other means of support, or call us: 800-237-4629.
About Hospice of the Red River Valley
In 1981, Hospice of the Red River Valley was founded on the belief that everyone deserves access to high-quality end-of-life care. We fulfill our nonprofit mission by providing medical, emotional, personal and spiritual care, as well as grief support to our patients, their families and caregivers during a tender time in life. Our staff helps those we serve experience more meaningful moments through exceptional hospice care, 24 hours a day, 365 days a year, wherever a patient calls home. The organization serves more than 40,000 square miles in North Dakota and Minnesota, including in and around Bismarck, Detroit Lakes, Devils Lake, Fargo, Fergus Falls, Grand Forks, Lisbon, Thief River Falls, Valley City and many more communities. Hospice of the Red River Valley offers round-the-clock availability via phone, prompt response times and same-day admissions, including evenings, weekends and holidays. Contact us anytime at 800-237-4629 or hrrv.org.