A well-worn Bible lies within easy reach of Bob Becker's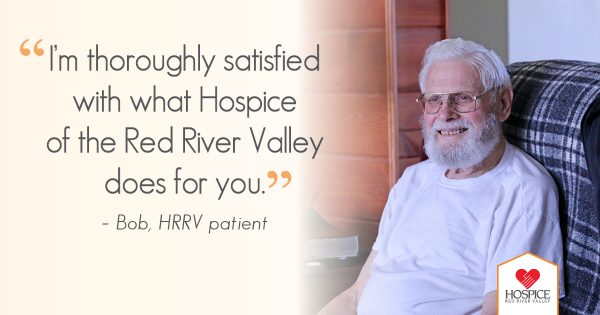 recliner. The creased cover and dog-eared pages provide evidence of the many hours its owner's hands have opened it.
"I read it often and have read it cover to cover," Bob said. "Every word holds some importance."
Each moment is increasingly important to Bob. While his faith has been a constant throughout his life, it and his family have become even more of focus since being diagnosed with cancer in 2011.
It's in the quiet, peaceful moments Bob spends with his Bible in hand that makes him feel most at home and like himself during an uncertain time.
The Wyoming native is a charter member of Bible Baptist Church in Grand Forks. It celebrated its 50th anniversary in 2016.
"I did a little bit of everything," Bob said. "Moving walls, cleaning the floor, picking up kids, teaching Sunday school. I was a handyman until a handyman showed up."
The hands that once built a church, and rebuilt it after the Red River flood of 1997, now flip through the pages of his Bible. It was a gift from his son and replaced the version Bob misplaced 12 years ago, the same year he lost his wife, Lucille.
Recognizing the Value of Hospice
Bob met Lucille, fittingly, in a church in San Antonio, where he was stationed during part of his 22-year career in the U.S. Air Force. Eight months later they married. They spent four years in Germany before moving to Grand Forks. The couple raised two boys and two girls while Bob worked for the Air Force and another 22 years with UPS.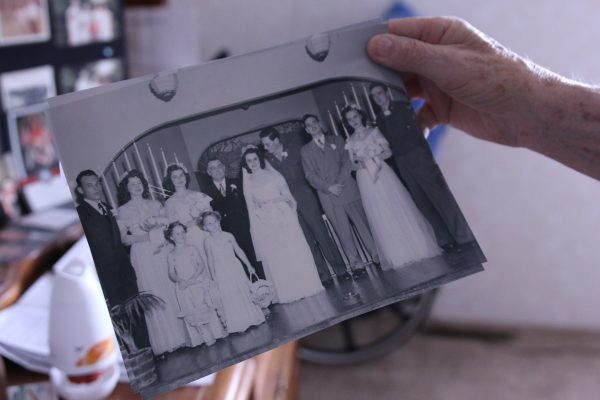 In 2007, Lucille, Bob's wife of 55 years, died of pancreatic cancer. She spent the final week of her life under hospice care. Bob wishes they had explored it sooner for her because Lucille spent most of her final months going to and from the hospital from treatments before hospice care.
Lucille's death reinforced Bob's belief in quality care at home when his own health took a turn for the worse. For Bob, that meant calling Hospice.
Two years after going into remission from bladder cancer, the disease returned and spread throughout Bob's abdomen. Chemotherapy treatments took their toll.
"When we found out what it really was, I didn't see any future continuing (treatments)," Bob said. "I'm happy I dropped the chemo. I haven't been sick since."
Discontinuing treatment brought relief. Bob could simply focus on living well and spending valuable time with loved ones because Hospice of the Red River Valley is helping him along the way.
"(Hospice of the Red River Valley) asked me what I needed," Bob said. "I said, 'A bed.' I believe it was the next day they came with all the necessities. All kinds of stuff I didn't know they would provide."
Bob lives with his youngest son on three acres northwest of Grand Forks. The north-facing view is made up of mixed-grass prairie dotted with shrubs. Hawks patrol overhead. Bob explained that in the winter, it can be like living in a snow globe.
Most important to Bob, this is home.
Regular, Dependable Care
Each week, Bob welcomes his hospice nurse, Judy Hendry, into his home.
Their relationship is built on honesty and trust.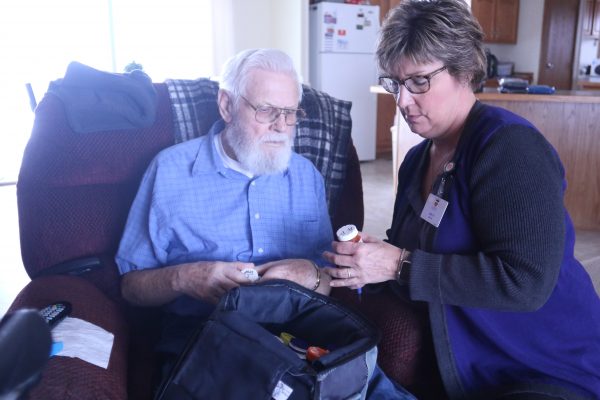 "The first thing Judy does is drops her bag, pulls out her tools and says, 'Let's get after it,'" Bob said. "We get along well. Judy is easy to talk to, and she's pretty thorough in what she does."
Judy said the two clicked from the start. "I enjoy and look forward to my visits with Bob," she said. "He's the kind of guy when I call him he always asks, 'How are you doing? How was your weekend?' Bob also is very matter of fact. He understands what's happening. He has no fears."
A certified nursing assistant (CNA) and social worker also regularly visit. The small things add up for someone living at home. So when the CNA helps with household duties, like washing dishes or making the bed, it makes all the difference for Bob.
"Judy always tells me if you need me, I'm on the line," he said. "It doesn't matter what time of day or night. It makes me feel great that I can call anytime. It's nice that I can trust the nurses who come out, along with the CNAs."
Longtime Hospice of the Red River Valley volunteer Gilman Beck also stops by once a week from nearby Northwood, also home to one of Bob's daughters.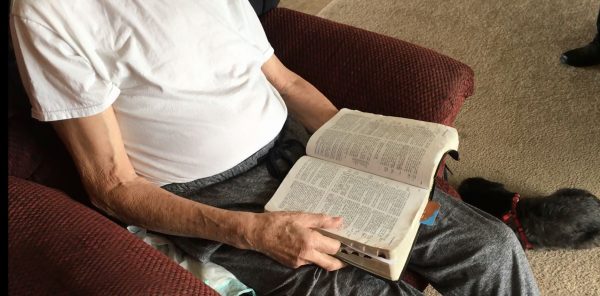 The Hospice staff support allows Bob to maintain his independence, going out almost every day. He's able to visit with his 15 grandchildren.
Bob appreciates the Hospice team's reliability. "When I get a call, I mark it on my calendar and they are always here when they say they will be," he said.
At the end of each visit, Judy and Bob take time to visit about life. Bob gives updates about his family.
The ongoing support allows Bob to live his life exactly as he wishes, which includes spending time with family. Every evening, Bob has supper with his son and they follow it up with their favorite TV show, "Jeopardy!" "He gets more questions right," Bob quipped.
Bob's certain he's made the best decision for his end-of-life care in calling Hospice.
"Give them a chance. I'm sure it will be the right decision," Bob said. "I'm thoroughly satisfied with what Hospice of the Red River Valley does for you."
About Hospice of the Red River Valley
In 1981, Hospice of the Red River Valley was founded on the belief that everyone deserves access to high-quality end-of-life care. We fulfill our nonprofit mission by providing medical, emotional, personal and spiritual care, as well as grief support to our patients, their families and caregivers during a tender time in life. Our staff helps those we serve experience more meaningful moments through exceptional hospice care, 24 hours a day, 365 days a year, wherever a patient calls home. The organization serves more than 40,000 square miles in North Dakota and Minnesota, including in and around Bismarck, Detroit Lakes, Devils Lake, Fargo, Fergus Falls, Grand Forks, Lisbon, Thief River Falls, Valley City and many more communities. Hospice of the Red River Valley offers round-the-clock availability via phone, prompt response times and same-day admissions, including evenings, weekends and holidays. Contact us anytime at 800-237-4629 or hrrv.org.