A quiet soul and one who always thought of everyone else first, Eva had a beautiful smile and a kind, gentle presence. She spent her 90-plus years on this earth dedicated to the service of others, providing compassionate care as a nurse and a helping hand to many, including four of her siblings as they neared the end of life. But as the youngest of nine siblings, Eva was also accustomed to being cared for during most of her life. So as she herself neared the end of life, her closest relatives knew they would want to fulfill as many of her wishes as possible because of her generous, kind-hearted spirit.
"It had been her wish to not spend her last days in a nursing home, and so it was very important for us to do whatever we needed to do to make that happen," Jessica Shawn, Eva's great niece said. As one of Eva's only relatives in the Fargo-Moorhead area, Jessica provided much support for Eva, including running errands and being a local contact for both her medical needs and the assisted living facility where Eva resided. Jessica happily took on this role as Great Aunt Eva was a sister to her own grandmother, whom Jessica was very close to growing up.
In addition to the bond she felt for Eva through her grandmother, Jessica's mom, who lives in Montana, was Eva's medical power of attorney, responsible for making Eva's health care decisions as she neared the end of her life. So Jessica was the local "go-between," while Jessica's mom could focus on making sure Eva's wishes were followed. "Eva and I became good buddies, and she was very easy to be around," Jessica shared. "Sometimes as people age, they aren't as easy to be around, and we were blessed that up until her last day, she was a great spirit and just a wonderful person."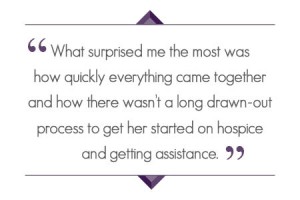 When Eva became ill with heart complications in October 2014, her family made the choice to call Hospice of the Red River Valley for an added layer of support so they could keep Eva in her home where she wanted to be. "What surprised me the most was how quickly everything came together and how there wasn't a long drawn-out process to get her started on hospice and getting assistance," Jessica explained. "It just fell into place and started happening right away, which is what we needed. Hours are precious when you are at that point, so to have that help right away and such in-depth and breadth of help was huge for our family."
Newly pregnant and working two jobs, Jessica welcomed the extra support from Hospice as she knew she couldn't do everything Eva required on her own. As needs were identified, Hospice took care of them within just a few hours, from supplies, such as a hospital bed and oxygen, to coordination with Eva's doctors. Hospice also connected the family to an additional home care resource so Eva could have extra attention and support. "They also had great resources for us as a family to read through. In the evenings when I would get there, it was nice to have books and pamphlets there outlining what was going to happen," Jessica said. "Those resources were really helpful as well."
"With all of the different pieces, it would have taken me a lot of time to figure out on my own. I could just focus on spending time with Eva and know that I would receive a call if something happened and they [Hospice staff] would keep me updated," she said. One special memory that Jessica shared with Eva during this precious time was the announcement of her pregnancy. "I was able to show Eva the first ultrasound, so she was able to know about our baby. I found out later on that she would tell the assisted living facility staff how much she wanted us to have a baby and how much she was hoping for that. To share that moment with her was pretty incredible," Jessica said with a smile.
The family was especially grateful for two areas of support Hospice provided: communication back and forth with the family and pastoral care. "With my mom being the primary contact, living in Montana, she was really impressed with the constant communication. Hospice was phenomenal about calling and keeping her updated, talking to her about different things. That was huge for her," Jessica recalled. "It kind of took some of the pressure off me to keep her updated as well. Hospice was there to take care of us. It was a really great experience."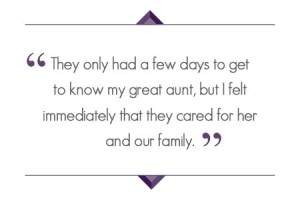 Deep-rooted in the fabric of her being was Eva's faith. The faith resources offered through Hospice were greatly appreciated by both Eva and her family. Hospice of the Red River Valley Chaplain Randy visited Eva during her time on hospice care, playing guitar, singing songs and reading Bible verses to her. "He was actually there when she passed away, too. To have someone of faith there with her when she passed, meant so much to her, really," Jessica explained. "After she passed, he stayed with us while we were waiting for the nurse and the funeral home to come. It was incredible."
Randy spoke of the time he had with Eva in her final hours, sharing with Jessica they were discussing Eva's favorite family picture and stories of her family members. "Then, he was so kind to come to her funeral service. So I got to introduce him to family who came for the funeral and say this was the person who was with Eva when she passed. That was great."
"Eva's family spoke with me about how important her faith was to her, and how music was a big part of her spiritual life," Randy, Hospice of the Red River Valley chaplain, said. "During my first visit with Eva, she told me she had played in the church bell choir in the past couple of years and how much that meant to her. It was a joy for me to visit Eva and sing the hymns that were meaningful to her. It was an honor to do that for her in the last hour of her earthly life."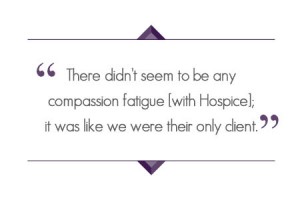 Hospice of the Red River Valley only cared for Eva for 10 days before her passing, but the care and compassion the Hospice staff showed Eva left a lasting impression on Jessica and her family. "They only had a few days to get to know my great aunt, but I felt immediately that they cared for her and our family. They really took time to get to know her, knowing she wasn't going to be alive for much longer. But Hospice still made that investment in getting to know her and our family. It was incredible," Jessica said. "No one calls Hospice because things are going well. You're getting a call because someone's loved one is in a critical time or possibly the worst time of their lives. There didn't seem to be any compassion fatigue [with Hospice]; it was like we were their only client."
For that, Jessica and her family will forever be grateful. "Hospice can be as much or as little as you want it to be," Jessica explained. "When we needed extra services, they provided. It's another resource to help you through a difficult time."
[youtube http://www.youtube.com/watch?v=68uFV10n6iE]