Ina Lyon is fiercely independent. A self-proclaimed jack-of-all-trades, master of none, Ina can accomplish just about anything. "If it needs to be done, I'll figure out a way to do it," she said.
Just as remarkable as Ina's independence is her generosity. In 2012, Ina gave Hospice of the Red River Valley a $5,000 challenge gift, which was used to match Gifts of Light (gifts of $500 or more) Hospice receives from other donors.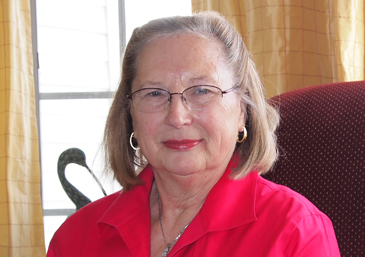 Ina's story of personal grief and loss compels her to give a donation each year to ensure people continue to have care options and grief resources at the end-of-life. She understands, first-hand, the devastation grief can cause, and how Hospice can help.
Growing up in Berlin, Germany, in the 1940s, Ina's self-reliance developed out of necessity. She believes her natural ability to solve problems and find solutions are two of the reasons why her husband of 40 years, Dick, fell in love with her.
When Dick passed away in 2008 after battling pancreatic cancer, she summoned the same resolve that had always steered her through life's other challenges.
"Hospice allows for a calmer transition and made Dick as comfortable as possible. It would have been a lot harder without them, and I don't know where I'd be." – Ina Lyon
"When my husband died, I felt like a total, helpless individual. I thought, 'This is how it is. Now cope.' However, it didn't work. I had always loved driving, but suddenly I was afraid," Ina said. "I remember thinking, whom will I call if I need help?" As a way to cope, Ina suppressed her emotions.
"I considered myself very lucky. I know some women who rely on their husbands entirely to handle the household finances, car repairs, house maintenance. Then, when their husbands die, they have to learn how to do everything, in addition to cope with their grief. I am not one of those women," Ina explained. "I've always handled bills and finances. I can fix a car, or at least diagnose the car's problem. I can figure out any challenge with enough research and time."
Ina thought she could handle the grief on her own. Yet, she still struggled. She went through the motions of daily life, but found the second year after Dick's death even harder than the first.
"I just didn't want to do anything, so I knew I was in trouble. Hospice did a wonderful job caring for Dick in his final weeks at home, and I knew Hospice provided grief counseling for a year after he passed away, but I hadn't taken advantage of it," Ina shared.
Despite Ina's determination, she understood her limits and eventually sought help. She took a chance and called Hospice. "I was surprised and so grateful that Hospice was still willing to help me," Ina said.
With the help of a Hospice grief specialist, Ina worked through her grief. She credits the grief specialist for doing a lot of listening, and asking the right questions.
"I lost myself for awhile. It's still a process to find myself without Dick, to make a new life," she said. "When you lose a part of yourself, your brain doesn't function. You don't know what to do with yourself. I never know when or how grief will hit. I will never get over that man. Hospice understands this. It's a wonderful gift when someone else just gets it."
Reflecting on her experiences, Ina has experienced the full spectrum of services Hospice offers. "If it wasn't for Hospice, there wouldn't be any options but to die in a hospital or at home in pain. Hospice allows for a calmer transition and made Dick as comfortable as possible. It would have been a lot harder without them, and I don't know where I'd be," Ina said.
"Just like they were there for Dick, Hospice was there for me. Sometimes, just knowing someone understands is the best gift. My financial gift to Hospice helps ensure this organization continues to provide services long into the future," she explained.
About Hospice of the Red River Valley
In 1981, Hospice of the Red River Valley was founded on the belief that everyone deserves access to high-quality end-of-life care. We fulfill our nonprofit mission by providing medical, emotional, personal and spiritual care, as well as grief support to our patients, their families and caregivers during a tender time in life. Our staff helps those we serve experience more meaningful moments through exceptional hospice care, 24 hours a day, 365 days a year, wherever a patient calls home. The organization serves more than 40,000 square miles in North Dakota and Minnesota, including in and around Bismarck, Detroit Lakes, Devils Lake, Fargo, Fergus Falls, Grand Forks, Lisbon, Thief River Falls, Valley City and many more communities. Hospice of the Red River Valley offers round-the-clock availability via phone, prompt response times and same-day admissions, including evenings, weekends and holidays. Contact us anytime at 800-237-4629 or hrrv.org.