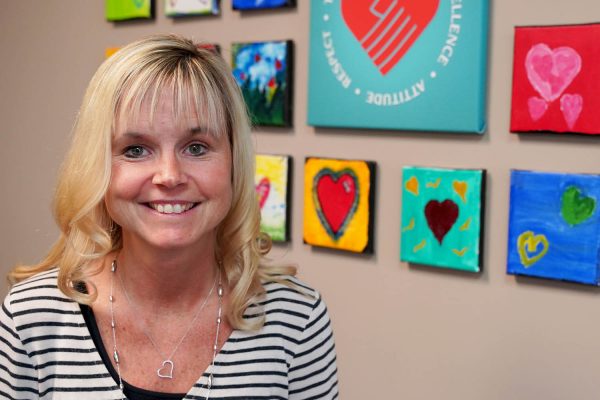 A hospice social worker helps patients and their families navigate one of the most challenging times in their lives through emotional support, education and identifying resources. While a hospice social worker requires practical and problem-solving skills, many of their attributes are of the heart. Compassion, kindness and understanding are the traits that make them exceptional at caring for people in such a tender time in life.
For Hospice of the Red River Valley Social Worker Traci Elshaug, the role of a hospice social worker is a natural fit because of her love for people.
"My personal values align with those of Hospice of the Red River Valley. Love, compassion, support and empathy are an important part of hospice care, and they are a part of who I am," Traci said. "I love getting to know patients and their family members and helping them during the most challenging time of their lives."
Traci shares more about her background and passion for working in hospice care below:
Share about your background and what brought you to Hospice of the Red River Valley.
I'm from Perham. I have a bachelor's degree in social work from Minnesota State University Moorhead. I worked in at a group home briefly in Fargo, and then at a nursing home in New York Mills before coming to Hospice of the Red River Valley. I've been with the organization for 10 years and absolutely love it.
How did you become interested in hospice care?
My initial introduction was working in the long-term care setting and having residents there receiving hospice care. I've always loved working with the elderly. I've also had family members on hospice care prior to working in hospice care.
What is the role is of a hospice social worker?
We have a variety of duties, but our major focus is providing the emotional support to the patient and the family and caregivers. We spend a significant amount of time educating families by explaining the changes that may occur with the patient. Hospice social workers help with health care directives, coordinating additional community resources and volunteer support. Our priority is always to make sure the patient is in the setting they want to spend the last days of their lives. If it gets too difficult to do in a home setting, we help families with additional support options.
Hospice social workers work on coordination of care in assisted living and nursing home facilities. We attend many care conferences, which includes the patient, family and the staff at the facility, and we discuss the patient's plan of care and make sure all their needs are being met.
I serve the Detroit Lakes, Frazee and Perham areas. Some of the areas I cover are rural farmsteads and tribal lands. I'm able travel to an interesting variety of places. I love helping people in the most trying time of their life. No matter what position you hold at Hospice of the Red River Valley, we are all focused on the individual and their goals for care. That's why I love hospice care.
What qualities make a good hospice social worker?
Compassion
Flexibility
Problem solving
Listening
In what ways do you see yourself making a difference at Hospice of the Red River Valley?
The entire hospice team make a difference because we all bring unique characteristics to the position. We are focused on the patient and their needs. You only have one time to make it right for each person you serve, and you need to make every visit count.
How has working in this field impacted you personally?
When you work in hospice care, you don't take anything for granted. We work with young patients along with the elderly. None of us know when our time will come. You learn to focus on the good things and what is important to you, have fun as much as you can and to be good to those around you. When it's my time, I hope there will be caring, compassionate people helping me at the end of my life, as well.
Share about the Hospice team you work with.
It's nice working with Hospice of the Red River Valley because there are many social workers throughout the organization, and you have a great pool of resources and knowledge to draw from. Everyone is so helpful. I appreciate the responsiveness and communication our team provides to our patients and their families. Our team works well together to discuss the needs of the patient, which helps us provide great support to our patients.
Share about your family.
My husband, Jay, and I have one son named Eli. He is eight and he's so kind and loving.
What brings you joy?
My family, spirituality and exercising bring me joy. I absolutely love to exercise and do so six to seven days a week. I used to be an avid runner and marathoner. I ran the Boston Marathon twice. My goal was to end up in the Olympics, but I injured myself so that didn't happen. Now, I enjoy biking. Our family goes biking together outside when we can, and we do Peloton inside in the winter.
After church every Sunday, we go to my dad's house for dinner. It was a promise we made to my mom before she passed away at the age of 46. We said we would continue Sunday dinners with dad. My dad makes dinner every Sunday for us and my sister and brother and their families.
To learn more about the hospice team and how we can help, contact us at (800) 237-4629 or questions@hrrv.org.
About Hospice of the Red River Valley
In 1981, Hospice of the Red River Valley was founded on the belief that everyone deserves access to high-quality end-of-life care. We fulfill our nonprofit mission by providing medical, emotional, personal and spiritual care, as well as grief support to our patients, their families and caregivers during a tender time in life. Our staff helps those we serve experience more meaningful moments through exceptional hospice care, 24 hours a day, 365 days a year, wherever a patient calls home. The organization serves more than 40,000 square miles in North Dakota and Minnesota, including in and around Bismarck, Detroit Lakes, Devils Lake, Fargo, Fergus Falls, Grand Forks, Lisbon, Thief River Falls, Valley City and many more communities. Hospice of the Red River Valley offers round-the-clock availability via phone, prompt response times and same-day admissions, including evenings, weekends and holidays. Contact us anytime at 800-237-4629 or hrrv.org.