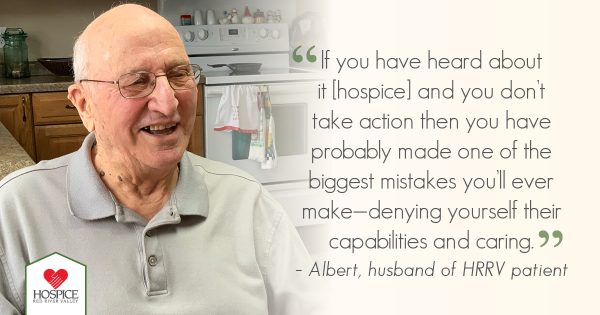 Albert Shirek remembers everything in life from age five on. As a life-long farmer, many of his memories stem from 33,000 hours on a tractor, combing the fields. He and his wife, Stephany, spent their lives on a farmstead, from birth through retirement.
They understood firsthand the lesson imparted by famed businessman and philanthropist Howard Graham Buffett who said, "Each of us has about 40 chances to accomplish our goals in life. I learned this first through agriculture, because all farmers can expect to have about 40 growing seasons, giving them just 40 chances to improve on every harvest."
Through Stephany's passing in Sept. 2017 from dementia, Albert also came to understand that you only have one chance to accomplish your goals and "get it right" in your final season of life.
He and his daughter, Beverly, feel confident Stephany received the best care possible in her last season, and was able to die at home where she wanted to be, because of the efficiency, compassion and dignified care of Hospice of the Red River Valley.
"They were a godsend," Beverly shared.
Modest Beginnings
Together, Albert and Stephany created a pleasant life and indeed improved on each "season." They enjoyed 62 years of marriage and raised two children; Beverly and her brother Patrick, who passed away in a farm accident when he was 23.
The couple began dating in 1949 when Albert asked Stephany to dance. "I asked her if I could see her again and she said, 'absolutely.'" The couple dated for a while until Albert spent time in Korea. "I didn't know what could happen to me in the next two to three years. But she wrote me, and we would send letters to each other every week. I got back in February 1955, and we married in June."
Soon after, the couple purchased Albert's parents' farm where they raised wheat, flax and barley, and some oats for the cattle. "We milked 15 cows at the time. My dad had kept winter cattle so we had 40 head of cattle we were feeding. Stephany had a big garden and was a great housekeeper, a good cook and a wonderful mother," Albert shared. "My wife was a sweetheart. She had all of the good qualities I don't think I deserved. I was blessed."
After 55 years, Stephany and Albert sold the family farm in 2006 and moved to Grand Forks. Stephany adjusted to life off of the farm well. "She loved it at our condominium, and I was happy for that," Albert recalled.
A Dementia Diagnosis
When Stephany first started to show signs that something was wrong, the family initially thought she had a stroke. A visit to a neuropsychologist in 2015 revealed dementia.
"Looking back I realized that she probably had it for many years," said Beverly, who lived nearby in Grand Forks. "She would try to hide it. Eventually we quit leaving her alone. If Dad had to go someplace I would stay with her. One time I brought some material with me because I was going to make something and I could have Mom cut some of the squares of material I needed. She used to sew and crochet. I noticed she was having a hard time with her motor skills."
After receiving the diagnosis, Albert took over cooking and cleaning and caring for his beloved wife. "As the youngest boy in my family, I helped my mom a lot growing up so I knew how to cook and clean," Albert said. These skills, though rusty, made Albert successful in his role as Stephany's primary caregiver so she could remain at home.
With an official diagnosis, Stephany began medications to slow the disease progression. "That helped for about a year or so, and the doctor told us it was not a cure, but it would help for a while and then she would eventually act like she fell off of a cliff," Beverly said. "That is what happened. The medications quit working, and she declined quickly and passed away about four to five months later."
Looking back, Beverly now feels they could have used the support of Hospice much sooner. "When Mom became completely bed-bound, we should have called," Beverly shared. "We thought Hospice was for those who are on their deathbed and a couple days or a week away from dying. Knowing what we know now, we would have called sooner."
Learning about Hospice
It wasn't until Beverly went to the local funeral home to prepay funeral expenses that she learned about hospice services. "The funeral director asked if we had hospice lined up and explained the services. I went home and told Dad, 'We need to call hospice!' So we called and someone came out that night and got her on service," Beverly recalled. The hospice team immediately set to work and developed a customized care plan for Stephany, with a primary goal of comfort. "The very next day Hospice sent a hospital bed, they switched her medications around and they got everything set-up. It was unbelievable!"
"In all my life I have not worked with anyone so efficient, caring and wonderful," Albert said. "Everything was right, and they were so prompt. They were such experts at what they were doing. I can't say enough good things about the organization. Not all hospices are that efficient. My friend had another hospice and things didn't turn out very good, and he wishes he had known about Hospice of the Red River Valley."
Albert and Beverly appreciated the dignified care Stephany received from each member of the Hospice of the Red River Valley care team—Mya, Chad and Mary. "They took such good care of Mom and treated her like a human being," Beverly said. "Just like your commercial says, 'We treat you, not your illness.'"
For two and a half weeks until Stephany passed, Hospice of the Red River Valley staff visited every other day. The nurses monitored her pain and medications and kept her comfortable. The certified nursing assistant (CNA) made sure she was always clean and changed her sheets and nightgown.
For Beverly, it was a relief knowing medical professionals were caring for her mom and helping to support her dad. "Before they would leave they would always ask if there was more that they could do. It was a great comfort to know that someone was helping dad and I didn't have to be there every day, all day long." Beverly said.
When Stephany took her final breath, the family was relieved that Hospice took care of the details that came next, too. "They gave us instructions on who to call when she passed away and someone from Hospice was here within an hour to pronounce Mom's death," Beverly recalled. "They called the church and the undertaker. I would not have had a clue what to do when Mom passed. I was so thankful for them."
Albert also appreciated the 13 months of grief support services he received from Hospice of the Red River Valley bereavement specialist, Jennifer. Although hospice organizations are required by Medicare to provide grief support, each hospice organization is different in how they choose to deliver grief services. Albert was delighted to learn of the extensive services offered by Hospice of the Red River Valley's grief department, which includes professionally trained staff who specialize in caring for grieving individuals.
"Jennifer was outstanding—a beautiful lady. She was here every week to begin with and then every other week. She started out as a complete stranger and ended up providing a lot of support. I could easily talk to her, and she took care of me," Albert explained. "It was a pleasant experience to find someone to talk to who could understand what you are going through."
As Beverly and Albert reflect on the care Stephany received, they have no regrets save for one—they should have called sooner.
"If you have heard about it [hospice] and you don't take action then you have probably made one of the biggest mistakes you'll ever make—denying yourself their capabilities and caring," Albert shared.
Beverly agreed. "Even if you don't think you are ready for Hospice, call them. They can help you decide if you are. Had we known about it earlier, we would have called sooner. They are a shining light in a very down moment in your life. Hospice is everything in one little spot. They will take care of you."
About Hospice of the Red River Valley
In 1981, Hospice of the Red River Valley was founded on the belief that everyone deserves access to high-quality end-of-life care. We fulfill our nonprofit mission by providing medical, emotional, personal and spiritual care, as well as grief support to our patients, their families and caregivers during a tender time in life. Our staff helps those we serve experience more meaningful moments through exceptional hospice care, 24 hours a day, 365 days a year, wherever a patient calls home. The organization serves more than 40,000 square miles in North Dakota and Minnesota, including in and around Bismarck, Detroit Lakes, Devils Lake, Fargo, Fergus Falls, Grand Forks, Lisbon, Thief River Falls, Valley City and many more communities. Hospice of the Red River Valley offers round-the-clock availability via phone, prompt response times and same-day admissions, including evenings, weekends and holidays. Contact us anytime at 800-237-4629 or hrrv.org.