Special thanks to Samaritan Healthcare & Hospice, Marlton, NJ, for allowing Hospice of the Red River Valley to share the following article.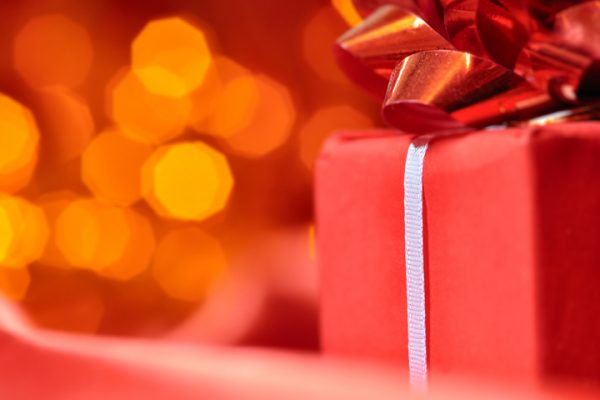 When someone dear is terminally ill, you want to give them love and support. But you may also wish to give them something to show you care and enhance their comfort. And when it's their birthday a holiday or other special occasion, you may struggle with gift ideas.
So, what are the best gifts for terminally ill people?
Think about what would be helpful or meaningful to your loved one. Would they enjoy reflecting on their life with a photo album? Would a religious or spiritual item bring them comfort? Might a nice lotion be soothing?
We've seen many types of gifts for hospice patients, whose lifespan is usually six months or less. Below are some of the best ideas we've seen and heard about over the years.
Comforting Gifts for Hospice Patients
Hot water bottle with a nice cover. These bottles can reduce pain and relax the person for better sleep. To make the bottle look homier and less clinical, consider adding an attractive cover. You can order it online, or make it if you're crafty.
Soothing candle. Candlelight can make the person's room feel cozier and more inviting. And certain fragrances can be relaxing, providing some respite from symptoms or worries. Ask your loved one (or their close family/friends) what scents would soothe them or bring back happy memories. A word of caution, though: chemotherapy can cause an aversion to scented candles, and some people are allergic, so be sure to ask in advance. Note: If your loved one is using oxygen, candles (open flames) are not permitted.
Comfy blanket. Hospice patients rest a lot, and may experience chills, aches, or pain. Consider giving a warm, soft blanket — such as a fleece throw or a crocheted afghan. Make sure it's machine-washable and machine-dryable for easy care. For an added personal touch, you can have special photos printed on a blanket. Google "photo blanket" to find sources.
Gentle massage. A licensed massage therapist can provide the gift of nurturing, soothing touch. They can also teach family members how to provide this comforting contact—from soft stroking of the hands or face, to gentle foot massage. The use of aromatic oils can further enhance the massage's benefits. Look for a massage therapist trained in geriatrics and end-of-life care. Note: If your loved one is using oxygen, petroleum-based ointments or lotions or face creams are not permitted. Please be cautious of skin sensitivities.
Sentimental Gifts for Hospice Patients
Digital photo frame. Near the end of life, many people like reflecting on happy times and those they've loved. They think a lot about their past and whether they lived a good life. You can help your loved one recall positive memories by giving a digital photo frame that you've loaded with special photos. These frames can hold thousands of photos, and can be set to turn on and off at designated times each day. This gift will also provide a homey touch for needing a short stay at an inpatient hospice center or living in a long-term care community.
Photo album or scrapbook. Like the digital photo frame described above, an album/scrapbook can also bring comfort and joy to your loved one. Choose a small-size album (such as 4-by-6-inch) that will be easier for your loved one to hold and handle. Keep the pages simple, without a lot of decorating, so the person can better see and absorb the images.
Message bowl. Fill a beautiful bowl or other container with special messages written on slips of paper. The notes can be just from you, or you can ask others to contribute their own messages. For instance, a daughter might write: "Thank you for teaching me to ride a bike when I was 7." or "I've always loved your honesty."—anything that is true and heartfelt. The person or caregiver can read a note or two whenever comfort is needed.
Music. Arrange for your loved one to hear their favorite songs and bring back happy memories. Identify the technology that would work best for the person and their living environment—whether a CD player, MP3 player, tablet (such as an iPod or Kindle) or a traditional turntable and vinyl records. In many cases, you can borrow CDs from your public library. If the person can use the Internet, you can set up playlists on websites like Pandora and Spotify. Those sites will also create playlists to match the person's musical taste.
Home movies. If your loved one has a stash of old home movies, get one or more converted to DVDs. (If the person doesn't have a DVD player, give or lend them one.) You can enjoy the show together, and they'll be able to watch with others or when they're alone. This is another great way to share happy memories and enjoy quality time together.
Give the Gift of Timely Conversations
Ask your loved one about their end-of-life wishes. We talk about the weather. We talk about sports. But too few of us talk about what matters most. Start the conversation with Five Wishes, a legal (in most states) living will that discusses physical, spiritual and emotional wishes. Learn more.
Personal Message Gifts for Hospice Patients
Life on Record. This service enables friends and relatives to share good wishes and special memories with their loved one. The company provides a toll-free phone number that people can call and leave voice messages. You can play the messages back for your loved one and/or record the messages on a CD or your computer. Hearing these messages can help lift the person's spirits and help them feel loved and supported. For more information, visit Life on Record.
Written accounts. Close relatives, such as adult children, may want to write a letter or create an informal album containing favorite memories, meaningful things their loved one has said or done, life lessons and the like. Keep the design simple—it's the content that counts.
Digital voice recorder. Your loved one may also want to share their own thoughts. They may wish to record their memories or reflections about their life, or to send messages to those they love. A digital recorder can enable them to capture their thoughts whenever they want to. You can also offer to transcribe their recordings, or help arrange for someone else to do that.
Contemplative Gifts for Hospice Patients
Contemplative figure. Meditation and spiritual worship can help people cope with their feelings about death. Therefore, a contemplative picture or object can be a thoughtful gift. If the person is religious, consider giving a figure or symbol from their faith. Otherwise, you may want to give something more general, like a willow tree figure or a person releasing a dove. These images may help soothe the person's thoughts about death.
Books on death and dying. Your loved one may be comforted by reading about others' experiences and advice, including memoirs.
Gifts of Time for Hospice Patients
Companionship. Simply spending time with your loved one is often the best thing you can give. You can just sit and talk, listen to music, read to them, take a drive, or walk together if they're able. Offer a sympathetic ear and listen to what they have to say.
Meaningful conversation. If the person is able, talk to them about their life and what's important to them. Encourage them to share stories about their past. For help in getting the conversation started, visit StoryCorp's "Great Questions." You can even incorporate these conversations into one of the "personal message" gifts described above.
Appreciation. Tell your loved one how they have contributed to your life. Share your positive memories of them and times you spent together. Let them know what you love and admire about them.
Birthday Gifts for Hospice Patients
Floral 'cake'. If your loved one is unable to enjoy a traditional birthday cake, consider giving a flower arrangement made to look like a beautiful cake – complete with candles to blow out. To find florists, simply Google "birthday flower cake".
Talking cards. These greeting cards allow you to record a message with your own voice, which the recipient can play back whenever they want.
Card campaign. With a few easy steps, ensure your loved one receives dozens of birthday cards, which they can enjoy throughout the year. A few weeks before their birthday, write to everyone they know: family, friends, neighbors, fellow congregation members, former co-workers, doctors and the like. Ask them to send a card during the person's birthday month. You can even set a goal of getting a card for every year of the person's life—such as "88 cards for 88 years." To ensure the person will receive enough cards, ask your own friends to send cards, too. You can record your loved one as they open each card, to capture their happiness and precious memories they may share.
Whatever you choose to give—whether a listening ear or an engaging item—gifts for terminally ill people should focus on bringing love, comfort and understanding into the celebration of their life.