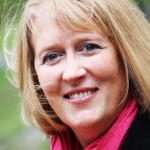 by Connie DeKrey, LBSW, CT
                                                        ***
Christmas 2004: This was an even-numbered year, which meant it was our turn to celebrate the holiday with my husband's side of the family in Bismarck; odd-numbered years had traditionally been spent with my side of the family. But current circumstances dictated differently. My Mom was temporarily staying in Fargo to receive radiation treatments recommended by her oncologist, but not available in her hometown. She would not be up to a road trip, and I couldn't bear the thought of her spending the holiday alone in an unfamiliar community.
So, I invited my siblings and their families to Fargo for "Christmas Brunch on the Prairie," complete with singing carols around the piano. I will never forget the image of my frail Mom, sitting by the fireplace in her wheelchair, singing "Oh Come All Ye Faithful" with such a peaceful, joyful smile on her face, surrounded by representation from four generations of her family… a memory to embrace.
Early December 2005: Once again I have invited my siblings to my home— an early Christmas, late Thanksgiving, and celebration of Mom's birthday. Mom's wheelchair is not parked by the fireplace this time—we had buried her just three months earlier. But I sense her spirit in our midst, and I feel her pleasure at the volume of conversation, the swells of laughter, the exchange of tears. We are continuing to convene as a family—Mom's most heartfelt wish.
***
This time of the year at Hospice, it is typical for us to offer grieving families suggestions regarding how to cope with their sense of loss during the holidays. But beyond that, we strive to encourage them to embrace their memories. The memories of those we loved, at first very painful to recall, can become a source of an ongoing sense of connection, even after death. When we embrace these memories by celebrating the legacy of their lives, we honor the relationship that is forever intertwined with our own personhood.
I encourage the seeking of tangible, intentional ways to maintain one's sense of connection. Think about your interests, talents, even your passions, and exercise them in a way that helps you to move through your grief in a healthy way.
Some examples might include:
Participating in a shared remembrance tradition (such as a candle lighting or annual dinner)
Creating a video of your loved one's life
Making a scrapbook or memory box using photos and heirlooms
Assembling a loved one's favorite recipes, poems or stories into a booklet
Planting a tree or memorial garden
Having your loved one's clothing items made into a quilt
Designing artwork or composing music in your loved one's memory
Volunteering for, or designating a gift to, a charity in the loved one's memory
For me, following the death of my mother, I found myself enmeshed in numerous hands-on creative projects which allowed me a good deal of time to reflect on my memories. When shared with others, these tangible projects invited the telling of stories. Stories keep our memories alive, and we will find that the healing of grief begins as these memories are embraced.
Connie DeKrey, LBSW, CT, is a grief specialist at Hospice of the Red River Valley. She joined the organization in 1993, working in patient care as a medical social worker for 10 years and now as a grief specialist in the grief support department. She particularly enjoys the opportunity to provide education to individuals and groups about living, dying and grief.
About Hospice of the Red River Valley
In 1981, Hospice of the Red River Valley was founded on the belief that everyone deserves access to high-quality end-of-life care. We fulfill our nonprofit mission by providing medical, emotional, personal and spiritual care, as well as grief support to our patients, their families and caregivers during a tender time in life. Our staff helps those we serve experience more meaningful moments through exceptional hospice care, 24 hours a day, 365 days a year, wherever a patient calls home. The organization serves more than 40,000 square miles in North Dakota and Minnesota, including in and around Bismarck, Detroit Lakes, Devils Lake, Fargo, Fergus Falls, Grand Forks, Lisbon, Thief River Falls, Valley City and many more communities. Hospice of the Red River Valley offers round-the-clock availability via phone, prompt response times and same-day admissions, including evenings, weekends and holidays. Contact us anytime at 800-237-4629 or hrrv.org.