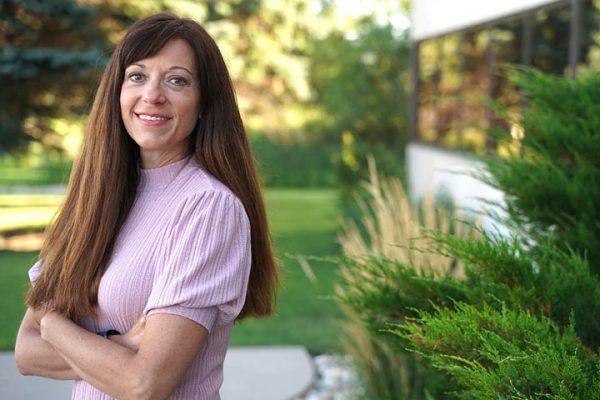 Grieving is a natural part of life but navigating the grief journey alone can sometimes be difficult. Part of Hospice of the Red River Valley's mission is to give support to grieving individuals, families and youth in their journey through grief. We provide free services to individuals, families, schools, churches and workplaces whether or not someone utilized hospice services.
Our grief department includes professionally trained, compassionate grief specialists who provide support groups, end-of-life education, presentations and individual sessions.
We spoke with Hospice of the Red River Valley employee Janel Ruby, LBSW, about the distinct role of a grief specialist and how she supports grieving individuals during a vulnerable time in life.
Share about your background.
I graduated with a degree in social work. My background includes working with the elderly in their homes, as well as long-term care. I worked at Hospice of the Red River Valley in 1999 in both the patient care and grief support departments, and later as a volunteer coordinator. I left for a while and came back to the organization in 2017, where I have been working as a grief specialist for the last three years. I think the previous experience I have working with patients and their families is beneficial because I am familiar with what they experience prior to death.
What is the role of a grief specialist in hospice care?
My role is to provide education and support to those experiencing grief, loss and change. I help clients with coping and self-care skills through one-on-one visits, phone calls, support groups, resources and educational classes.
In what ways do you see yourself being able to make a difference at hospice?
I'm a good listener, and that is what people sometimes need the most. I am present for people who are in a vulnerable time in their lives, listening and helping them process their feelings and emotions and connecting them with resources to help them navigate their new normal.
What's the most rewarding part of your job?
I really enjoy working with clients and witnessing them making steps forward, gaining confidence and doing things they didn't think they could ever do on their own. I recently worked with a widow who bought a car for the first time on her own. During conversations with her, I was able to help give her the confidence that she possessed the knowledge and skills to accomplish this task on her own even though she had never done it without her husband. We talked through how she had learned from her mate and their life experiences together, and she had the skill set to purchase a car. It's rewarding to see widows and widowers grow in their own power, knowledge, skills and abilities.
What has been surprising to you about hospice care?
Hospice care is a benefit available to anyone at end of life. Every hospice is different, and people have the ability to make the choice in their hospice provider.
What compels you to continue your work at Hospice of the Red River Valley?
I enjoy supporting the family and friends of our patients and letting them know they are not alone. It's a privilege to get to know them and hear their personal stories about their lives with their loved ones. You're able to see a glimpse into their lives and witness many life lessons. I also enjoy seeing the grief work that happens in one of our grief support groups: the support group members offering kindness, understanding and support to each other. It's great to see the forward momentum of group members. It's also encouraging to see members lift each other up when someone in the group experiences a setback.
Why do you choose to work at Hospice of the Red River Valley?
I enjoy teaching and helping others. We often get to see healing and progress with clients when they are moving forward and feeling better, working toward their new normal.
How has working at Hospice of the Red River Valley impacted you personally?
It has taught me not to take anything for granted and to live each day fully.
What do you wish people knew about hospice?
Support from Hospice is available not only for people at the end stage of life, but also for their family and friends afterward.
Please explain your most impactful patient and/or family experience through your work at Hospice of the Red River Valley.
I recently had a client who told me he thought his grief was something he had to "fix." He shared through our visits that he learned it wasn't a problem to fix or something to get over, but instead something to process and experience. Healing is not about getting over your grief. Rather, healing prepares you for your life with grief.
About Hospice of the Red River Valley
In 1981, Hospice of the Red River Valley was founded on the belief that everyone deserves access to high-quality end-of-life care. We fulfill our nonprofit mission by providing medical, emotional, personal and spiritual care, as well as grief support to our patients, their families and caregivers during a tender time in life. Our staff helps those we serve experience more meaningful moments through exceptional hospice care, 24 hours a day, 365 days a year, wherever a patient calls home. The organization serves more than 40,000 square miles in North Dakota and Minnesota, including in and around Bismarck, Detroit Lakes, Devils Lake, Fargo, Fergus Falls, Grand Forks, Lisbon, Thief River Falls, Valley City and many more communities. Hospice of the Red River Valley offers round-the-clock availability via phone, prompt response times and same-day admissions, including evenings, weekends and holidays. Contact us anytime at 800-237-4629 or hrrv.org.