Gracie joined the Tucker family as a fluffy, little lovable fur ball, one in which could be quite curious if not given proper training and a purposeful duty. So Deb Tucker, Gracie's owner, set out to make her new Keeshond puppy more than a family pet by enrolling her in pet therapy training through Pet Partners. "My sister-in-law is a social worker for a hospice in the St. Cloud area, and she asked if I've ever thought about volunteering with Hospice. That was about the same time we got Gracie. I thought pet therapy would be a great way I could pair with Hospice," Deb said.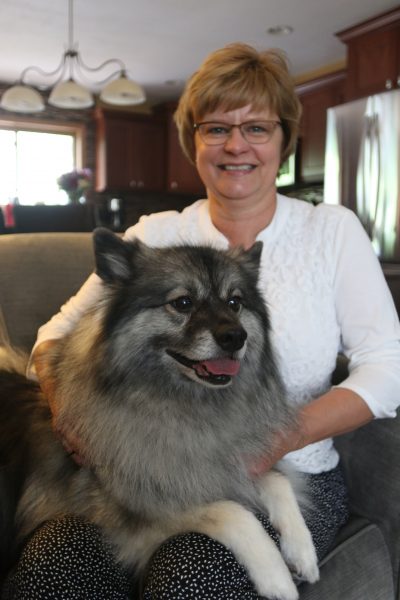 After they obtained certification and connected with Hospice of the Red River Valley Volunteer Coordinator Steph Baker, Deb and Gracie started visiting hospice patients right away. In five years, the pair has been matched with 30 hospice patients—making visits to as many as 11 patients at a time. "I work full-time, but we do what we can, when we can," Deb shared. "I think both of us have gained so much from it, and Gracie just loves it. "Gracie, do you like to go to work and visit?," Gracie's ears perk right up with excitement!
"Deb and Gracie have been an amazing addition to our volunteer team," Steph said. "The happiness and joy they bring to our patients is a priceless gift, and we are thankful to be able to provide this support to those we care for. Deb is so patient and kind, and who wouldn't love a visit from adorable Gracie!"
Together, Deb and Gracie see patients wherever they call home, including private residences, nursing homes and assisted living facilities, from Detroit Lakes to Lake Park and Frazee. Prior to each visit, Deb makes sure Gracie is well-groomed by cleaning her eyes, brushing her hair and clipping her nails.
During their very first hospice visit, Deb knew it was kismet. "I was kind of nervous because I didn't know what to expect. The gentleman was sitting in the common area of the assisted living facility, and when he saw us his face just lit up. He put his hands around Gracie's face and talked to her. We were there for a long time. He didn't want us to leave. When we were leaving, he got up and tried to follow us, and he hadn't moved like that in quite some time. I knew it was meant to be," Deb explained.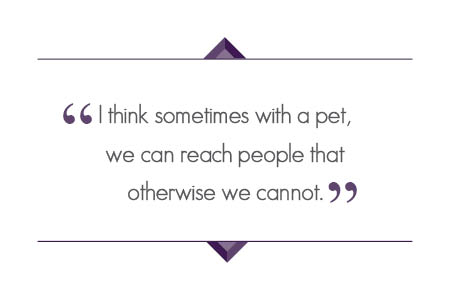 Gracie's ability to connect with people on the hospice visits has amazed Deb. There was one gentleman in particular who Gracie would not leave his side, even when she was getting too warm. For the most part, he was non-responsive, but as Gracie lay with him, he opened his eyes and began petting her. During another visit with the same patient, the patient's family was present, and one of his daughters was having a hard time. When the pair arrived, Gracie went right to the daughter because she knew that the daughter in the room needed her most.
The duo also visits a patient who recently had a stroke, and because of that, she can't use her right side. During a visit, her wheelchair was covered on her left side, so Deb attempted to take Gracie to the right side of the chair. Instinctively, Gracie would not go on the right side because she knew the patient couldn't pet her there. "I think sometimes with a pet, we can reach people that otherwise we cannot; Gracie is a natural go-between. And if they don't want to talk or can't talk, they can just pet her and feel that soft fur," she said.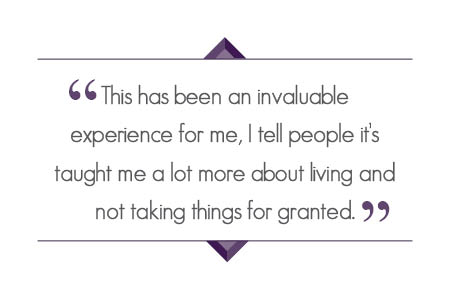 As for Gracie, she loves her role as a Hospice volunteer. "What a better job for a dog than to get attention," Deb said. "Gracie is not a cuddler, but she does cuddle with people at the end of life." Volunteering for Hospice of the Red River Valley has provided benefits not only for Gracie, but has also enriched Deb's life. "This has been an invaluable experience for me, I tell people it's taught me a lot more about living and not taking things for granted. I think sometimes patients can say, 'I'm not feeling good today,' when sometimes they can't say that to their families. I get so much satisfaction and joy knowing I am making their end-of-life journeys a little better," Deb explained. Throughout her involvement with Hospice, she has formed strong friendships and gathered numerous heart-felt stories along the way.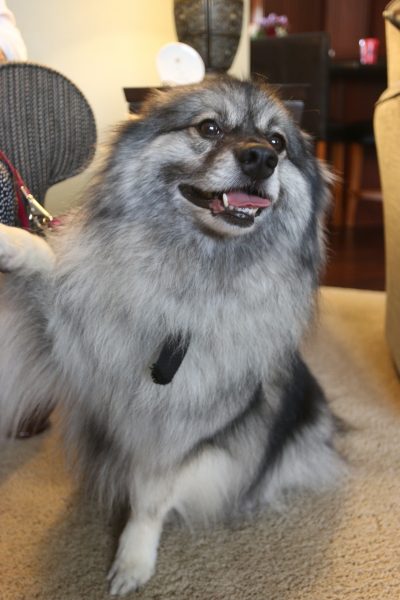 One patient interaction that stands out for Deb is a woman with dementia who loves to sing to Gracie. "With some dementia patients, I can't bring them out of their dementia world, but Gracie can," Deb explained. "The patient says, 'She knows me; she's a good dog.'" A cherished volunteering moment also came from visits with the same lady. One day the patient was singing 'Jesus Loves Me' to Gracie, and Deb decided to join in. "She looked at me with the biggest, brightest smile ever—and we just looked at each other singing," Deb said. "That was probably the most touching moment I've felt. I was tearing up, and she was smiling, and what a difference she made for me that day. It's not like me to sing out in public, but I thought I would embrace the moment."
Recently, Deb's volunteering contributions were recognized by the United Way of Becker County with the United Way Everyday Hero award. And as much as that award meant to her, she's driven to keep continuing to give back because going into people's homes and having them sharing their lives with her has been the most rewarding part about volunteering.
Deb also feels compelled to educate and recruit more people to volunteer. "I think almost anyone could be a Hospice volunteer. Hospice is really good about working with your schedule. They need lots of people of different ages to go visit. You can go read, visit and you get to develop great relationships. It's not just a doom and gloom situation, and you learn so much through the experience," Deb said. For Gracie, the cuddly snuggles, treats and new leash every time she passes her recertification test are reward enough.
About Hospice of the Red River Valley
In 1981, Hospice of the Red River Valley was founded on the belief that everyone deserves access to high-quality end-of-life care. We fulfill our nonprofit mission by providing medical, emotional, personal and spiritual care, as well as grief support to our patients, their families and caregivers during a tender time in life. Our staff helps those we serve experience more meaningful moments through exceptional hospice care, 24 hours a day, 365 days a year, wherever a patient calls home. The organization serves more than 40,000 square miles in North Dakota and Minnesota, including in and around Bismarck, Detroit Lakes, Devils Lake, Fargo, Fergus Falls, Grand Forks, Lisbon, Thief River Falls, Valley City and many more communities. Hospice of the Red River Valley offers round-the-clock availability via phone, prompt response times and same-day admissions, including evenings, weekends and holidays. Contact us anytime at 800-237-4629 or hrrv.org.