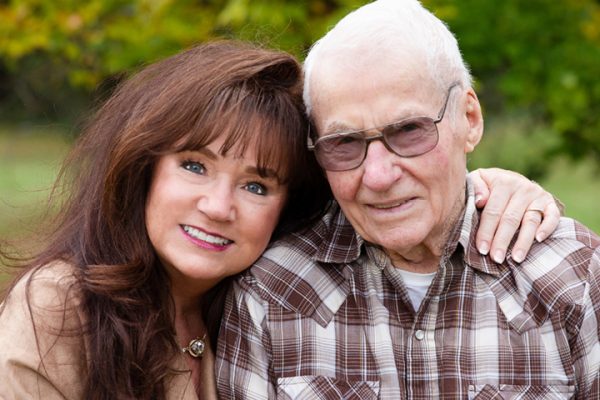 Richard "Dick" Beckett was miserable and just wanted to be done taking so many pills. Heart disease and the side effects of his medication had eroded his quality of life. Chronic pain and fluid build-up made him so uncomfortable that his family feared he was at the end of his life.
He planned to stop taking his medications altogether, but his youngest daughter, Cindy, knew they needed a plan. She simply wanted to get her 88-year-old father's pain under control. She needed help, so she called Hospice of the Red River Valley.
Right away, a Hospice registered nurse began combing through Dick's myriad of medications, keeping him on those that kept him comfortable and discontinuing those that were no longer necessary. Dick began rebounding within two weeks.
"That's what our family needed [Hospice staff] for," Cindy said. "They kept the excess fluid off and maintained him. They have him stabilized now."
The family's goal of making their father comfortable was accomplished. They feel comfort in knowing someone is monitoring his pain level and taking care of his medications.
Registered Nurse Kaitlin meets with them regularly. She continues to fine tune medications and monitor his pain and symptoms.
"She really watches over me," Dick said.
It gives Cindy and Dick a sense of relief. She is able to care for her father in her Hawley, Minn., home while running a business.
In addition to a registered nurse, Dick and Cindy get regular visits from a Hospice social worker and certified nursing assistant (CNA). Hospice CNAs help patients with personal care needs, including bathing assistance, shaving and nail care. They also provide light housekeeping services. Their most important role is preserving patients' dignity and helping them live comfortably wherever they reside.
CNAs also provide companionship. "We have some great conversations," Lois said. "We visit and learn a lot from each other. I started visiting him in June and love to come here for visits."
A Life Well Lived
Dick is traditionally the one watching over others. He's spent his entire life helping those around him.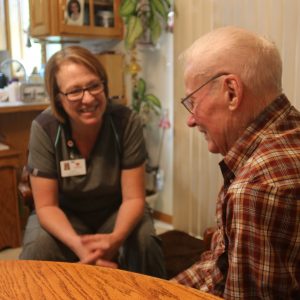 He's no stranger to hard work. As a teen during World War II, Dick would get out of school to help harvest sugar beets by hand. He did it in part because other farmers needed the help due to the war.
"They needed us," he said, simply.
Bit by the farming bug, Dick bought a half section of land from his father for $4,800 near their Glyndon, Minn., farm. It was 1946, and Dick was just 16.
"It took me quite a bit to get it paid off. It wasn't easy," Dick said. "There were times we struggled."
He primarily raised small grains and a few cattle. He also owned B&B Electric. His brother, William, worked for him. William died under hospice care in 2009. They had projects across the Dakotas and Minnesota.
Dick did electrical work during the day and farmed at night and on the weekends to support his family. The lengths he took to care for his family are being returned to him, as his children now care for him as he nears the end of his life.
"Dad had to feed six kids, six years apart," said Cindy, who is the youngest sibling. "Now he's a happy, positive man with support from his family and from Hospice."
A Return to Normalcy
The decision to have her father move into her Hawley home was easy for Cindy. She had cared for her mother and husband at end of life in her home. Dick wasn't able to live alone. Aside from heart disease, he feels pain from carpal tunnel, a rotator cuff injury and a worn-out hip.
Cindy's kitchen table doubles as Dick's "office." It's where he chats with his Hospice nurse, CNA and social worker. Dick shares stories and life advice during blood pressure checks and other cares.
Cindy places photos of the family farm and lake property on the table. A 1946 Dodge pickup sits in the corner of the former pasture. It was one of the first pieces of equipment Dick purchased to replace the horses when he started farming on his own.
The idyllic and remote lake lot has a bit of a farm feel as well. A bright silver grain bin is surrounded by a meadow and tall pine trees. The bin is actually a cabin that Dick, partner Judy, and family and friends helped build. They buried the base seven feet below ground level so wind couldn't blow it down. The cabin is "off the grid" thanks to a wind turbine Dick installed himself. The family gathered there during some holidays.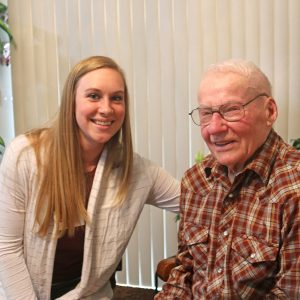 Dick enjoyed mowing both properties. It took eight hours to mow the farm. He would load up the mower and spend another eight hours mowing at the lake.
Now, it takes him 30 minutes to mow Cindy's yard. During this new journey, mowing is something Dick takes comfort in as it provides a sense of normalcy in uncharted territory.
"He was struggling and in and out of the hospital," Cindy said of Dick's time before hospice care. "He had been a very active man, so it was hard seeing him decline. He was very sick and didn't think he would last for more than a week. I told him we can't let you suffer, so we need a plan. That is when our family brought Hospice in about 18 months ago. We needed to give him the healthiest life we could. We thought we were planning his end of life, but he's been doing so well."
So well, in fact, that Dick's biggest concern is "graduating" from hospice care. Nationally, more than 6 percent of hospice patients graduate from care, meaning they have become well enough that they do not meet the medical guidelines for hospice care.
Despite outliving his original prognosis, Dick's health continues to slowly decline, which makes him still eligible for hospice care. A member of Hospice's medical team must regularly visit Dick to re-certify that he still meets the medical guidelines for care.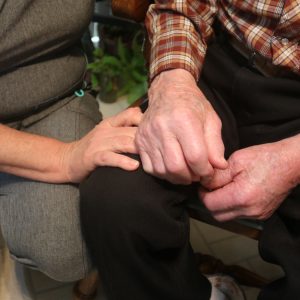 "There is so much they [Hospice staff] do that would be hard for me to do," Cindy said. "I still work, and it's taken a lot of stress off of me. I knew we, as a family, could not do this alone. If I need help, all I do is call, and they are immediately there."
For example, Dick suffered a fall and hit his head. Hospice staff was able to quickly create a plan of care to help Dick regain his stability. Cindy said the trust and respect shared between patient and caregiver helped Dick maintain his independence.
"I have to give credit to Hospice because when you walk in the door he immediately becomes attached to them," Cindy said. "There are so many good people working for Hospice."
Dick continues to live with his daughter and enjoy visits from friends, children, 13 grandchildren and eight great-grandchildren.
He also continues to look forward to his Hospice care team.
"I don't have enough words to thank them [Hospice]," Dick said. "I've developed a friendship with them. Every one of them is wonderful."
About Hospice of the Red River Valley
In 1981, Hospice of the Red River Valley was founded on the belief that everyone deserves access to high-quality end-of-life care. We fulfill our nonprofit mission by providing medical, emotional, personal and spiritual care, as well as grief support to our patients, their families and caregivers during a tender time in life. Our staff helps those we serve experience more meaningful moments through exceptional hospice care, 24 hours a day, 365 days a year, wherever a patient calls home. The organization serves more than 40,000 square miles in North Dakota and Minnesota, including in and around Bismarck, Detroit Lakes, Devils Lake, Fargo, Fergus Falls, Grand Forks, Lisbon, Thief River Falls, Valley City and many more communities. Hospice of the Red River Valley offers round-the-clock availability via phone, prompt response times and same-day admissions, including evenings, weekends and holidays. Contact us anytime at 800-237-4629 or hrrv.org.