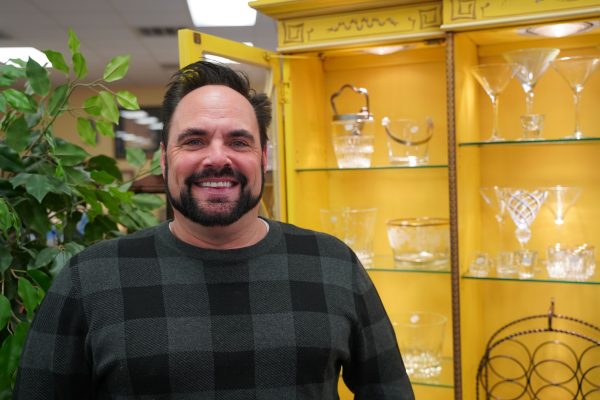 Heirlooms Thrift & Gift is an upscale resale store and gift shop benefitting Hospice of the Red River Valley. It's a one-stop destination for new and gently used furniture, clothing, housewares, antiques, collectibles, jewelry, gift items, greeting cards, home décor and more. Community members generously donate the merchandise sold in the thrift store.
The store is staffed by more than 50 volunteers, in addition to the store manager, an assistant manager and a few other part-time employees. The store manager, Steve Johnson, was a longtime Heirlooms supporter and shopper before coming to work for the store in late 2019.
Learn more about Steve and why he finds this work fulfilling and more.
What is your role at Heirlooms Thrift & Gift?
As the store manager, I do anything that needs to be done. This includes assisting customers, moving furniture, cleaning and pricing items, and managing store operations.
What makes Heirlooms special and different from other local thrift stores?
Our store supports the work of Hospice of the Red River Valley. We set ourselves apart from other local thrift stores by the quality and uniqueness of the items we receive and how we display them. We show you how items can look in your home by setting up the store in a series of displays that look like rooms.
Every day is a challenge from pieces going out the door and new items arriving. We are constantly on the move and rearranging. We want to make the store look the best it can, so people can imagine how good it will look in their own home.
We know that many times people are donating their family's heirlooms, so we are careful to honor what the donated items meant to them.
Most rewarding part of your job?
My fun is doing good! The best part about my job is knowing everything I am doing is supporting a great cause and organization. I'm having so much fun and loving what I do.
It's so great working with all our amazing volunteers. They have lived a lot of life and bring so much life experience to the store. They are very passionate about the store and our mission at Hospice of the Red River Valley. They make me feel special, which is a great feeling.
What is your background?
I graduated with two degrees from North Dakota State University. One degree is in public history and the other is in visual arts focusing on watercolors and acrylic painting. I originally thought I might work at a museum, so I did an internship at Smithsonian National Museum of American History in Washington, D.C.
After graduation, I worked for the Ben Franklin stores doing custom picture framing. I was still connected to people's paintings, old photos, etc. It was a good way to earn a living, and I loved doing it. Later, I owned my own shop called Total Picture with two other people for about 10 years. We offered interior design services and custom framing.
When that disbanded, I worked at Boerth's Frame and Mirror and the D'Vine wine bar. Then I was a designer at Scheel's Home & Hardware for about four years, and now I'm at Heirlooms.
With Heirlooms, I feel like I'm not only working with people to help with interior design in their home, but I'm also supporting a mission I believe in. It's a fun job that I love with a very heartfelt purpose. That is what drew me to the position. I'm doing what I love in helping people with design, and I'm also helping a great organization, as well as people and their families at the end of their lives.
Share a little bit about your family.
I was born in Sioux Falls, S.D., and lived in both Huron and Mobridge while growing up. My dad ran a Red Owl grocery store on the Standing Rock Reservation. I have three sisters and two brothers. I'm adopted, and I located my biological family about 10 years ago. They are a part of my life, and so I have two siblings from that family, as well. They live in Arizona.
I have two daughters, Sophie and Megan. I'm married to my partner, Jack, who I've been with for five years.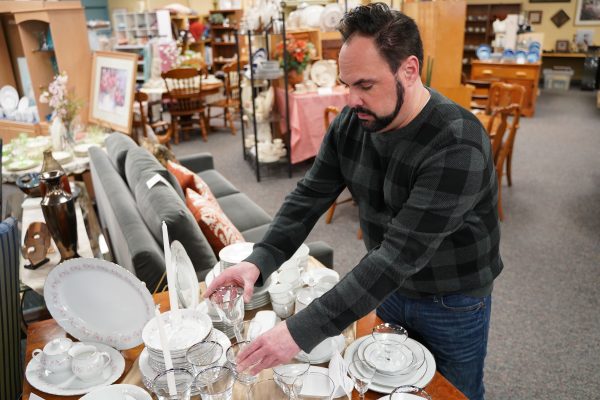 How has working at Heirlooms impacted you personally?
Working for Heirlooms has brought a sense of calm to my life. It's been great; I look forward to coming to work every day. This job is doing for me what Hospice of the Red River Valley does for its patients. I can't wait get to work every day; I get to say that I love what I do!
What interests you about art, and how did you get into interior design?
My interest started at an early age when I was in South Dakota. I love Native American history, and I started to draw many of their cultural things.
I have a deep love for history and that's where my interest in antiques comes from. I used to shop at Heirlooms before I started working here. I loved looking for the antiques in the store. Both of my mothers are also involved in art, and I think that helped to point me in that direction.
How do you see your role making a difference at Hospice of the Red River Valley?
My ability and ideas for interior decorating. My knowledge of the antiques and art add value to the service I can provide to the customers when they come to shop. I can help them make good decisions on what they might want to put in their home. I can explain why something is priced at the level it's priced. It makes your decision on whether to buy it easier. People know what they are buying. I work with the donors on getting information on the items they are donating. The history on their heirlooms that we can pass on.
What are your hobbies?
I love art and have a huge art collection of local and other artists. I also like to paint; my favorite thing to paint right now is landscapes and Native American history.
Jack and I enjoy outdoor activities in our garden. We also love entertaining for our family and our family of friends, and spending time in downtown Fargo.
Heirlooms is located at 3120 25th St. S. in Fargo, N.D. Store hours are Monday through Friday from 10 a.m.to 6 p.m. and Saturdays from 10 a.m. to 5 p.m. Donations are accepted during regular business hours or by appointment. For more information, call 701-356-2670, or follow us on social media: Facebook and Instagram.