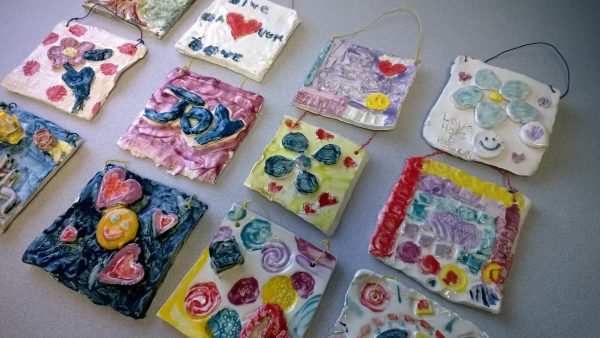 Sometimes the slightest gesture can travel the greatest distance. That's exactly what Plains Art Museum had in mind when they selected Hospice of the Red River Valley as the recipient of artwork created at a recent Kid Quest event.
During the Clay for a Cause-themed event, families gathered at Plains Art Museum to explore the concept of art as a medium to connect people. More than 200 children—ages toddler to grade school—traveled through the galleries for inspiration of art before they created artwork of their own.
Based on the idea of connecting with one another through art, participants decorated and glazed clay tiles that incorporated positive and inspiring messages. Each child created two clay tiles—one for themselves and one for a Hospice of the Red River Valley patient. Brianna McNelly, manager of Youth Programs at Plains Art Museum, said, "We're hoping the artwork will help brighten someone's day."
Deb Gemar, director of community relations for Hospice of the Red River Valley, said the artwork will make a difference for hospice patients. "The tiles are small, but the result of these kindnesses will be immeasurable. We are appreciative of the thoughtfulness of the children and Plains Art Museum for sharing the artwork," she said. "This event produced wonderful artwork and also provided an opportunity to educate and share the hospice story with community youth and their families."
The tiles were delivered to Hospice of the Red River Valley the week of Valentine's Day—making this project even sweeter for those under hospice care who will receive the tiles in the coming weeks.
Kid Quest is a free program sponsored by Xcel Energy with additional funding from Fargo Kiwanis, with additional support from Minnesota Public Radio. held the first Saturday of the month, October-April.
For more information about Kid Quest, please visit http://plainsart.org/learn/kid-quest/.