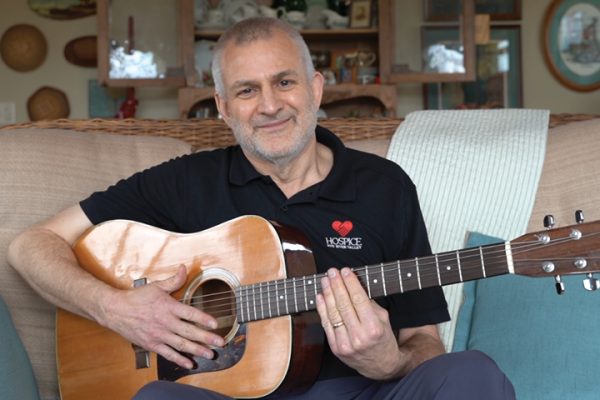 Pastor Tom Holtey pauses for a moment outside a hospice patient's room. He closes his eyes, takes a few deep breaths and clears his mind of outside distractions. He centers himself before visiting a patient.
It's a practice Tom has used for more than 15 years as a chaplain with Hospice of the Red River Valley. It allows him to focus on the purpose of his visit—the patient, and helping them find peace on their end-of-life journey.
Spiritual care can be vital to the well-being of a person. When someone is diagnosed with a chronic or terminal illness, he or she may rely even more heavily on religious beliefs, faith or spirituality. They also may question their long-held beliefs and wrestle with life's "big" questions, such as: What's the meaning of life? Why me? What's the point of this suffering? What will my legacy be?
Tom's purpose as a chaplain can be summed up thusly: "I be with people."
Tom has a faith background as a pastor, but he isn't there to preach. He wants to help an individual work through life's difficult questions. He uses subtle prompts and keen observations to evaluate a person's spiritual needs.
Some people seek or want to grant forgiveness. Tom works with them on that.
"Nothing's too little to forgive," Tom said.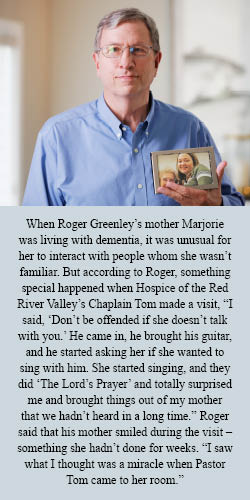 He asks if the person would like to sing or hear music. He pulls out a ukulele and strums a few chords. Songs range from "Amazing Grace" to "I've Been Working on the Railroad." Patients who suffer from dementia will sometimes tap their feet with the beat to songs they heard in their youth.
Tom offers a prayer if desired by the person. The most common request is for world peace.
He was the first chaplain at Hospice of the Red River Valley to be hired on a full-time basis. He's now part of a team of chaplains who serve patients throughout a more than 40-county service area. Hospice chaplains provide care in a variety of ways, including music, prayer and devotion, ritual and imagery, and legacy/life review. As a non-denominational organization, spiritual support is provided based on an individual's personal beliefs. If desired, our chaplains also act as a link to an individual's church or other faith community.
Chaplains are trained to help people of all faith backgrounds, including those who do not identify with any spiritual group. They provide spiritual support in ways unique to each person's own set of values that are most important to him or her, through nature, music or organized religion, to name a few.
When the visit concludes, Tom says his farewells and leaves the room. Once outside, he pauses for a moment and re-centers himself. Then it's off to the next patient visit in the mission of providing peace at end of life.
"Hospice is about living," Tom said. "We help patients to take things one day at a time. That's the way we should all take things."
About Hospice of the Red River Valley
In 1981, Hospice of the Red River Valley was founded on the belief that everyone deserves access to high-quality end-of-life care. We fulfill our nonprofit mission by providing medical, emotional, personal and spiritual care, as well as grief support to our patients, their families and caregivers during a tender time in life. Our staff helps those we serve experience more meaningful moments through exceptional hospice care, 24 hours a day, 365 days a year, wherever a patient calls home. The organization serves more than 40,000 square miles in North Dakota and Minnesota, including in and around Bismarck, Detroit Lakes, Devils Lake, Fargo, Fergus Falls, Grand Forks, Lisbon, Thief River Falls, Valley City and many more communities. Hospice of the Red River Valley offers round-the-clock availability via phone, prompt response times and same-day admissions, including evenings, weekends and holidays. Contact us anytime at 800-237-4629 or hrrv.org.