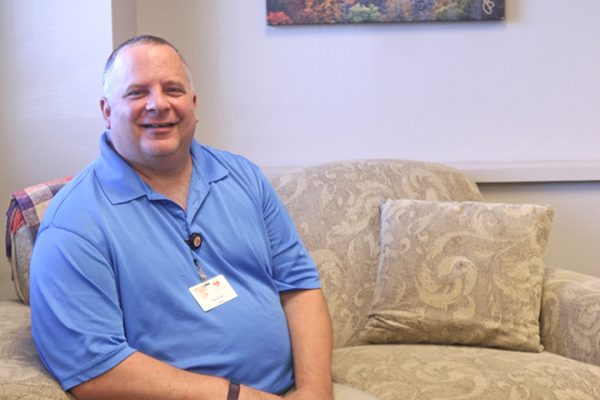 Spiritual care can be vital to the well-being of a person. When someone is diagnosed with a chronic or terminal illness, he or she may rely even more heavily on religious beliefs, faith or spirituality. Or, they may question their long-held beliefs and wrestle with life's "big" questions, such as: What's the meaning of life? Why me? What's the point of this suffering? What will my legacy be?
Studies show spiritual care and support is associated with better quality of life for patients who are near death. As part of the hospice team, Hospice of the Red River Valley's chaplains provide spiritual comfort and support at the end of life.
Hospice chaplains provide care through a variety of ways, including music, prayer and devotion, ritual and imagery, and legacy/life review. As a non-denominational organization, support is provided based on an individual's personal beliefs. If desired, our chaplains also act as a link to an individual's church or other faith community.
Chaplains are trained to help people of all faith backgrounds, including those who do not identify with any spiritual group. They provide spiritual support in ways unique to each person's own set of values that are most important to him or her, through nature, music or organized religion, to name a few.
David Montecuollo, chaplain, joined Hospice of the Red River Valley in July 2015. Learn more about his unique role as a hospice chaplain and his experience providing care and support.
What interested you in hospice care?
When I was nine years old, my mother passed away from cancer. Hospice services were not available during my mother's battle with cancer, but I will never forget our friends, neighbors, church family members, and especially my pastor who came alongside my family and me and walked with us, through all the ups and downs, and provided the support we needed all the way to the end. Ever since that time I've had a special spot in my heart for those who are sick, suffering and nearing the end of life. I want to be there for someone else, like so many were there for me.
What is the most rewarding part of your job?
The most rewarding thing for me has been, and continues to be, being with people in their time of need. The end of life is perhaps the greatest time of need in a person's life, and to know that I am a part of the team that can bring comfort and peace to a person and their family in their time of greatest need is very rewarding. It's what gets me up and keeps me going.
Is there a Hospice experience that encapsulates why you do what you do?
I had the opportunity to visit a patient who was nearing the end of life, and as I walked in to see the patient, he seemed very anxious. His body was trembling, his breathing was labored, and the patient seemed very uncomfortable.
After greeting the family, I sat in a chair at the patient's bedside and started singing some hymns. I am not known for my singing voice, but this patient appreciated me singing. So, I sang. As I sang, I watched in amazement as the patient began to relax. His breathing became more regular and the patient's trembling lessened. So, I kept singing.
About a half hour, and many hymns later, the patient was calm and peaceful. The anxiety I first saw was gone. That night, the patient passed away, comfortably and peacefully with family at his side. Knowing that I helped make a difference for that patient and family is why I do what I do every day.
How do you support your colleagues?
I try to send them encouraging, affirming words and thoughts as I am able, and let them know I am praying for them as much as I can. I also try to provide a bit of humor now and then, because laughter is such good medicine.
I try to let them know I am here for them, in whatever way they need, and will do what I can to help to the best of my ability. I try to do these things both in my colleagues' time of need and during the normal course of life, knowing that support is needed both in good times and hard times. Encouragement, affirmation, appropriate humor and inspiration are things that fill us up and enable us to keep on giving.
I am convinced that the more I am able to do this for my fellow teammates, the better care our patients and their families will receive.
What do you tell people who are considering a role at Hospice of the Red River Valley?
Being a part of a team is one of the great things about working here. My teammates have allowed me to grow in my position. This is a calling, not just a job. When it comes right down to it, it's all about the patient and his or her family and what is best for them and how we can help.
What is the biggest lesson you've learned as a hospice chaplain?
The biggest lesson I've learned at Hospice of the Red River Valley is to be thankful for every day you have, for it's a gift.
About Hospice of the Red River Valley
In 1981, Hospice of the Red River Valley was founded on the belief that everyone deserves access to high-quality end-of-life care. We fulfill our nonprofit mission by providing medical, emotional, personal and spiritual care, as well as grief support to our patients, their families and caregivers during a tender time in life. Our staff helps those we serve experience more meaningful moments through exceptional hospice care, 24 hours a day, 365 days a year, wherever a patient calls home. The organization serves more than 40,000 square miles in North Dakota and Minnesota, including in and around Bismarck, Detroit Lakes, Devils Lake, Fargo, Fergus Falls, Grand Forks, Lisbon, Thief River Falls, Valley City and many more communities. Hospice of the Red River Valley offers round-the-clock availability via phone, prompt response times and same-day admissions, including evenings, weekends and holidays. Contact us anytime at 800-237-4629 or hrrv.org.