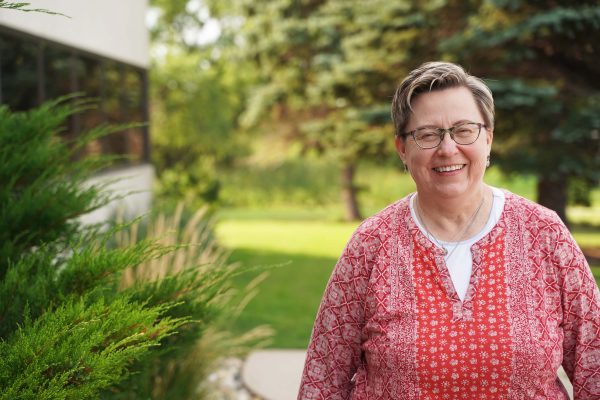 Janna Kontz has worked for more than a decade with patients and their families at Hospice of the Red River Valley—10 years as a hospice chaplain and more than two years as a grief specialist.
As a Hospice chaplain, Janna covered an area stretching from Mayville to Grand Forks, N.D., to Thief River Falls, Minn. She helped individuals work through end-of-life issues related to their illness, spirituality and faith, which often included connecting them to their church. Janna transitioned to the role of a hospice grief specialist in February 2019. She works with grieving families and caregivers of individuals who died under the care of the organization. She also works with community members who are dealing with loss.
Janna notes similar skills are needed in both positions, mainly active listening. "Whether it's about illness, life or loss, people want to tell their story, and they need to be heard," she said. "I think that is the most important thing that I do. I meet people wherever they are, and I don't interject my own agenda. I listen and help them work through what they are dealing with."
Learn more about Janna's experience with Hospice of the Red River Valley.
What is the role of a hospice grief specialist?
My most significant role is to listen. When I was a Hospice chaplain, that was really my biggest role, too, but now even more so, as a grief specialist. Many times, when people are dealing with grief, they aren't comfortable sharing their story with close family and friends. The story they need to tell could be about their person's death, relationship with the person or about their own grief – it's just not something many people are comfortable hearing about.
If you have ever grieved, you know it's really hard work. You have to be able to let yourself feel the feelings, and that's hard. Sometimes, it's easier to stuff your feelings down or put them in a closet, and that may work for a little while. But eventually, the grief will take up more space than you want it to if you don't deal with it. You can't fix grief; grief has to run its course. A person doesn't "get over" the loss of someone or their relationship with that person. One must learn how to navigate life with grief, and that's where we can help. We can help grieving individuals realize that the grief can be a part of them and even a good part of them. It doesn't have to be a negative part of them.
How did your position as chaplain dovetail into what you do now?
I think being in patient care for more than 10 years prepared me for this because a lot of times grief clients have questions about death and the dying process. When you work with nurses and social workers, you learn a lot and soak up a lot of information and that prepared me to answer a lot of questions I receive as a grief specialist. It's prepared me to be more comfortable in many different situations.
In what ways do you see yourself having made a difference in Hospice?
I love kids, and teenagers are my passion when it comes to trying to help. I think I've had the greatest impact with kids. I seem to relate to them well and treat them as adults. It's trying to help a 10-year-old understand death when we aren't even sure. That God doesn't cause this, but he is right here with you and it's not his fault. But if you want to be angry at him, go ahead.
What do you tell people who have the really big life questions? Do you ever feel you can't answer them?
Absolutely. You let them know that there are many things in life that we don't understand and can't understand, and that's OK. You have to be honest with people about that and not make up things just to make it sound good.
What is the most rewarding part of your job?
The most rewarding thing for me is when God nudges me to do something, and I actually do it. Then I'm in the right place at the right time. I met a patient only once, and she was dying and the family wanted me to come. I was there when she died, and the family was so grateful. I was only there for a couple of hours, and I told them I will be sitting and praying for you guys and just let me know when you need me.
What compels you to continue your work in Hospice?
Making a difference. I thoroughly enjoy helping a variety of people. At the end-of-life, nobody cares about the material things. Rather, it comes down to faith and the really basic things. We are always the hardest on ourselves and are unforgiving of ourselves. I see that a lot with people who are dying. I ask, "Is there anyone you need to forgive?" They often say no, but then will start talking about something personal and it comes down to forgiving themselves. Sometimes they don't give themselves permission to do that. When you work out in the field and someone is struggling, it is usually something spiritual. Not religious, but spiritual.
What is your definition between the two: spirituality and religion?
You can do anything religiously—put your socks on the same way every morning, feed your dog religiously, you can go to church every Sunday religiously. But if you don't have a relationship with God, it doesn't matter. To me the spiritual part is the relationship. It may be with a higher being or maybe with nature, but to me, it all comes down to the relationship.
What do you wish people knew about Hospice care?
I wish they knew it isn't about the last week of their life and that it isn't about giving up. It's about living the best you can for as long as you can. I always ask people if they are scared, and most are. I tell them that it's OK. You are going on a trip you've never been on before. You haven't been there. It doesn't mean you are lacking in faith.
What do you do to take care of yourself?
I spend time with family. I like photography, wood carving, quilting and writing. My husband and I enjoy traveling. I always have my camera around my neck when we travel. My two favorite places that call to me are the north shore of Lake Superior and Ireland. I've only been to Ireland once, but I could live there. It's beautiful and the people are so friendly and welcoming.
Can you share what has been one of your most impactful times here at Hospice?
There are many. One that really impacted me was a baby born with a defect called Trisomy 13. On the outside he looked absolutely perfect and the first thing the parents did was hand him to me. I held him during the entire visit. He lived only 10 days. They would watch people as they held him and know that he was making a difference in this world. They didn't concentrate on him dying, but on his life and that he had purpose.
About Hospice of the Red River Valley
In 1981, Hospice of the Red River Valley was founded on the belief that everyone deserves access to high-quality end-of-life care. We fulfill our nonprofit mission by providing medical, emotional, personal and spiritual care, as well as grief support to our patients, their families and caregivers during a tender time in life. Our staff helps those we serve experience more meaningful moments through exceptional hospice care, 24 hours a day, 365 days a year, wherever a patient calls home. The organization serves more than 40,000 square miles in North Dakota and Minnesota, including in and around Bismarck, Detroit Lakes, Devils Lake, Fargo, Fergus Falls, Grand Forks, Lisbon, Thief River Falls, Valley City and many more communities. Hospice of the Red River Valley offers round-the-clock availability via phone, prompt response times and same-day admissions, including evenings, weekends and holidays. Contact us anytime at 800-237-4629 or hrrv.org.