For Savanna Hill, cherished memories overflow the time spent at her grandparents' home in Arthur, N.D.
A small, tight-knit farming community about 30 minutes northwest of Fargo, it's where Edvina "Eddie" and Gale Hill first set eyes on each other at the local bank. From that fateful moment on, Eddie couldn't stop thinking about Gale, explained Savanna.
They courted until Gale was called to serve in the Army in the Korean War. The pair exchanged handwritten letters until his return 1952, and they married soon after. They kept their roots planted in Arthur, raising three children—one of which is Savanna's dad.
Grandma Eddie was kind, reserved and elegant, and she could always be spotted wearing her signature pearls, even with her garden clothes.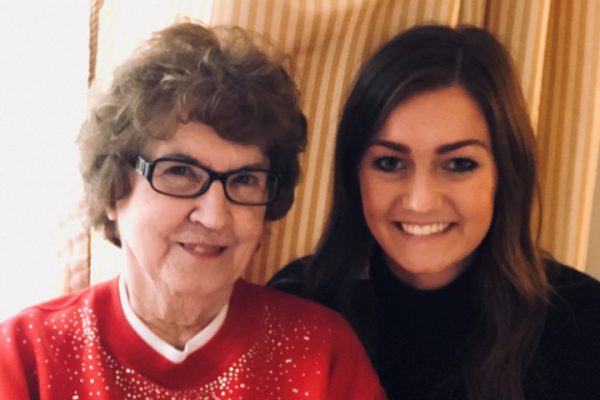 Savanna worked hours in the kitchen alongside her grandma—exchanging stories and life lessons—while learning some of her grandma's beloved recipes. The aroma of freshly baked cookies and caramel rolls often filled the air—a sweetness only matched by Grandma Eddie's charming manner.
A favorite memory etched into Savanna's heart forever involved baking her grandma's family-favorite angel food cake with marshmallow frosting. "I wanted to learn how to bake her angel food cake; she always made me that for my birthday," Savanna shared. "I proceeded to crank the music up and have some fun in the kitchen, and she looked at me and said, 'No more dancing, the cake could drop.' We laughed and sat down to paint our nails while we waited for the cake to be ready. The cake turned out perfect, and she had me take a picture of it that I still have today."
All that time and love poured into meals and goodies evolved into food for the soul. "Grandma Eddie was like a mom to me. She was my best friend and biggest supporter," Savanna said with a smile. "I shared everything with her." The pair often enjoyed each other's company over grilled cheese sandwiches, tomato soup and root beer floats in her grandparents' screened-in patio.
Eddie continued to make treats and memories with the family long after Gale passed away. She lived by herself for another 18 years after he died shortly after the couple's 50th wedding anniversary.
About two and a half years ago, Eddie was diagnosed with dementia and moved into a senior assisted living facility in Fargo. "I admit, when I first found out about her diagnosis, I was in denial," Savanna recalled. "She had so many good days where she was her normal self, it didn't seem like she could have an illness."
Hospice of the Red River Valley began to care for Eddie a few months after she moved to Fargo. Savanna credits Hospice of the Red River Valley, not only with offering the best, most compassionate care for her grandmother, but also with helping her and her family understand and come to terms with the prognosis.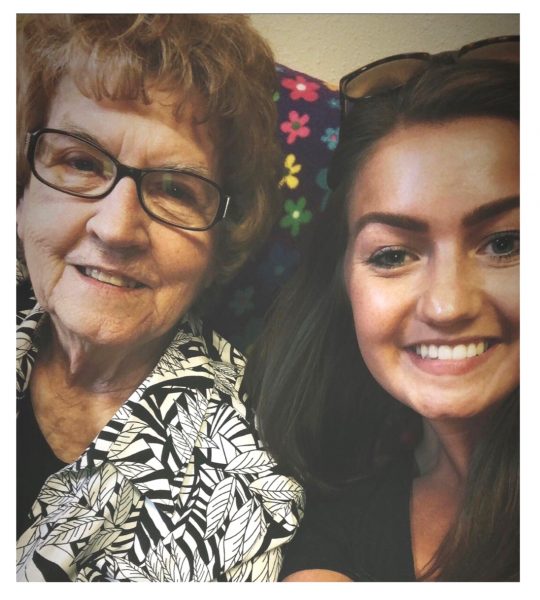 "The Hospice staff was so hands-on and open with our family. They were constantly answering our questions or emailing us information and just put so many things in front of us for reference. They not only cared for Grandma, but they also cared for us," she said. "I appreciated all of the support from Hospice that was given to my grandma and my family."
Savanna often brought her grandma a bouquet of Eddie's favorite flower, gladiolus. "I visited her every day when she was in Fargo. She was my lunch date," Savanna said.
As her grandmother's conditioned worsened, Savanna saw firsthand the difficult days that come with dementia. But the good days were made even better by hospice caregivers. "We felt more confident and trusting having Hospice there," Savanna said. "I honestly think that hospice care kept her here longer. They took away her pain and made her comfortable."
"There was one volunteer who would come to read to my grandma, paint her fingernails, ask about her photos, things like that," Savanna said. "I appreciated that so much, just her genuine interest in making my grandmother's days happy. You don't know how long it's going to be, so each day matters."
Eddie passed away peacefully in January 2020. Savanna remembers her grandmother fondly and honors her legacy by giving back to Hospice of the River Valley and living by her grandma's example. "She always brought out the positive in people. She was so amazing," Savanna said.
Editor's note: Portions of this story are used with permission from RDO Equipment Co.
About Hospice of the Red River Valley
In 1981, Hospice of the Red River Valley was founded on the belief that everyone deserves access to high-quality end-of-life care. We fulfill our nonprofit mission by providing medical, emotional, personal and spiritual care, as well as grief support to our patients, their families and caregivers during a tender time in life. Our staff helps those we serve experience more meaningful moments through exceptional hospice care, 24 hours a day, 365 days a year, wherever a patient calls home. The organization serves more than 40,000 square miles in North Dakota and Minnesota, including in and around Bismarck, Detroit Lakes, Devils Lake, Fargo, Fergus Falls, Grand Forks, Lisbon, Thief River Falls, Valley City and many more communities. Hospice of the Red River Valley offers round-the-clock availability via phone, prompt response times and same-day admissions, including evenings, weekends and holidays. Contact us anytime at 800-237-4629 or hrrv.org.