A Hospice nurse takes on a critical role in caring for terminally ill patients and their families. Providing comfort and advocating for patients is always their primary focus. Hospice of the Red River Valley's registered nurses (RNs) are specially trained in pain control and symptom management. They provide exceptional patient-centered care guided by the individual's wants and needs.
We spoke with Hospice RN Casey Donarski about the distinct role of a hospice nurse and her experience providing care and support to our patients and their families.
Tell us about your background.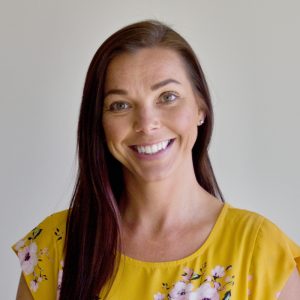 I grew up in Perham, Minn., and have 3 boys; a teenager, a toddler and an infant. I started working in health care when I was in high school; I was a certified nursing assistant (CNA) at a local nursing home. I took some time off to have my first child and then went to Emergency Medical Technician (EMT)/paramedic school. I worked as an EMT for 10 years while attending nursing school. I've been a nurse for eight years and worked in various roles—as a director of nursing in a nursing home, in the surgery center for several years and now work at Hospice of the Red River Valley. I've liked it all, but it took a while find out where I fit best. Hospice care is my calling.
What made you decide to apply for a position with Hospice of the Red River Valley?
I missed patient care. I had been working on the administrative side of nursing for about five years, and I had been commuting to work for around 15 years because I was hesitant to work in my hometown. I was worried about caring for people I know when in a crisis situation. Despite my fear, I applied anyway when the position with Hospice of the Red River Valley opened in Detroit Lakes. This meant I wouldn't have to commute any more and I could serve the Perham area. It's been phenomenal. 
What qualities best describe a Hospice nurse?
Empathetic, dedicated, compassionate, patient, open and independent.
Please describe the role of a Hospice nurse.
As a Hospice nurse, my main goal is to make a person's journey at the end of life what they want it to be. I'm responsible for symptom management and their comfort—mental, physical, emotional and spiritual. As the RN and case manager you bring all of that together for them and make sure they get the help they need at the end of life. It's different than traditional nursing because everyone has individual needs and expectations.
What do you tell your patients and their families about your role?
No matter what my patients need or when they need it, it is my and the organization's responsibility to make sure their needs are met. That's what we are here for. I tell them, if it's 2 a.m. and they need something, I want them to call. It's not a burden and not a headache. It's our responsibility to support them. I think a lot of people need coaching to understand they are not a burden.
I will always be up front and honest with my patients about what's happening and what options they have. It's not always an easy conversation but I think they are very appreciative of it.
How did you learn to have those difficult conversations?
I learned how to have these difficult conversations from watching and seeing when things aren't ideal at the end of life. It becomes easier to have conversations like these when I hear people say, 'I wish would have known about hospice and known there were other options. I would not have had to watch my mom suffer like she did.' Of course, they are never easy conversations. It's become easier over the years and with each patient to identify what their needs could be and give suggestions and ideas.
Where do you see yourself making a difference in Hospice care?
When I see someone finally have comfort after experiencing severe pain, nausea or anxiety, I know I've made a difference. The most rewarding and difficult part of my job is to help people find peace in the last days of their lives and help them accomplish what they need. I tell my patients and their families that this is the hardest thing they will ever go through.
What has been the most surprising to you about Hospice care?
Everyone handles end of life so differently and their outlooks are unique, whether it's the patient, family, friends or others in their support network. It's interesting and the most atypical part of my job.
How is Hospice care different than you anticipated?
Two of my grandparents received hospice care. At that time, 15 years ago, there was much more bedside nursing care. Now it's different because we give the family the resources and education they need to play a bigger role in that person's journey and their own journey. Our patients are active decision-makers in this process; hospice care is much more patient-driven than I thought it was.
What compels you to continue your work at Hospice of the Red River Valley?
I really can't see myself doing anything else. It's my calling to help patients on their end-of-life journey and make it better for them. The satisfaction and fulfillment I get from this work is unlike anything else I've ever done before.
How does working here align with your own personal values?
Hospice of the Red River Valley, as an organization, is truly based on patient advocacy. It's our goal for our patients to have an active voice in their decisions on their journey. This work is not driven by financials, it's driven by providing the care our patients need.
Complete this sentence: Hospice is _____________.
Hospice is the care a person needs to make their journey at the end of life what it needs to be. Hospice allows people to find comfort—physically, mentally, emotionally, spiritually—in whatever aspect that they need it on their journey.
What do you wish people knew about Hospice?
I wish people understood it as an option that's available for more than just the final five or seven days of life. It's not just for a crisis when someone is actively dying. Hospice covers every terminal illness, not just cancer. Hospice is a way of life at the end of life. We get to know our patients through our direct patient care. We help them through the journey.
If you had to share one impactful patient and family story is there one that comes to mind?
I cared for a woman who was a schoolteacher, mother, grandmother and wife. She told me she truly found joy in her end-of-life journey. Her outlook on what was a very unfair situation will impact me for the rest of my life. She could have been bitter, but she found joy instead.
I also cared for a family that I knew from growing up in Perham, Minn. When caring for them, it gave both of us great peace and trust because we had that personal connection. It was amazing to watch that family come together during the most difficult time of their lives and provide support for each other.
What brings you joy?
My family, work, spending time outside. Self-care is so important and contributes to my joy. I love horses, and love to ride. My sister and I hope to get more riding in together now that our kids are getting a bit older and are more independent.
About Hospice of the Red River Valley
In 1981, Hospice of the Red River Valley was founded on the belief that everyone deserves access to high-quality end-of-life care. We fulfill our nonprofit mission by providing medical, emotional, personal and spiritual care, as well as grief support to our patients, their families and caregivers during a tender time in life. Our staff helps those we serve experience more meaningful moments through exceptional hospice care, 24 hours a day, 365 days a year, wherever a patient calls home. The organization serves more than 40,000 square miles in North Dakota and Minnesota, including in and around Bismarck, Detroit Lakes, Devils Lake, Fargo, Fergus Falls, Grand Forks, Lisbon, Thief River Falls, Valley City and many more communities. Hospice of the Red River Valley offers round-the-clock availability via phone, prompt response times and same-day admissions, including evenings, weekends and holidays. Contact us anytime at 800-237-4629 or hrrv.org.